Self-Awareness as a Writer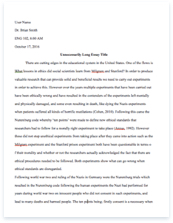 The whole doc is available only for registered users
A limited time offer! Get a custom sample essay written according to your requirements urgent 3h delivery guaranteed
Order Now
Washtenaw Community College has a wide variety of certificates and Associate Degrees to choose from. English 111 is a requirement for many of the certificates and degrees. In order to obtain the degree or certificate you sought after you need to meet every requirement. My field of study happens to be Math and Science/Pre-Engineering, and one of the requirements in the first semester is English 111. Further on down the road I will be required to take a few more English/writing classes. This is what brings me to writing class at WCC.
English 111 is a transfer credit for me. After obtaining my associates degree in Math and Science/Pre-Engineering, I will be transferring to a four year college to obtain my Bachelors Degree in Engineering. I hope to transfer to Northern Kentucky University where I originally attended college. The reason I hope to go back to this school is because it is near where my child lives and I would like to be a big part of his life. The reason I am in Michigan is because this is where my mother and step-dad reside. These are the people helping me through school to set me on the straight and narrow.
Along with fulfilling a requirement, I am also taking writing classes to help with future employment opportunities. I want to be a Civil Engineer, which is an Engineer that designs roads, and damns, etc. This field of study will require writing reports and even writing up presentations. How I present myself with my presentations and report could help keep my job security. You would not really be able to keep a job if everyone is trying to read something you put together and it has many errors and it is hard to read. This class will help me learn how to write professionally and correctly for my future career.
I have been brought to writing classes at WCC because of location, fulfilling a requirement, and also to help better my job opportunities later in my career.
Related Topics