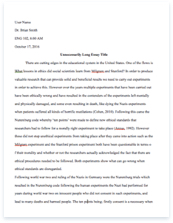 The whole doc is available only for registered users
Pages: 3
Word count: 583
Category: Child
A limited time offer! Get a custom sample essay written according to your requirements urgent 3h delivery guaranteed
Order Now
HERE I AM BRINGING IN NOTICE AGAIN A VERY SERIOUS AND SINFUL JOB THAT IS DONE EVEN TODAY IN OUR COUNTRY.THAT IS "FEMALE FOETICIDE" Female Foeticide is the act of Aborting a fetus because it is female. How cruel?
* We Indians call our nation mother India and are great devotees of Mothert Goddess in various manifestations. * But we all are openly playing a double standard game with our country as well as our goddess. * One end we say that we worship Maa Saraswati, Maa Durga, Maa Laksmi and at the other end we are continuously destroying the precious gift of nature, a girl child. For this reason, Indian women will soon get extinct. Surprised? The most active part is being played by the women themselves — why? Just for the mere want of a boy, mothers don't feel bad in strangulating their daughters in their wombs. Can anyone be more cruel? Reasons :
* Poverty
* Gender Discrimination
* Lack Of Education
* Traditional Practices
* Future Speculations(Education, Marriage, Dowry, etc)
MAIN CAUSE OF FEMALE FOETICIDE
The general perception is that the cost of marriage and dowry has gone up and so daughters have become greater financial liabilities. The dowry system is invariably blamed. We are not convinced that dowry alone is the main cause of female foeticide. Families that are well-off and do not have to depend on dowry to augment their income are also opting for female foeticide. The real reason seems to be the high status of families with several sons and the low status of families with no sons. * Women have no power themselves even though they have legal recourse. * It takes guts for a woman to stand up against her husband, in-laws or parents if she meets with dowry problems or sexual violence. * Child marriages restrict the girl right.
What do we mean by Female Sex Ratio?
Female sex ratio commonly known as sex ratio is the number of females per every 1000 males in a given place. Where does Female Sex Ratio in India stand in Census 2011? The female child sex ratio is 944 girl children per every 1000 boy children of the same age group. The overall female sex ratio has increased by 0.75 % in the Census 2011 as compared to the previous Census of 2001. The adverse sex ratio creates "shortage" of women and has severe long-term implications. There are reports of increasing numbers of women being trafficked and sold for marriage in Rajasthan and Gujarat.
"FEMALES"
are a very
"Precious Assets"
of the World
Because…
THEY CARE…
THEY TEACH…
THEY BLESS…
THEY RULE…
THEY EXPLORE…
THEY STRUGGLE…
Women is the most beautiful creation of god…
* Mother : Divinity
* Daughter: Innocence
* Sister : Care
* Friend : Warmth
* Beloved : Passion
* Wife : Dedication
I HOPE YOU WILL UNDERSTAND THAT ITS A GIRL WHO IN FUTURE BRINGS A NEW LIFE IN THIS WORLD, WHETHER THE BOY OR GIRL
.SO WHY KILLING HER?
HOW CAN ANYONE CUT THE TREE ON WHICH YOU GET FRUITS AND
HOW CAN ANYONE SPOIL THE LAND THAT GIVES YOU FOOD THAT KEEPS YOU ALIVE? WHY DONT ANYONE THINKS THAT
IF HIS/HER MOTHER WOULD HAVE BEEN KILLED
THEN FROM WHERE HE/SHE WOULD HAVE BEEN IN THIS WORLD.
Save the disappearing girl child.
They form
"The Nation"
Think, what we return for their services…
Killing them in the "womb"
Girls are not for garbage's…
* Don't through us away, we are also god gifted…
* Please, stop this cruelty…
The Animal don't differentiate males & females…
Then why we are ???
Are we un-civilized ??
Related Topics