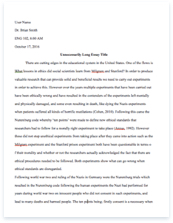 The whole doc is available only for registered users
Pages: 2
Word count: 389
Category: Concept
A limited time offer! Get a custom sample essay written according to your requirements urgent 3h delivery guaranteed
Order Now
Introduction
            It is no light matter, the concept of Moslem rage. Perhaps, the fact that Moslem rage is referred to as "The Clash of Civilization" intimates the idea that at the moment, there is no other threat as pervasive and formidable enough to the present civilization as the Moslem rage.  The earliest vestiges of this phenomenon stood as historical reactions of ancient times, serving as a rival against the actual Judeo-Christian religious heritage. There are views entertained by Lewis (1990) that there are some reasons which ensure that the cause of this phenomenon remain extant.
            First off, the growth of secularism of the early 19th century, springing from the concept and practice of the separation of the state from the Church, ushered in the gradual shrinking of religious freedom and worship. Given the fact that the Koran bifurcates the world into the House of Islam and the House of Unbelief, the Moslem has come to see the 20th and 21st century civilizations as the conduit through which the prospects of the latter is advanced, with the chief antagonist being the US.
            At the same time, Lewis (Ibid) makes mention of the fact that the Developed Countries have been seen to establish international institutions by which other smaller nations, including Islamic nations are subjected to political, cultural and social domination, a development which has only left a bitter taste in the mouth of the Moslem. For instance, since the world is set rolling by the Developed Countries (DCs), the economic framework of the DCs is the one which has prevailed in the world. Through the formation of socio-economic policies, free market capitalism and economic laissez faire have soaked the world. This leaves the Least Developed Countries (LDCs) of which 95% of the Moslem world is part of; being more subject to outright exploitation by the DCs. Similarly, the Moslem is against the liberalization of the media which has been instrumental in the inculcation of the moral putrefaction of the LDCs.
Conclusion
It is these reasons which have the Moslem on a collision path with this civilization, and not humanitarian ideals such as democracy, elections, enhancement of human rights and civil liberty among other virtues.
Reference
Lewis, B. (1990). The Roots of Moslem Rage. Retrieved from: http://209.85.129.132/search?q=cache:DoIRU5TC2UgJ:www.travelbrochuregraphics.com/extra/roots_of_muslim_rage.htm+Bernard+Lewis,+%60The+Roots+of+Muslim+Rage&cd=2&hl=en&ct=clnk&gl=ke
Related Topics