Richard Wright's The Man Who Was Almost a Man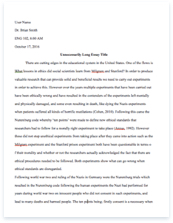 The whole doc is available only for registered users
A limited time offer! Get a custom sample essay written according to your requirements urgent 3h delivery guaranteed
Order Now
Throughout the story, The Man Who Was Almost a Man there were three core setting of this story which include but are not limited to the store, Dave's house, the store, and the field. From Dave's point of view, which the story is told, the moods around these setting alter greatly. In Joe's store his qualities goes from normal to happy. In his house his mood changes very frequently. His mood also changes repeatedly in the field as well. The mood rang from happy, to excited, to sad, and also felling guilty.
In the field where he works at the beginning he works with other people who are bigger and older than he was. It appears that they talked to him as if he was a child and Dave didn't appreciate that at all. He felt that he was becoming a man and he wanted to be treated as if he was one. He felt a gun would give him an opportunity to show them that he was a man, and should be treated and respected like one. In the beginning he was distressed by working in the field. Later on after obtaining his prized gun, his frame of mind changes to excitement as he walks to work for his boss, Jim Hawkins and his mule Jenny, he anticipates firing the gun for the first time. Dave works a while, then his enthusiasm gets the best of him and he takes out his gun ready to shoot it for the first time ever. He pulls the gun out and fires it, boom! The guns vigorous vibration was so intense to Dave it overcomes he hand with a piercing pain, and he found himself knocked down to his knees.
He kicked the gun, talking to it as if it was a person and said, "Yuh Almos broke mah arem!". He say Jenny, the mule was in a historical, he thought it was just because she was frightened by the sound of the gun. When he finally caught up he realized that he shot the mule. He tried every thing he could but the mule eventually died. Later on in the field everyone surrounded the mule trying to figure out how she died. Dave made up a lie, but it wasn't a believable one, so his dad threatened him and he finally told the truth. In just a few moments Dave's disposition changed rapidly from anticipation, to happy, to scared and finally to sad.
In Mr. Joe's store Dave's mood was nothing out of the ordinary as he tells Joe he didn't want to buy anything he just wanted to see his Sears Roebuck catalog and take it home. When Joe agreed that he would let him take the catalog home he was somewhat surprised. Joe asked him what was he looking for, Dave replied shyly, saying that he wanted to buy a gun. Joe replied saying that he had a gun that he would sell him, his eyes lit up, especially since he said he would only have to pay two dollars. His excitement quickly became skeptic, asking "Will it shoot." Joe was almost insulted, replying "Sure it'll shoot". Dave told him that he would make a decision and come back tomorrow with a reply. So he tucked the catalog under his arm and headed home to his house.
At the house were he just couldn't wait to take a glimpse of his newly acquired catalog to look at the guns the catalog had in it. He was so filled with anticipation that he didn't even notice that his mother had sat a plate of food next to him, fully expecting him to eat. When he finally found the guns in the book he enthusiastically said "Yeah, here they is!' His excitement quickly turn into an embarrassing moment, he quickly put the book on his knees and started eating his food. Him and his father began talking, he patiently waited until his father was gone because he knew his father would say no if he asked for a gun.
He knew that Mr. Hawkins paid his mother the money that he worked for every day out in the field, so he figured he would at least be able to get two dollars out of a whole summer of work. He tried to assemble the courage to ask his mom for two dollars to buy a gun. He finally did, although still nervous, he asked his mom very tensely, you could tell because his voice grew husky and faint. When he finally asked her could he have a gun she looked at him very puzzled and turned to him incredibly angry and said "Nigger, is yuh gone plumb crazy?" He replied very disappointed and tried everything he could to convince her to let him have a gun. He told his mom it would be for his father. She finally although very hesitant gave him the money for the gun, so he ran off to the store to get his gun.
In this story Dave's mood changes many times throughout this story. The setting and characters play an incredibly huge part in bringing the story together. Later on it the story Dave feels it has become all to much for him. His boss wanted him to pay for the dead mule that he killed and they wanted him to return his gun. As he was about to return the gun, he saw a train and he wanted to be a man, Dave felt he didn't have the respect where lived to be treated like one, so he jump on the train, hopefully his destination would lead him somewhere, where he could be treated and respected as an adult without a gun.
Related Topics