Review the organisations approach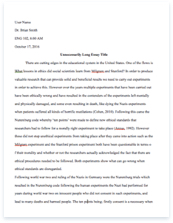 The whole doc is available only for registered users
A limited time offer! Get a custom sample essay written according to your requirements urgent 3h delivery guaranteed
Order Now
The new HR Director (HRD) requested to review the organisations approach to collecting, storing and using HR data. Specifically, the HRD request the report to cover the reasons why the company needs to collect HR data; types of data that is collected and how this supports HR practices; methods and benefits of storing data and provide at least two (2) essential legislation relating to storage and accessibility of HR data. Two reasons why our company needs to collect HR data. It is essential for organisations to keep up to date and accurate records to ensure efficient forward planning, remain competitive and provide a good service to their employees and customers. There are number of reasons why an organisation needs to collect HR data, these could be to: Satisfy legal requirements. Government departments' including HMRC can demand information from the business on how many people are employed, what they are paid, what they have been paid over a number of years, and how many hours they have worked. The working time regulations and national minimum wage act each require specific records relating to hours of work and pay details. Keep employee contact details.
Employment protection rights demand that we keep records to protect ourselves, as employers, from claims that we have discriminated against or unfairly dismissed employees. Two types of data collected by an organisation and how each support HR practices. There are various data collected by the HR Department and each has its own significance. Two of them include: Absence/Leave Recording. This will provide the organisation an employee's absenteeism or leave details and any patterns which can be used for appraisal or performance management. Payroll data. This provides the company the employees' rooster of pay out per day, per month and all other remuneration given to each employee group or band. Two methods of storing data and benefits. There are many ways of storing data and enormous number of benefits to it. Two of them involve: Storing data in soft copy or electronic format. This could mean scanning documents and files and storing them in pdf format, rtf. Etc. Having soft copy data allows a company to easy retrieval, fast sharing among employees or units within the organisation and known world-wide as the most eco-friendly way of storing information.
Some known downside would be electronic files can be easily damaged by virus, a hacker can steal it and incorrect encoding or input could lead to incorrect information i.e. "garbage in, garbage out". Storing data in hard copy or the classic paper files in cabinets or storage rooms. These types of data is most beneficial for legal requirements wherein the courts require hand written evidence, actual written signatures and is always the best source of back up in the even that soft copies are destroyed. The downside includes, it's not a space saver decision (too much file is equal to big spaces); its fire hazard and definitely degradable. Two legislation relating to recording, storage and accessibility of HR data. The part will focus on two countries where I currently reside and work (Qatar) and based from information gathered concerning the UK Data Protection Act of 1998.
Qatar1 currently does not have a specific body of legislation addressing matters of data protection and privacy. Instead, Qatar's data protection and privacy regime is comprised of a variety of provisions found in other laws including the Qatari Penal Code, the Qatari Trade Secrets Law, the Qatari Constitution, the Qatari Telecommunications Law, the Qatari Labour Law, the banking regulations issued by the Qatar Central Bank (QCB), and most recently the Qatari E-Commerce Law. In terms of personal information (the closest to HR data), The Qatari Labour Law provides that an employee has an obligation to keep confidential information and secrets relating to his or her employer confidential. In accordance with the Qatari Labour Law, an employer may dismiss an employee without notice and without payment of end of service gratuity if that employee discloses confidential information or secrets relating to his employer. The United Kingdom ("UK")2, as a member of the European Union ("EU"), was required to implement the EU Data Protection Directive 95/46/EC (the "Directive") into its national legislation.
The Directive was implemented in the UK in March 2000 when the Data Protection Act 1998 (the "Act") came into force. There are two transitional periods: the first expired on October 24, 2001, and the second expires on October 24, 2007. The processing of certain personal data does not become fully subject to the Act until the latter of these dates. The Office of the Information Commissioner (the "Information Commissioner") enforces the Act. In June 2005, the Information Commissioner published the Employment Practices Data Protection Code to assist employers in understanding and complying with the Act. The collection and processing of personal data is allowed where: 1) the employee consents; 2) it is necessary for the performance of, or entering into, a contract to which the employee is a party; 3) it is necessary to comply with a legal obligation to which the employer is subject, 4) it is necessary in order to protect the vital interests of the employee; 5) it is necessary for the administration of justice, the functions under any enactment, the Crown, the government, or public functions in the public interest; or 6) it is necessary for legitimate interests pursued by the employer, or third party recipients, unless it prejudices the rights and freedoms or legitimate interests of the employee. With respect to the collection and processing of sensitive data (e.g., racial or ethnic origin, political opinions, party affiliation, and religion), additional requirements apply.
Notes:
1/http://www.clydeco.com/insight/articles/data-protection-update-3-data-protection-in-qatar
2/http://www.whitecase.com/files/Publication/ede9ebff-5201-4bda-a63f-62b0f73626c1/Presentation/PublicationAttachment/b7f3fd3b-e80e-4903-943d-6515e9c6caad/Data_Privacy_Countries_At_A_Glance_4_07.pdf
Related Topics