Regulatory Agencies Paper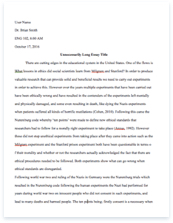 The whole doc is available only for registered users
Pages: 4
Word count: 961
Category: Nursing
A limited time offer! Get a custom sample essay written according to your requirements urgent 3h delivery guaranteed
Order Now
The concept of regulatory agencies has many boundaries and their responsibility is to license long-term care facilities to ensure compliance of laws and regulations. It is stated that in the United States the long-term care (LTC) marketplace is normally recognized as one of the most strongly regulated sectors in the economy, although there are differences in the degree of regulations across long term care establishments (Stevenson & Grabowski, 2006). Therefore, every long term facility are held responsible to abide by the regulations set forth to properly provide accurate care for patients, moral and ethical treatment, secure environments, and health care reimbursement. This paper will discuss three regulatory agencies including an overview of the agency and its functions and at least one specific example of how each agency regulates long-term care.
One of the regulatory agencies that are extremely active in the way long term care is delivered is the Center for Medicare and Medicaid services (CMS). According to (Stevenson & Grabowski (2006), these services creates and maintains federal regulations for long-term care facilities that choose to accept residents that depend on Medicare and Medicaid benefits as a form of payment. Federal regulations affecting long-term care include those rules governing the certification of nursing homes and home health organizations to receive payment under Medicare or Medicaid. These conditions of participation are established by the Centers for Medicare and Medicaid Services (CMS), and in the case of nursing homes, largely stem from the OBRA reforms.
These reforms included a federally mandated uniform resident assessment form to be used in all nursing homes as a basis for planning, the creation of new conditions of participation on resident's rights and quality of life problems, and monitoring of the extent to which standards are met through direct observation and interviews with residents (Stevenson & Grabowski (2006). State agencies are responsible for annual certification inspections and any complaint investigations. Take for example, when excessive flaws and defects are detected during an inspection; there are penalties that may be placed on facilities, including civil money penalties, denial of payment for new admissions, state monitoring, temporary management, and immediate termination.
The CMS funds most of the costs of the certification process and oversees the state agencies to ensure that the federal rules are implemented properly (Stevenson & Grabowski, 2006). Another regulatory agency is Ombudsman program that was authorized under the Older Americans Act and administered by the Federal Administration on Aging, the LTC ombudsman program began in 1972 as a trial program and now every state has upheld its cause. (Stevenson & Grabowski, 2006). The program is mainly comprised of volunteer staff and the initial functions of the ombudsman program are to settle grievances made by or for residents of LTC facilities, in addition to educating providers and the public about residents' rights and good care practices, and to serve as general advocates for residents in LTC facilities. Although the Ombudsman program has no authority to set or enforce specific standards of care, the program has been found to be a positive, if under-resourced, influence on quality of care.
Take for example, the government enforcement of quality standards in nursing home malpractice lawsuits. Nursing home litigations has risen strongly over the last years, especially in southern states, and the threat of lawsuits serves as a strong warning for insufficient nursing home care for residents. (Stevenson & Grabowski, 2006. Government regulation plays a key role in safe guarding quality of care in long term care facilities. In most states they have their own regulations that long-term care facilities are required to follow in alliance with federal regulations. In generally, state regulations are equivalent or sometimes exceed federal regulations and have different techniques when it comes to enforcing and setting guidelines (gmcf, 2014).
Therefore, the last regulatory agency is The Georgia Department of Community Health (DCH). This program is assigned to have control of the state Nurse Aide Training and Competency Evaluation Program and the Nurse Aide Registry. (DCH) enters into agreement with Alliant GMCF to aid the administration and oversight of the Georgia Nurse Aide Program, the Nurse Aide Registry and Nurse Aide Training Program (gmcf, 2014). The function of the Alliant and GMCF is to ensure that the appropriate educational plans and procedures of the Nurse Aide Registry are in compliance with the Code of Federal Regulations and with State requirements. This program was established in 1990 from the (OBRA) Federal Omnibus Budget Reconciliation Act (gmcf, 2014).
The undertaking of OBRA was to enlarge the quality of care by assuring that all nurse aides working in long term care facilities have minimum skills for aiding licensed nurses in the supervision of a patient. The state of Georgia implemented the standards for nurse aide education, certification and program endorsement forthrightly from the OBRA polices and guidelines (gmcf, 2014). For example, The Georgia Nurse Aide Program (NAP) is accountable for the overall annual staff training evaluations at all licensed Medicare and Medicaid long-term care amenities..
The location of review examines data concerning certified nurse aide (CNA) in-service hours, present CNA certification standing, and employment status must be in-line with state regulations /alliance with federal regulations (gmcf, 2014). In conclusion, Regulatory agencies are important, they help to ensure the safety, quality and ethical care of patient's in long term health care environments. Laws and regulations are established to protect individuals when their quality of life is at risk and endangered. Providing quality care is of the upmost in health care and all facilities should voluntarily abide with all regulatory bodies at all times.
References
Georgia Long Term Care and CNA Regulations. (2013). Retrieved from http://ltcsbooks.com/state-long-term-care-and-cna-regulations/georgia Stevenson, D. and Grabowski, D. (2006). Long-term care regulation. In The encyclopedia of aging. Retrieved from
http://search.credoreference.com.ezproxy.apollolibrary.com/content/entry/spencage/long_term_care_regulation/
Related Topics