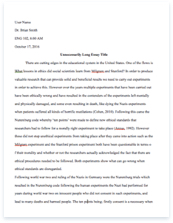 The whole doc is available only for registered users
A limited time offer! Get a custom sample essay written according to your requirements urgent 3h delivery guaranteed
Order Now
3 half-caste girls have been taken by the government to stay in a camp in an attempt to breed out Aboriginals as they were under the impression that they were less advantaged and at risk being in their own communities and that they would receive a better education and a more loving, civilised upbringing in adopted white families or institutions. The girls walk all the way from Moore River back to Jigalong which is approximately 1.5miles (2.4km) long. Along the way they are faced with the danger of being caught, not getting water or food and many other things.
One of the girls (Gracie) hears that she can go to her mum via the train so she leaves the other two girls in order to catch the train and find her mum, Molly warns her that this is too dangerous because she will get captured but Gracie doesn't listen, Molly and Daisy go back for her but before they can get her she is recaptured and sent back to camp. The other girls keep walking along the rabbit-proof fence until it runs out, but they don't lose hope, they keep walking until it continues and they can feel their home. They are then reunited with their mother and grandmother after 9 weeks of walking to get home. This is when the epilogue begins to give us details after. Symbolism:
RABBIT-PROOF FENCE – the fence is referring to the actual fence but is very symbolic because it is built by whites and it gives the feeling of exclusion and separation (the whites are separating the Aboriginals from their families) it is also symbolic of where the girls live. NEVILLE – imperialist thinking (whites are superior and God's chosen people) SPIRIT BIRD – strong sense of community, hope, freedom, belonging, provides Molly with inspiration and determination and is a connection between her and her homeland. The bird is used to portray the sense of freedom and a guide to help Molly through the difficult times on the journey home. It symbolises safety and protection after the children were taken away from their mother. It also symbolises the identity and faith of the Aboriginals.
Related Topics