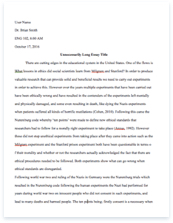 The whole doc is available only for registered users
Pages: 4
Word count: 893
Category: Child
A limited time offer! Get a custom sample essay written according to your requirements urgent 3h delivery guaranteed
Order Now
043:Manage quality in health and social care or children and young people's settings. Analyse how legislative and regulatory frameworks inform quality standards that apply to the work setting. The main regulatory framework that we follow is the EYFS welfare requirements. The requirements are broken down into sections: * The learning and development requirements
This details how we must work in partnership with parents and carers, promote the areas of learning preparing them for school. It ensures we support families that has English as an additional language and highlights the need for key workers. * Assessment
This section describes how we, as practitioners, monitor how the children are progressing and in which areas. The section also shows the need for a progress check between the ages of two and three and a progress report before the children enter Primary School. * The safeguarding and welfare requirements
Here the guidelines are set out in order to keep the children, staff and any visitors safe and within the law. Risk assessments, the need for policies, ratios and space allowance are also detailed here. Each section details recommended best practice as a guide to follow, during practice day to day we model our policies, procedures and practice on these guidelines. With the help of a Self Evaluation Form (SEF) we look at each aspect of our daily routine and the service we offer and produce evidence of what we do compared to the welfare requirements. When the most recent copy of the EYFS was published some changes were made, it is important that we are aware of, and abide by, these changes. The changes were: 1. An area of learning and development consists of 3 prime areas and 4 specific areas with close links with the National Curriculum in subject areas. (Literacy and Maths) 2. Early learning goals and assessment has been 'slimmed down' to 17 goals from 69. 3. The progress check in the child's 2nd year.
4. Playing and teaching – the practitioners are responsible for creating a balance between play and education and between child and adult led activities. 5. English as an additional language has a clearer focus
6. Wrap-around care now does not need to deliver the EYFS when the time the child spends there is limited. 7. With regard to child protection there is examples of adult's behaviour which may indicate child abuse and neglect. 8. Again with regard to child protection the EYFS now has strict guidelines about the use of mobile phones and cameras. 9. The decision of who is a suitable person to manage a setting has been simplified and returned to the hands of the setting owner with guidelines. 10. Supervision of staff is compulsory and has been detailed to ensure encouragement of continual professional development. 11. Childminders must complete training in the EYFS.
12. There may be some exceptions to the staff:child ratios. 13. It is now up to the providers to carry out and judge risk assessments; they must be recorded in writing. Analyse how quality standards influence positive outcomes for individuals. Parents and carers
* They receive a high quality standard of childcare and education. * They are secure in the knowledge that their child is in a safe, secure environment. * They are kept well informed about their child progress through a good partnership with the setting. * Through positive inclusion all parents and carers will feel valued within the setting with their opinions listened to. * They can feel supported with 'extra' support such as working in partnership with the TEAL team or benefiting from the 2 year old funding scheme. Staff
* The staff have opportunities to contribute to the setting and therefore feel valued, happy and motivated * They will be encouraged to develop themselves professionally and will be able to see the benefits of well-informed staff team. * They will feel confident to take on responsibilities within the setting when they feel valued and supported. * The staff can gain greater knowledge through professional development. * There will be low staff turnover when staff are happy and valued this helps to maintain good staff moral and team work. * Through solid policies and procedures the staff feel safe and confident in the roles they preform and when interacting with the children. Outside agencies and visitors
* With a quality product being known people will be keen to visit the setting knowing that it is run to best practice and will be eager to be part of that. * They will feel safe within the Preschool knowing that our policies and procedures protect them. * The setting will be well equipped and organised for any visitors or professionals. * If visitors and professionals have a positive experience in the setting they will promote the setting to others. * People who visit the setting will feel valued and welcomed. Children
* They receive a high quality of care.
* They can experience a secure, stimulating environment.
* They are getting the best start to their education.
* They feel included and learn positive inclusion through good role models. * They learn how to have good attachments and how to forge bonds. * From the free flow system in place the children will learn independence, self-help skills and confidence with decision making skills.
Related Topics