Pros and Cons for School Uniforms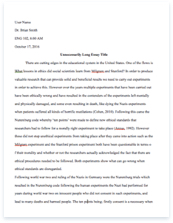 The whole doc is available only for registered users
OPEN DOC
A limited time offer! Get a custom sample essay written according to your requirements urgent 3h delivery guaranteed
Order Now
One of the chief benefits of school uniforms, say proponents, is that they make schools safer. Uniforms are said to reduce gang influence, minimize violence by reducing some sources of conflict, and help to identify trespassers. Parents benefit because they are no longer pressured to buy the latest fashions, and they spend less on their children's clothing. Having a uniform stops gang members from displaying their colors and garb. The schools also believe it helps stop violence and helps instill a sense of pride in the students. It also helps to break down the barriers between different socioeconomic groups. I feel we should keep to the uniform. It sets an example of the school. It is representation the community. It is easy to point out different people. Also there would be more fights/bully due to the lack of 'fashion'. " Promotes Good Discipline:
Many think that school uniforms help maintain school discipline, decreasing the amount of discipline problems. The argument is that children today are lacking in self-discipline because parents refuse to discipline them. This makes it more difficult on the teacher who has to deal with classes of 25-30 students at a time.
Reduces Fighting and Violence:
Schools report that school uniforms decrease fighting and violence that arise out of arguments over fashionable clothes. Children invariably tease those who do not have trendy clothes. Those who can't afford name brand clothes are often sensitive about their clothing. Schools struggling with gang problems report that school uniforms help ease tensions.
Distractions:
Many parents believe that students wearing school uniforms look nicer and that a school uniform policy ensures that children will come to school in appropriate clothing, avoiding distractions such as fads considered to be outlandish or overly revealing. Some students have turned school into an unending fashion show. This distracts from learning, as some kids spend more time focused on their clothes than on homework.
Values:
School uniforms stress that designer clothing or the latest fashion fad does not determine individuality and self-expression.
Low Cost:
School uniforms are a bargain. They are becoming far less expensive than many other clothes. Schools argue that school uniforms are economical, especially compared to designer clothing, and parents agree given school uniform durability. They say school uniforms last longer because they are made for repeated wash and wear. Many schools capitalize on this by starting used school uniform stores or swap meets. Parents can get used school uniforms at discount prices, or just use them as hand-me-downs between siblings.
School Spirit:
Some feel wearing a school uniform helps build school spirit. It instills a feeling of belonging. As the Beach Boys said, "Be true to your school." Schools report an increase in school pride.
Should Not:
1. School uniforms inhibit students (TM) individuality. Young people often express their feelings through the clothing that they wear. Uniforms will take away this form of expression. Why should school districts try to make everyone look the same? 2. A school uniform policy inhibits a student's freedom of choice. Schools teach students that our country is a free one. But when school boards make students wear what they tell them too– it curtails the students' freedom. 3. There is the issue of cost. Many parents shop for their children's clothes at used and discount stores. Uniforms can cost more money than these families might be able to afford. Also, these students would need to buy additional clothing to wear after school and on the weekends.
That's double the amount of money a family would spend than they would without the uniforms. 4. The last reason I do not enjoy the thought of school uniforms is comfort. Students enjoy wearing comfortable clothing to school. Uniforms are not necessarily comfortable. Also, wearing a uniform might make the student uncomfortable around people outside the school who don't have to wear a uniform. If we want individuality, freedom, and comfort for students while keeping costs down for families, we should not have a school uniform policy for students who attend public schools. " Individuality:
Supressing individuality is the most commonly cited objection to school uniforms. Educators argue that an academic program encouraging students to pursue individual thought is much more important than what they wear. They inhibit creativity and self-expression, forcing students to conform.
Causes Discipline Problems:
Some students reject any rules. Forcing them to wear school uniforms only aggravates their rebelious spirit. They alter their school uniform by tightening, widening, shortening, or lengthening them, and teachers are given the impossible task of policing the students on a daily basis.
Little or No Relationship to Academics:
Opponents insist that their is no credible evidence that school uniforms improve school discipline or promote higher academic acheivement. The principal argument is that some great students are terrible dressers. Dress does not necessarily improve learning.
Related Topics