Process Evaluation of a Community Garden at an Urban Outpatient Clinic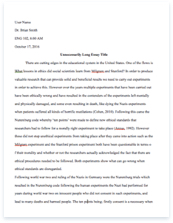 The whole doc is available only for registered users
Pages: 8
Word count: 1815
Category: Gardening
A limited time offer! Get a custom sample essay written according to your requirements urgent 3h delivery guaranteed
Order Now
The primary goal of this cross-sectional study was to evaluate a community garden program at an urban medical clinic in a food-insecure locale in North Carolina. This program was designed to cater to a richly diverse and historic African-American neighborhood, in which they offered clinic patients and community residents with fresh fruits and vegetables, nutrition education classes, as well as an opportunity for community growth and development through community and staff volunteerism. The researchers' primary objectives were to assess patients' awareness and participation in the community garden, food security, difficulties that prevented patients from participating, and personal/health demographics. Their secondary objectives included assessing garden volunteer satisfaction, and clinic staff perspectives in using the garden for patient education/treatment (Milliron et al., 2016).
Methodology
Data was collected over a three-month period and the study design was approved by the Institutional Review Board. The researchers first utilized a verbal three-question community garden participant screener. In order to help with the random selection of participants, randomization was conducted with computer programming software. This process helped prevent double sampling of the clinic patients and randomly selected patients to complete a second in-person survey. The patient survey was similar in design to the Adult Community Gardener Survey which assessed participation and satisfaction with the garden, patient demographics, and health demographics. Food insecurity was assessed via the US Household Food Security Survey Module: Six-item Short Form. Visual aids developed with information from the USDA MyPyramid website for fruit and vegetable one-cup equivalents were used to help patients assess their fruit and vegetable intakes. These food models helped patients measure their fruit and vegetable intakes using the two-item cup fruit and vegetable screening module. In order to assess volunteer satisfaction, a convenience sample of the volunteers was done. They were then asked to fill out an online survey that was modeled after the Adult Community Gardener Survey. This helped to assess satisfaction and participation among volunteers, as well as personal characteristics (i.e. economic status). Volunteer fruit and vegetable intakes were also measured using the same two-item module/visual aids used for the clinic patients. Lastly, clinic medical staff were recruited to fill out a survey designed by the researchers to assess their satisfaction, interest, and significance of the community garden in terms of clinical impact and importance. Statistical Analysis Software, version 9.2 was used for all statistical analysis. The researchers also utilized T-tests and Chi-square tests for continuous variables and to identify differences in community garden awareness by patient demographics/characteristics (Milliron et al., 2016).
Participants
The total number of clinic patients participating in the initial screener included a total of 411 males and females; however, only 152 participants (58 males and 94 females) were randomly selected to complete the second in-person survey. In the volunteer group, 71 participants were randomly selected to complete the survey and only 30 participated. Lastly, all clinic staff members were recruited to complete the survey and the staff included registered nurses, licensed nurse practitioners, physicians, physician assistants (PA's), pharmacists, and administrative personnel. All study participants were 18 years-of-age, or older, and were excluded if they did not speak English. Patients with any cognitive impairments which would interfere with the completion of the survey were also excluded. Cognitive impairments were identified by the trained medical staff at the clinic (Milliron et al., 2016).
Findings
When evaluating the 152 patient surveys, the researchers noted that 61% were African-American 62% were female and 84% were at least 41 years of age or older. 38% had greater than 12 years of education, 40% were not employed, 17% were retired, and 50% reported high rates of food insecurity. The patients also reported eating .8 +/-1.0 servings of fruits and vegetables per day and used various cooking techniques such as boiling, steaming, and sautéing. 66% noted having elevated blood pressure, 30% had type 2 diabetes mellitus, 20% had cancer, and 18% had heart disease. Although produce was offered at multiple visits by clinic staff, 67% of patients only received produce once from the clinic. Only 50% of patients were aware of the community garden, 40% had heard about the garden from staff or volunteers, and only 20% had actually gone to the garden. Researchers also noted that patients who were African American and older, such as the retired population, were more likely to know about the garden. The biggest difficulty to participating in the program was lack of awareness. 80% of patients stated lack of awareness as the most significant barrier to their participation, while 40% stated that they felt as though they needed additional gardening experience, and 72% stated that they would like to learn more about the community garden. The volunteers were predominantly white and female and 47% of them were aged 19-30 years of age. Fruit and vegetable intakes were higher in this group compared to the patient participants. This group reported consuming 1.9 +/- 0.9 cups of fruit and 2.3 +/- 0.9 cups of vegetables per day. Volunteers reported that they had increased their gardening knowledge, felt a stronger connection to their neighborhood, and gained a greater knowledge and appreciation for the environment. Volunteers also reported that they taught family and friends about gardening, exercised more, and consumed fewer fast foods. Volunteers did report that a barrier to participation for them included feeling like they lacked confidence and knowledge in their gardening capabilities. Lastly, all clinic staff members completed the survey. Surprisingly, only 30% of the staff reported that they told their patients about the community garden "all of the time,'' 40% stated "most of the time," and 30% reported "some of the time." I believe this explains the higher rate of patient's reporting their biggest barrier to participating was lack of awareness. All staff members reported using the community garden to help facilitate nutrition education during patient visits. Staff members reported using the garden to help promote higher consumption of fresh fruits and vegetables, how to prepare produce, the micronutrient profiles of different produce and fiber content, and the importance of fresh produce for their diabetic population. All staff members reported that the community garden was a great teaching tool to increase patient's nutrition knowledge (Milliron et al., 2016).
Recommendation
The most alarming finding of this study was that lower participation was due to lack of awareness of the community garden program by the patients. And so, in order to promote greater participation rates, the researchers suggested creating activities to increase awareness such as providing cooking demonstrations at the clinic using produce from the garden as well as promoting the garden program via social media outlets. By improving patient awareness, the researchers believe that patients would take more produce home with them and that they would visit the garden more as well (Milliron et al., 2016).
Analysis
Although I believe this study has a strong design, it is not without limitations. Firstly, the study results are not easily generalizable due to the small outpatient clinic setting that was chosen. Secondly, produce variation associated with different seasons and volunteerism was not assessed in this study. Even though randomization was used to limit bias, some of the results may have still been affected. The researchers also recommend the use of semi-structured interviews and focus groups to better assess participation barriers and patient awareness in future studies. One of the strengths of this study is that it assessed various groups and characteristics such as patient awareness of the community garden and participation, volunteer participation, and staff participation/investment. The use of randomization was also a strength of this study and using surveys that were modified for the culture and based on validated tools were both strengths of this study (Milliron et al., 2016).
Synthesis
The clinical staff members utilized the community garden as a teaching tool to educate their patients with various disease states about nutrition and its significance in improving their overall health. The clinic provided an informal educational opportunity for their patients during their scheduled appointments which did not require any prior knowledge of the subject. This type of learning can be referred to as "everyday learning." It is woven into our everyday lives, so we often do not associate it with actual learning (Merriam & Bierema, 2014). The community garden also provided an informal learning opportunity for the volunteers. They were able to learn more about how to plant various types of seeds, the seasonality of different produce, and increase their gardening knowledge just by wanting to feel more connected to their community. Some of the volunteers also noted on their survey that they were seeking outside knowledge to better aid them in cultivating the community garden and so, the garden provided an avenue for self-directed learning for these individuals. They were able to engage with fellow volunteers and learn from each other, as well as further their knowledge individually. The volunteers became more independent and self-directed which Knowles emphasized is important for us to become life-long learners (Merriam & Bierema, 2014).
A large percentage of the volunteers reported that a barrier to their participation in helping with the community garden was a lack of confidence and gardening skills. This statement exemplifies that humans' self-efficacy plays a significant role in their willingness to adopt new behaviors or skills. This ties into social cognitivism in that people are more inclined to perform a skill or adopt a particular behavior if they have higher self-efficacy. For this group, their self-efficacy could be increased by modeling behaviors and skills of some of the trained medical staff that would help in the garden. I also believe that this program fostered transformative learning for the volunteers (Merriam & Bierema, 2014). Some of the volunteers felt that their participation in the garden gave them a deeper sense of purpose, as well as a greater appreciation of the environment. This kind of learning went beyond traditional application and helped these individuals develop greater connections to members of their community, as well as the desire to take better care of the environment.
Implications/Conclusions
I believe that this study promoted a strong foundation for the use of community garden programs as a platform for nutrition education and as an opportunity for community growth and development. This study also emphasized the importance of creating activities and using social media outlets to increase peoples' awareness of programs to increase participation. I believe community garden programs also provide a wonderful environment to increase peoples' self-efficacy in participating in community projects and to foster self-directed learning in adult learners. I believe that volunteer opportunities such as this that involve helping improve food security among the community provide a way to bring about transformative learning experiences for learners as well. It is important for people to feel as though they are making a difference in each other's lives and that the work they are doing has significant value.
Related Topics