Trauma and the ABC Model of Crisis Intervention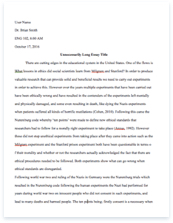 The whole doc is available only for registered users
Pages: 7
Word count: 1541
Category: Model
A limited time offer! Get a custom sample essay written according to your requirements urgent 3h delivery guaranteed
Order Now
A description of the ABC model of crisis intervention cannot be complete without an understanding of the nature of a crisis itself. Inherent in a traumatic and often unexpected event is the element of human reaction, which is subject to a variety of factors. Influences such as the psyche of the individual and predisposition towards resiliency, the social and cultural milieu in which crises arise, and the nature and severity of the precipitating event all contribute to the terrifying reality of any traumatic and influential experience.
The nature of trauma is endemic to the human experience, and many are specifically rooted in various stages of development, whilst certainly others are not. It can be unequivocally stated that most, if not all human beings, shall inevitably suffer at some point in their lives a developmental crisis or trauma such as divorce, to unexpected and uncontrollable tragedies such as the death of a child.
Examples of trauma may range from the unfathomable pain of victims of child abuse or sexual assault, to the collective travesties of fires, mass shootings, racial violence, imprisonment, natural disasters, or political oppression combined with military force, and that suffered by soldiers or refugees of wars. The world is a beautiful yet brutal place and the psyches of its inhabitants malleable. Crisis intervention is an attempt to understand and respond compassionately to the psychological processes which occur in the wake of these very human, very real actions and consequences.
It is an attempt to recalibrate the level of functionality of someone who has endured any form of psychological stressor. Encumbent upon crisis intervention professionals is the task of efficiently and effectively identifying the cognitions which result in unmanageable feelings. The human psyche is adaptable, and attempting to return victims of trauma to their previous levels of mental stability is the noble and valuable goal of intervention.
The impetus for and primary thrust of the ABC Model of Crisis Intervention is in literal terms an "action-oriented interview" between one in a helping role, a therapist, emergency responder, clinician, etc. , and one who has been "immobilized" by a tragic and debilitating event. Its goal is short term intervention and immediate hope, help and relief. It is distinct in contrast with longterm psychotherapy whose goal is deep introspection on various levels. Crisis intervention offers a relatively short term analysis so that a client may return to their daily routines with some sense of normalcy.
Effectively integrating the event into one's "new normal" will ideally allow one to return to pre-crisis levels of functionality. Loosely based on Jones' ABC model of crisis management, whose three stages consist of: A, achieving contact; B, boiling the problem down to basics; and C, coping, the ABC Crisis Intervention model doesn't always require "hard and fast" sequential application. The boundary lines of these phases may blur at times and are naturally revisited, repeated and may overlap.
Within each phase, the sequencing of individual questions and meta-stages may vary and be restructured as is deemed necessary for the client's success. The ABC Model of Crisis Intervention is described as follows: First, upon meeting with the client, a crisis intervention social worker's initial task shall be the establishment of an informational, mutually respectful, trusting and empathetic rapport. This is established through the verbal account of the victim/client/patient/witness. Confidentiality norms and professional standards involving human rights are to be adhered to with utmost integrity.
Attending behaviors such as the use of overall empathy and focus on the client, closed and open ended questioning, active listening, clarifying, reflecting and summarizing all increase the capacity for closeness and trust. This information gathering stage also functions to provide a fertile ground from which they may continue the process. A sample dialogue could be: "Good afternoon, let's talk about what's happening with you. Can you tell me a little bit about how you're feeling? " Or, "What brings you in today, can you give me a sense of some of the things going on in your life? "
From there, basic attending examples could be: "I understand that you're going through an incredibly difficult transition since your husband's passing. This is indeed one of the hardest things anyone can possibly go through. There are so many emotions to contend with and handle during this time. " The second phase of the ABC Model of Crisis Intervention is arguably the most important phase, if not the crux upon which the other two depend. This phase involves identifying the problem (corresponding with James' model phase "B," boiling down the problem to basics), and the resulting cognitions as experienced by the client.
The precipitating event which unfortunately cannot be changed but must be identified is the original event, such as the death of a loved one. Second, the thoughts which have resulted must also be identified. Through this phase of analysis, the clients' perceptions must be explored, during which time both client and therapist gain intimate understanding of the client's frame of reference and "sources of pain. " Identifying the thoughts which immediately followed the event, and the "subjective distress," often resulting in emotional impairment is crucial.
An example of dialogue at this stage is as follows: "It's only been three months since your husband's death, how are you feeling today, specifically? There are many phases of grief; tell me about what thoughts you are having at this time? What is it like for you specifically? What emotions are you experiencing right now? You seem alternately numb and angry. " Also identifying any behavioral, social, academic or vocational impairments are key at this stage. "How are you coping with the normal tasks of day to day life? How are your eating habits?
Are you sleeping? Have you been granted some time off work? Do you have a good support network? How often do you speak with or see your friends and family? Have you been able to continue with your studies, or have you been missing classes? " Ethical checks must be performed to determine whether factors such as suicide, substance abuse, psychosis or any other form of abuse exist. It is also necessary to address basic living and medical concerns.
During this phase the role of the therapist begins evolving yet again to encompass one f educator, empowerer, and validator. Identifying the client's norms before the event can be used as a gauge in analyzing their current fuctionality level. "Are you feeling like hurting yourself or anyone else? How often are you drinking? Are you able to function in the mornings and get out of bed? Have you been able to keep your doctor's appointments? How is your motivation level when it comes to caring for your kids' basic needs? Can you tell me what your relationship with your kids was like before your husband's passing?
How are you getting along with each other now? Are you still going to church on Sundays? How are you faring financially, are you stressed out about the funeral costs? " The majority of therapy sessions may be spent in this phase in which the clients' perceptions and thought paradigms, core beliefs and values, patterns and behavioral habits, and access to resources or lack thereof are analyzed. Educational and empowerment statements, support and reframing are key therapeutic responses in this stage.
A therapist can help the client to assess or inventory the various aspects of their situation, and possibly help them to see a "bigger picture," identify important cognitions, and help them to understand that their thoughts result in emotional responses, which result in behaviors which shape the life they now lead, post-traumatic event. Examples of this phase of therapy may also include: "Tragically for everyone, the loss of a loved one is extremely difficult, and taking time off for yourself isn't selfish. You need to put yourself first sometimes so that you can be available for your children, too.
I am so sorry that you are going through this. You are blessed with children who love you as well as family support. Do not blame yourself, you couldn't have prevented this; it's not your fault that this happened. " The final phase of the ABC Model of Crisis Intervention involves addressing coping strategies. Open ended questions which seek to determine how the client has been coping are essential. This phase should include discussions of the options for support groups, community resources, doctors and other ealth care or support professionals.
For example if the client is grieving, there are grief support groups and established "phases of grief" resources available. If they are overdrinking to deal with their anguish, it may be time to address the question of in or outpatient substance abuse treatment, or involvement in a 12-step group. Therapeutic recommendations may include journaling, reading pertinent books, or referral to a psychiatrist or physician who can prescribe medical interventions or treatment.
Legal referrals or therapeutic referrals such as whether to continue in long term or family therapy may also be necessary. Commitment to the recovery process is mandatory. Follow up between the client and provider will continue to help the client move towards appropriate emotional balance, an integrated psychological state, and productive behavioral patterns which will in turn bolster and support the healing process. Obtaining commitment from the client relative to future appointments and phone calls between therapist and client pave the way to continued support.
Related Topics