Risks and Possible Consequences for Children and Young People Using the Internet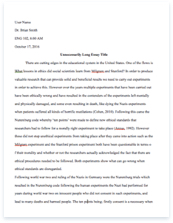 The whole doc is available only for registered users
Pages: 2
Word count: 293
Category: Risk
A limited time offer! Get a custom sample essay written according to your requirements urgent 3h delivery guaranteed
Order Now
Although the internet can be a valuable tool both educationally and socially, there are some serious risks associated with using the internet and other technologies. As in the real world, children and young people are vulnerable and may knowingly or unknowingly expose themselves to danger when using the internet, mobile phones and other technologies. One of the main risks of using the internet is that children may be exposed to inappropriate material. This could be pornographic, hateful or violent in nature; that encourages activities that are dangerous or illegal, age inappropriate or biased. There is also the risk of physical danger.
Some people use the internet to make contact with children and young people with the intention of developing a relationship which they can progress to sexual activity. This is known as 'grooming'. Paedophiles will often do this by posing as a young person with similar interests as the intended victim. Bullying is another aspect of the use of new technologies which are perceived as providing an anonymous method by which bullies can torment their victims. Children may receive texts or emails that make them feel sad, embarrassed, upset, depressed or afraid. This could be damaging to the child's self-esteem and psychological wellbeing.
Just as in the real world, cliques and groups can form online and these groups may get involved in inappropriate, antisocial, or illegal behaviour while using digital technologies. Some children and young people may become involved in serious illegal activities. Possibilities include, identity theft, bullying, selling stolen goods, participation in hate websites. There is also a risk that children can access sites, suicide sites and online gambling. There is also the possibility that children may divulge personal information such as full name, address, email address, phone number, hobbies, name of school etc.
Related Topics