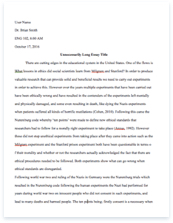 The whole doc is available only for registered users
Pages: 3
Word count: 634
Category: Canada
A limited time offer! Get a custom sample essay written according to your requirements urgent 3h delivery guaranteed
Order Now
I have just come off the plane. I finally have arrived and brought all my dreams here in Canada. I didn't know much about Canada but I knew exactly that Canada looked like USA at least about life and culture. The Montreal airport was very beautiful, big and modern with noise at all. Suddenly I felt lonely in this strange world and kind of disappointed because it was not like as things I expected before. There were so many people around me, and they seemed to be in a hurry, but I didn't know why, I thought that they might not have time to think about silly things like me right now.
So I tried to find my luggage and checked out formality to leave airport. I crossed a big hall and stop at a line where everybody stopped and waited to check out with airport officers. I took almost one hour to finish this before continue to check out at another place. It was horrible time but airport officers were really nice as they were. I smelled coffee and broiled meat somewhere and it made me so hungry. After all, I felt better and go to in the front door of the airport to seek my relative.
Finally I saw them at a corner and they were really happy when they saw me and welcome me to Canada. My aunt and uncle have lived in Canada for ten years and I really hoped them very much with all my trust. Out of the airport, in the afternoon, it was raining and so cold, so I had to put on my jacket and felt uncomfortable with the weather because I hated coldness and humidness at all. The air was really fresh but the sky was gray and cloudy. That day was not really a good day to enjoy this new country.
I was following my uncle and aunt to a parking, then put my luggage into the car and started a trip to Ottawa where I will live in years. Not so long, they drove the car on highway and always be on high speed. The atmosphere became more cold and quiet. Two side of trees appeared and smell of trees came to my nose. Nothing made me more enthusiastic because I knew this tired trip will take more two hours to end. Sound of the wind blows strongly through glass door of the car and made me fall sleep.
After a long while, I woke and see the sky and everything around me were dark with a little bit electric light on road and in buildings. It was eight o'clock and my uncle said that we will come home very soon. This was Ottawa and we were crossing a bridge to come to Gatineau. I will live in Quebec and study in Ottawa, that will fun I think. I couldn't realize anything because they are dark, not noisy and absolutely not like anything I expected before. Not much light, not many cars, not many people on road and I thought the night here will not be interesting like my country.
Soon we stopped in the front of the door of my uncle and aunt. The house was really nice even in night when I looked at the house. At that time I knew that I will have to live in long time to finish my plans in this strange place with very different things. I will have time to discover things which I will live with them but that day was my first day in Canada, and I didn't wanted to think too much at first day because I will start a new life tomorrow not to day, not first day. Everything changes every day but with me, the first day in Canada is always in my mind.
Related Topics