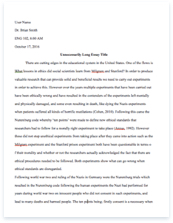 The whole doc is available only for registered users
A limited time offer! Get a custom sample essay written according to your requirements urgent 3h delivery guaranteed
Order Now
1. Introduction:
Electricity makes our lives easier and more enjoyable, since almost all of our modern conveniences are electrically powered. We could survive without electricity. This statement: Power outage is one of the serious problems that Egypt face, but dose really we have a solution for that problem?
2. Topic sentence:
A power outage (also power cut) is a short- or long-term loss of the electric power to an area which has its causes and effects. A. causes:
a: Damage to electric transmission lines, substations or other parts of the distribution system.
b: Overload on electricity generators.
c: Natural Causes such as lightening, rain, snow, ice, wind, and even dust . B. effects:
a. reduced industrial products .
b. cars accidents and increasing of illegal work's such as robbery and kidnap 3. Topic sentence:
There is a lot of solutions we have to think about it such as ….. A. solutions:
a. Building new electricity stations . b. Reducing of using electricity and finding new sorces of electricity . 4. Conclusion: ……
Power outage
Electrical power has become an indispensable part of modern day life. Our work, leisure, healthcare, economy, and livelihood depend on a constant supply of electrical power. Even a temporary stoppage of power can lead to relative chaos, monetary setbacks, and possible loss of life. Our cities live on electricity and without the customary supply from the power grid, pandemonium would break loose. Power outages can be especially disastrous when it comes to life-support systems in places like hospitals and nursing homes, or in co-ordination facilities such as in airports, train stations, and traffic control.
A power outage is a short or long term loss of the electric power to an area , although power outage is a problem but there is a lot of solutions . There are many causes of power failures in an electricity network such as faults at power stations, damage to electric transmission lines, substations or other parts of the distribution system, a short circuit, or the overloading of electricity mains. Numerous power failures are caused by natural weather phenomena such as lightening, rain, snow, ice, wind, and even dust.
Water can lead to short circuits and power failure. The damage caused due to water in electrical circuits can be very expensive so it makes sense to ensure that you are well protected from it. All that causes of power outage have a really bad effects on us , we cant imagine the cars accidents that causes of power outage from the streets . the effects may extant to hospitals , schools even factories . the industrial products may be reduced because of power outage from the factories . Around 84 percent of Egypt's electric generating capacity is thermal (natural gas), with the remaining 16 percent hydroelectric, mostly from the Aswan High Dam.
All oil-fired plants have been converted to run on natural gas as their primary fuel. As a solution Egypt has several privately-owned power plants currently under construction which were financed under Build, Own, Operate, and Transfer (BOOT) financing schemes. BOOT projects are used to fund large-scale public infrastructure without affecting the country's debt profile.
Private developers are allowed to recover their costs of construction through ownership and operation of the plant for a fixed period before handing it over to the state. The first BOOT project was a gas-fired steam power plant located at Sidi Kerir on the Gulf of Suez. Also the EEHC-owned projects currently under construction include the 1,500-MW plant planned at Nuberiya in the western Nile Delta near Alexandria.
Egypt is also planning to build a part-solar power plant at Kureimat as a BOOT project. The World Bank will provide a financing package from its Global Environmental Facility which will offset the cost difference between the solar capacity and thermal capacity. A Netherlands-funded project is wind power units in the Suez Canal area. Egypt also has nuclear research reactor at Incas in the Nile Delta, built Argentina, which began operation in 1997 . Also Egyptian government have a plane to reduce using electricity by close all the markets at 10 pm to save electricity , and Egypt stills need a really solution for electricity problem ….
Related Topics