Positive Impact of Physical Activity on Young People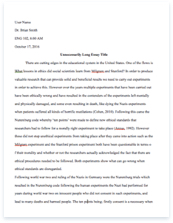 The whole doc is available only for registered users
A limited time offer! Get a custom sample essay written according to your requirements urgent 3h delivery guaranteed
Order Now
Research has found that various physical activities can help improve/create a positive effect on the youth community whether it be correlated to their self-esteem or mental health. It can be seen that strength training and aerobic training be of importance when it comes to applying a certain type of intervention. These two types of training have a beneficial effect on a child's perception of their body image and self-esteem (Haugen et al., 2013). However, while physical activity has been shown to move self-esteem in a significant manner, there needs to be more research to show how much, or if there is a specific type of activity that should be applied to one's daily lifestyle to create a lasting effect. Over the years, physical activity has been promoted as a means of enhancing self-esteem, yet the evidence for the connection is lacking and needs improvement (Schneider et al., 2008). While it is creating an impact, it should still be under consideration how much activity should be placed into a child's daily lifestyle.
Previously knowing that physical activity can play a role in impacting a child's life whether it be effective or obstructive, there is still the uncertainty of what factors are investing directly into the child's life. While reading into particular studies it was revealed that although physical activity is useful in a child's life, it is necessary to focus on promoting a certain intensity and/or duration during the intervention. A new understanding of physical activity playing a role in a child's life is that there are plenty of potential long-term benefits, but researchers still need to investigate various factors. Factors such as, race, whether the activity is completed alone or with a group, and what is the frequency, intensity, and duration of the physical activity. Considering these factors will help with the future developmental hypothesis to how physical activity is directly impacting a child's self-esteem. While a distinct intervention and environment are vital to verifying each child's self-assurance, physical activity can work to reduce the risk of disease, strengthen mental health, increase self-esteem, and refine body image.
With physical activity comes the reduction to the risk of disease and improving the youth's mental health. Over the years, evidence has shown that exercise has a rising effect on many factors including self-esteem and mental health (Fox et al., 1999). Exercise is widely seen investing in other factors such as lowering the risk of disease and obesity. Regular exercise should be considered when it comes to improving a child's well-being (Fox et al., 1999). Mental health is a worldwide issue, but many do not directly correlate physical activity with being a solution. That could be because they do not see the full correlation of how self-esteem is the core of mental health (Fox et al., 1999). In fact, up to 20% of children mildly suffer and about 7 to 10% have severe mental health problems that hinder their normal development and social interaction (Fox et al., 1999). In a move to better these statistics children can be introduced to how physical activity can help their self-esteem, which then can lead to the reduction of well-being globally. In correlation with mental health, other benefits resulting from physical activity can include reducing the risk in coronary heart disease, hypertension, type II diabetes, improving mood, and self-esteem (Parfitt et al., 2005).
With the reduction in mental well-being problems and the risk of disease, it is necessary to follow up on physical and environmental factors that can play into the situation. Some current studies are showing a lack of research on the relationship between physical activity and the physical and mental well-being of a child (Parfitt et al., 2005). Following up on outside factors could include social interaction, psychological climate, and the physical environment surrounding the child (Parfitt et al., 2005). Not only can physical activity benefit the mental well-being of a child, but it can better their body health and image which can lead to an increase in their confidence.
Confidence boosts and a better body image sprout from the factors of how active a child is and whether or not they determine their confidence off of body image. Literature has shown that an increase in physical activity has led to an increase in self-worth, while a decrease in physical activity led to a decrease in self-worth (Stein et al., 2007). This particular study focused in on females for about 9 months' only to notice that when they did see a change in their bodies, they did have an increase in their self-perception (Stein et al., 2007). In another perspective, when they factored in the environmental and physical factors, they concluded that social and athletic self-perception was affected by physical activity, but scholastic and global self-perspective was not (Stein et al., 2007).
Therefore, those who are climbing the social hierarchy and those involved with sports showed that they cared how they were presenting themselves. While those focused on school and global self-perspective did not have any correlation between physical activity and self-esteem. Research has indicated that daily physical activity positively impacts the mood/appearance of a majority of the youth society. Another study specifically examined overweight children and noticed that the same pattern occurred when 40 minutes of physical activity was controlled and completed (Petty et al., 2009). Similarly, across the board when physical activity is introduced to a child's daily life choices, they start to see body changes which seems to give them a tremendous self-esteem boost. A common theme among the literature has been that the young adolescents who partake in a physical activity daily or sport, promote a more favorable self-image opposed to their sedentary counterparts (Kirkcaldy et al., 2002).
While it is clear that physical activity interventions create a significant effect on self-esteem, utilizing certain activities such as aerobic exercise and weight training consistently can increase a child's self-esteem greatly. With the clear initiative, it would be useful to researchers knowing what dimensions of physical fitness feed into the youth's regard to self-esteem (Haugen et al., 2013). In addition, it may be a more intensive physical activity that needs to be applied in order to reinforce healthy self-esteem, even though some children show a quick positive response to minimal exercise, for example only 20 minutes of activity. Even though every study is going to show a different outcome for what a child's self-esteem might be in reference to physical activity, it is vital to know that the current research cannot show what exercise's and what settings are the most positive, because every child is unique (Ekeland et al., 2005). For example, a study that was completed investigating only females came to find out that their predicted hypothesis of enhancements of self-esteem would be apparent for those who increased their physical activity and/or cardiovascular fitness (Schneider et al., 2008). With such results, health professionals may need to consider specifying their exercise recommendations to children based on factors such as, access to physical activity, appropriate health, and how often physical activity is needed to see a change.
More so, it can be recognized that when the intervention is being implemented at school and a public setting versus at home, a child's self-esteem levels are recognizably higher. When an intervention is being observed through a survey or second party, it is difficult to determine whether the child is following through or not. Without any previous competence or skills, the child will not be motivated to complete the intervention, which can lead to a decreased self-perception of themselves. Literature has shown that when kids are observed in their natural environment of a school, the kids were a lot more motivated being in a group/public setting versus being alone or at home. This led them to believe that the relationship among physical activity and self-esteem could be altered by the environment of the intervention (Liu et al., 2015). With physical activity being a positive effect on the youth's community, it is recommended to insert during or after school programs of at least 40 minutes of aerobic activity (Petty et al., 2009).
During adolescence, there are constant episodes kids will go through with the presentation of themselves because of the quick emotional, physical, and social changes they are experiencing (Haugen et al., 2013). With this, researchers took advantage and tested out the self-determination and achievement-goal theory to relate back to the children's competence. With these two different theories, they determined that self-esteem in a child is ultimately an outcome, not a predictor (Hein et al., 2007). A child is going to choose whether they want to implement physical activity in their life and choose if training has a direct impact on them. However, with this in mind, it is still to be noticed that strength training and aerobic training may be the push to creating an effect on self-esteem (Haugen et al., 2013). Compared to adults who factor in enhanced interpersonal relations, educational attainment, physical and psychological health when it comes to self-esteem evaluations (Kirkcaldy et al., 2002). Children may seem like they have a lot of factors implemented into their life to determine their self-esteem when in reality it is nothing compared to when they grow up. It is just vital to incorporate environmental factors at a young age because self-esteem obstacles are grounded in the developmental stages.
Through learning experience's children's self-esteem will vary based on their environment and intervention training. Even though there are some limitations, the youth community engaging in physical activities can benefit by lowering their risk of disease, improving their mental health, increasing their confidence, and controlling their body image.