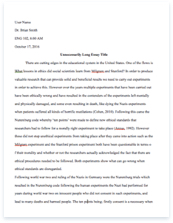 The whole doc is available only for registered users
Pages: 3
Word count: 708
Category: Customer
A limited time offer! Get a custom sample essay written according to your requirements urgent 3h delivery guaranteed
Order Now
1.How did PVF go about developing its information systems? Why do you think the company chose this option? What other options were available? The PVF took process-oriented approach in developing its information systems. As the company started to grow bigger he had lot of sales and lot of data's coming in to store. He organized the company into functional areas like manufacturing, sales, orders, accounting and purchasing. Since, the process-oriented approach provides benefits such as task structuring in the form of workflow and the ability to simulate processes prior to their execution. PVF would choose this option so that they can study their plan and even predict the outcome of the plan. The other reason to choose this option might be the cost efficiency since; they were developing the software by themselves. The other option available were purchase software from a vendor, outsource the job to some information system company and use open source software.
2.One option available to PVF was an enterprise wide system. What features does an enterprise-wide system, such as SAP, provide? What is the primary advantage of an enterprise-wide system?
Enterprise – wide system such as SAP, provide the ability to collect and distribute the information across the organization. This system uses a common database across the organization so that everyone can access the same information. This system helps to reduce the data redundancy. The primary advantage of the SAP is that it reduces the cost of ownership of software, improves security and speed up the arrangement. Company can also reduce their cost in internal communication by sharing same database and not sending fax, email within the organization. It is easy to monitor sales, revenues, costs and item information since all the data are stored in database of the company through this system.
3. PVF will be hiring two system analysts next month. Your task is to develop a job advertisement for these positions. Locate several Websites or newspapers that have job advertisements for systems analysts. What skills are required?
The skills required for the systems analysts are as follows-
•Bachelor's degree in information technology or computer science as well as previous IT experience. •Should have knowledge with computers and its peripheral devices. •Strong analytical, management, technical and interpersonal skills. •Knowledge of Unix/Oracle, Data warehousing, SAP, Project Management, technical/database background. •Certifications such as Cisco or Microsoft certifications. •Business knowledge and skills.
•People knowledge and skills.
•Combine pieces of information to form general rules or conclusions (includes finding a relationship among seemingly unrelated events).
4.What types of information systems are currently utilized at PVF? Provide an example of each.
The types of information systems currently utilized by PVF are office information system, transaction processing system, management information system and decision support system. a)office information system
Office information system is an information system that uses hardware, software and networks to enhance work flow and facilitate communications among employees. Since, PVF is a medium-sized business with more than fifty employees they need to make lot of communication within the organization. The employees can send the information within the organization easily with this information system. They can do task electronically instead of doing it manually.
b)Transaction processing system
A transaction processing system (TPS) is an information system that captures and processes data generated during an organization's day-to-day transactions. Since, PVF is a furniture company; it has lot of purchase, orders, payments and deposits done in a single day. This system helps to control all those process in a processed way and saves all the data too.
c)Management information system.
A management information system is an information system that generates accurate, timely and organized information so managers and other users can make decisions, solve problems, supervise activities, and track progress. It helps the decision making process by generating three types of information which are detailed, summary and exception. PVF can utilize this system because it is expanding its business so, this will help them to make the future decisions.
d)Decision support system
A decision support system (DSS) is an information system designed to help users reach a decision when a decision-making situation arises. PVF can use the data from internal and/or external sources to make the decisions regarding pricing.
Related Topics