Permissive – Nail Biting Screed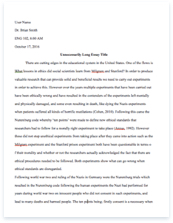 The whole doc is available only for registered users
A limited time offer! Get a custom sample essay written according to your requirements urgent 3h delivery guaranteed
Order Now
Now as you are resting so quietly there with your eyes closed…. I am going to help you to relax even deeper…. I am going to count… very slowly…. Upto 7. And in between each count…. I will use the words " drifting deeper and deeper". And you'll find…. As this count progresses… that you can drift into that trance state. As I count, you can help too as you tell yourself…"I am going deeper and deeper into hypnosis".
Now it doesn't matter if your mind wanders…. It doesn't matter if you lose awareness altogether…. All that matters now is your own relaxation…. so just be comfortable… allow yourself the pleasure of sinking deeper and deeper into the comfortable lounge. Just let yourself drift into that relaxation as I count slowly to 7, using the words "drifting deeper and deeper", in between each count.
I'll begin that count for you now.
1. Drifting deeper and deeper…
2. Drifting deeper and deeper… and already you can feel yourself settling down…. Becoming much more relaxed now… you are feeling so very comfortable… beginning to feel peaceful too…. Just feel that relaxation… It's working its way through your body. It's bringing every part of you to rest… settling you right down.
3. Drifting deeper and deeper
4. Drifting deeper and deeper…. And now you can be aware of how slow and easy your breathing has become… a little slower and a little deeper too…. and each deep breath you take is making you more comfortable and much more relaxed…. more and more relaxed… just feel your whole body getting heavier…. comfortably heavier… almost as though you are sinking down…. Down… just sinking down into sheer comfort… as each breath you take…. Relaxes you more and more and more.
5. Drifting deeper and deeper….
6. Drifting deeper and deeper…. You are feeling more comfortable…. More relaxed… tired…. And so glad to be drifting deeper and deeper. Heavy…. Tired…. Drifting deeper and deeper and relaxed. Beautifully relaxed. Every part of your body is coming to rest now. Feeling tired… drifting deeper and deeper…. Heavy and relaxed.
7. Drifting deeper and deeper into that warm and comfortable state of just letting go completely… allowing the subconscious mind to take on more and more of that responsibility of guiding your awareness… down… as you drift with your own thoughts… just listening to the sound of my voice. Each word that I speak now, will allow you to continue to drift deeper and deeper into that relaxation… nothing bothers you … nothing disturbs you at all as you concentrate only on my voice…. Any noise, be it the loudest, coming from outside or inside … will not concern you as you listen to my voice… each word, each sound relaxing you even deeper than before.
You are now so relaxed, so very relaxed, that you are becoming very aware of what I am saying to you. You are so aware that your mind is open to any positive suggestions I may make for your benefit. You are feeling so relaxed that when I make positive suggestions about you, you will accept these suggestions, and gradually over a period of time you will feel better and better, even though you will not be here with me… My suggestions will just drift over your mind and you will be able to remember all the relevant ones that will influence your feelings…. Your thoughts, And your behavior, as you feel more and more deeply relaxed during this session, you will find new energy to help you cope with any issues you may have had recently. Use new energy to relax and concentrate… concentrate hard on your goals.
The goal where you want to get rid this bad habit of biting your nails. You want to be free, free of this habit. As you know how uncomfortable and embarrassing this habit is to peruse in the future.
Now lets just go back a bit into the past and remember you as a confident person, one who does not have any issues, one who is very powerful and assertive. Remember how being like that really feels. How pleasant and good it feels. No matter what the situation, you could just use your powerful mind to deal with your anxieties. You could just leave your hands in your lap comfortably, just as they are now. Look how pretty your hands look and how beautiful your nails are. Keep them like this, as they are a very important part of your personality. Keep them beautiful and neat.
Now I leave you for a few moments to admire how happy you are, also to admire your beautiful hands. And when we come back I want that beautiful, confident feeling to travel with you to the Present and to the Future and make it stay with you forever.
GIVE A FEW MOMENTS….
That's good… you are really doing well. Now I want you to bring that confidence with you in the present and remember that how you find it so easy to not bite your nails any more. It'll come to you naturally, as you will remind yourself with an irresistible response…. reaching deep in the subconscious of your mind that you will never do it again, under any circumstances. And this confidence will remain with you in the future.
Now as you own this new confidence and happiness I will be bringing you back to the real world. I will count again from 7 to 1 and with each count you will drift back upwards bringing with you a feeling of strength and of self awareness, of you as a stronger and more positive person. And you will be awake, full of confidence that you do not need to bite your nails under any circumstances now. A feeling that will only grow stronger and stronger with each new day.
Related Topics