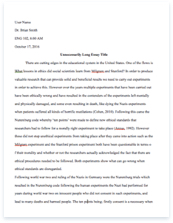 The whole doc is available only for registered users
Pages: 7
Word count: 1580
Category: Customer
A limited time offer! Get a custom sample essay written according to your requirements urgent 3h delivery guaranteed
Order Now
Examine in detail two different ways in which employee performance appraisal can be conducted and compare and contrast their advantages and disadvantages. 04. Critically evaluate advantages and disadvantages of different methods of performance appraisal 定义:PA is a method for evaluating performance of individual workers and teams usually conducted by the immediate line managers. With the decline of careers in the flat, PA has become more important managerial tools in motivating and controlling the workforce. Appraisal is now regarded as being more important in maintaining employee loyalty and commitment than in directly managerial performance. (Bowles and Coates)
Organizations use PA for different purposes.
1. clarifying and defining performance expectations
2. identifying training and development needs
3. providing career counseling
4. succession planning
5. improving individual, team and corporate performance
6. facilitating communications and involvement
7. allocating financial rewards
8. determining promotion
9. motivating and controlling employees
10. achieving cultural change
The importance of effective PA
Results: 1) happiness with PA positively impacted on commitment 2)happiness with PA negatively impacted on turnover intention. 3)happiness with PA only had positive impact on work performance when combined with positive intrinsic motivation. Conclusion: 1) PA will only have positive impact for organization if workers happy with it. 2) Effective PA most likely to influence attitudes than work performance.
Disadvantages of PA
1. Time Consuming
It is recommended that a manager spend about an hour per employee writing performance appraisals and depending on the number of people being evaluated it can take hours to write the a department's PA but also hours meeting with staff to review the PA. I've know managers who had 100 plus people to write PAs on. 2. Discouragement
If the process is not a pleasant experience it has the potential to discourage staff. The process needs to be one of encouragement, positive reinforcement and a celebration of a year's worth of accomplishments. It is critical that managers document not only issues that need to be corrected but also the positive things an employee does throughout the course of a year and both should be discussed during a PA. 3. Inconsistent Message
If a manager does not keep notes and accurate records of employee behavior they may not be successful sending a consistent message to the employee. We all struggle with memory with as busy as we all are so it is critical to document issues (both positive and negative) when it is fresh in our minds. 4. Biases
It is difficult to keep biases out of the PA process and it takes a very structured, objective process and a mature manager to remain unbiased through the process. We will discuss rater errors in a future post.
Advantages of PA
1. Performance based conversations
Sadly this is often the case. Managers get busy with day-to-day responsibilities and often neglect the necessary interactions with staff that provide the opportunity to coach and offer performance feedback. It is the consistent coaching conversations that affect changed behaviors. 2. Targeted Staff Development
If done well, a good performance management system can be a positive way to identify developmental opportunities and can be an important part of a succession planning process. 3. Encouragement to staff
Performance Appraisals should be a celebration of all the wonderful things an employee does over the course of a year and should be an encouragement to staff. There should be no surprises if issues are addressed as they arise and not held until the annual review. 4. Reward to staff for a job well done
If pay increases and/or bonuses are tied to the PA process staff can see a direct correlation between performance and financial rewards. 5. Underperformers identified and eliminated
As hard as we try it is inevitable that some employees just won't cut the mustard as they say. An effective PA process can help identify and document underperformers allowing for a smooth transition if the relationship needs to be terminated. 6. Documented history of employee performance
It is very important that all organizations keep a performance record on all employees. This is a document that should be kept in the employee's HR file. 7. Allows for employee growth
Motivated employees value structure, development and a plan for growth. An effective performance management system can help an employee reach their full potential and this is positive for both the employee and manager. A good manager takes pride in watching an employee grow and develop professionally. Organizations should take a global look at their performance management system and have very objective goals that are tied to strategic initiatives and the performance management process. Successful organizations have learned the secret to this and while not always perfect, a constant striving to improve the process can help organizations reach their Vision.
There is a wide range of methods used to conduct PA: interview-based appraisal, competency-based appraisal, upward appraisal, 360 degree appraisal and customer appraisal. Upward appraisal involves the employee rating their manager's performance via, in most cases, an anonymous questionnaire. The process is anonymous to overcome employees' worries about providing honest but unfavorable feedback on managerial performance. Advantages:
1. Improve managerial effectiveness and leadership through "make-you-better feedback" and increased employee voice and empowerment. 2. It is seen as being more in tune with the delayered organization where managerial spans of control are greater and working arrangements much more diverse. Employees are in much greater contact with their managers. 3. Because of the use of multiple raters, it is more robust to legal challenge of performance judgments. 4. It facilitates open communication as people become used to giving and receiving feedback. 5. Information gathered can be used for strategic planning purposes. Disadvantages:
1. Managers at middle and junior levels are not fond of this appraisal system. 2. Can favor those who are liked rather than effective.
3. It may stem from the career-threatening. Example: BP uses it to return to individual contribution roles those managers"clearly not cut out to manager people".
360 degree performance appraisal
360 degree appraisal is used to describe the all-encompassing direction of feedback derived from a composite rating from peers, subordinates, supervisors and occasionally customers. It is typically used by large companies and conducted via an anonymous survey using audio and videotape to record feedback answers. Advantages:
1. It is useful for providing feedback for senior managers who are often neglected at the top in appraisal terms. 2. Increase self awareness and self-reflection and foster the spirit of continuous improvement. 3. It provides a more meaningful appraisal for employees with little contact with their workforce. 4. The concept fits well with notions of employee involvement and empowerment, and open organizational culture. Disadvantages:
1. Whether the data generated is accurate, valid and meaningful and whether the organization benefit from it. Questions should be clear and specific. 2. Costly and time consuming.
2. Does the manager deal with problems in a flexible manner? 3. All raters are given the same instruments despite the different nature of the contact with appraisee. 3. A tendency to produce overly bureaucratic systems due to a large quantity of paperwork. 4. It is actually far from an all-around view of managers. The external customer as a reviewer is often left out. 5. Receiving negative feedback can be stressful and demoralizing if not handled sensitively. customer appraisal
Organizations are now increasingly setting employee performance standards based upon customer care indicators and appraising staff against these, relevant particularly in service environments. Customer service data used in appraising employees is gathered by variety methods. 1. Customer surveys: customer care cards, telephone surveys and interviews. 2. Surveillance techniques used by managers to sample the service encounter.(the electronic work monitoring record staff-customer conversations and give feedback to the managers) 3. Use of so-called "mystery "or "phantom" shopping. Staff employed by a specialist agency to be real shoppers and observe and record their experience of the service. Advantages:
1. Customer provide the most direct and meaningful feedback which is quite from the other methods. 2. Provide both customer and provider with greater understanding and break down internal barriers between departments. Disadvantages:
1. The method is too single that may not give complete information. 2. It mainly applies to the service industry lacking of universality. 3. Because of the individual differences, customers may hold different understandings about the appraisal indexes, which will lead to negative impact on the appraisal result. 4. Some positions need a long time of observation which customer may not be able to do. Competency-based appraisal
Evaluate performance against list of competency and behaviors required for a job. It is useful when output-based performance measures are difficult. Advantages:
1. It provides a useful focus for analyzing the process an individual is making in the job. 2. It is useful in directing employee attention to areas where there is a scope for improvement. 3. It helps concentrate the appraisal process on the key area of performance and effectiveness and provides a language for feedback on performance problems.(Sparrow,1994) Disadvantages:
1. It should balance against the development and running costs.
Problems of PA
1. It is expensive: developmental VS financial
2. causes conflict between appraised and appraiser.
3. Contributes little to the strategic management of an organization. 4. Most managers are not good at conducting PA.(appraisal meeting are often short-lived, ill-structured and bruising encounters. Appraisers are ill-prepared, talk too much and base much of the discussion on third party complaints) 5.inter-personal politics shape appraisal
6.paperwork filed but not acted on and utilizing the data in a meaningful way.
Related Topics