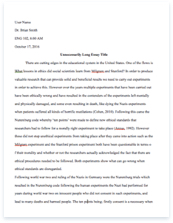 The whole doc is available only for registered users
A limited time offer! Get a custom sample essay written according to your requirements urgent 3h delivery guaranteed
Order Now
An individual's perceptions of belonging evolve in response to the passage of time and interaction with their world. In what ways is this view of belonging represented in your prescribed text and at least ONE other related text of your own choosing? – Moria Perenise An individual's perceptions of belonging evolve in response to the passage of time and interaction with their world. In today's society we are known for adopting the latest trends when seen, trying to fit in by changing our identities and falling into traps were we think we belong when really we don't. There are numerous perceptions that we as individuals perceive belonging to be. They connect you with other people and their experiences; determine your status within society and may even create an identity of the individual. Peter Skrzynecki, the author of "Felix Skrzynecki", "St Patricks College" and "10 Mary Street" all portray various perceptions of belonging but focus more so on "not belonging" in greater detail. Felix Skrzynecki is an example of how the adoption of a new culture and trying to belong to theirs, can lead to the extinction of your own. St Patricks College displays that by forcing someone into a place where they feel awkward and secluded in can lead to a loss of interest, a loss of identity and the sense of belonging.
10 Mary Street showcases a community that belong within their own cultural group but are separated from the rest of society. It also explores the challenges and seclusion that immigrants experience when settling into a new country. Peter Skrzynecki uses various poetic techniques such as emotive language, metaphors, similes, rhetorical questions and imagery. Recently, Australia has released a new TV series show that is called "Redfern Now." Episode 4, titled "Stand Up" is the related text that not only displays not belonging but emphasises just how much of a difference time and your surroundings can affect your sense of belonging. This can be seen through the dialogue spoken and the camera shots and angels that have been used. Belonging to everyday life is always challenging, no matter whom the individual may be, your sense of belonging heavily rely on your reaction throughout time and the interaction with the world. There is often a generation gap between younger immigrants and older generations once they settle in Australia. Elders might work outside the home, but are usually more isolated. Felix Skrzynecki, the father of Peter unfortunately does not belong in the Australian culture.
Peter's adoption of the Australian culture has left his father disadvantaged and a sense of detachment. Felix home is the garden, where he walks "ten times around the world." This hyperbole creates a sense of belonging in this setting, as he chooses to stay within its boundaries. His experience of displacement after the war has led to his chosen state of positive isolation in a secure place that he can control. Felix has an organic sense of belonging associated with the soil or the land, very little with the rest of the Australian people. Young people generally speak English more quickly and fluently while elders often struggle to learn a new language. "Did your father ever attempt to learn English?" The father represents an alienation experienced by an older migrant, while the son experiences the gradual integration into a new society. The disconnection between father and son comes from the latter's inability to retain his Polish heritage fully. He cannot relate to the Polish friends, with their violent handshakes, their formal address, their reminiscing about farming in Poland; he even begins to forget some Polish words, much to his father's dismay.
The poet and the father are resigned that the son will integrate and assimilate with the Australian culture and traditions. The father, like a "dumb prophet" allows the son to put down his roots – "pegging my tents/Further and further south of Hadrian's Wall". This wall symbolises the barrier between father and son, and the barrier that Peter self imposes to impede his belonging in Polish culture. St Patricks College opens with a clear statement of the persona's mother's reasons for enrolling him in the College. The migrant mother wants her son to be educated a way that is "best;" that will help him "belong" in a new country. "What was best" suggests her repetition of these words and her strong desire for her sons belonging despite the obstacles of "fees and expenses." The unfamiliarity of the Latin motto, "Luceat Lux Vestra" further adds to the sense of the boys alienation, mistaking it for a "brand of soap." The repetition of the "eight years" displays the message of a hard, long and painful journey that he had to endure.
"For eight years, I carried the blue, black and gold." He carried a burden, something of which he didn't want to do. The list of the colours displays a lack of interest and a sense of detachment that he had with the school. Uniforms are designed to make students fit in and identify proudly with the ethos of a school yet there is no indication that Skrzynecki feels he belongs to the school. "Unchanged by eight years weather" Peter showcases the alienation that he suffered throughout the entire eight years there. He started the school with a sense of not belonging and still even throughout the eight years of time there, he still does not belong. His limited level of interaction within the school has contributed to his sense of not belonging within the school. He wasn't interested at all; he was only doing it for his mother's sake and knew that he did not belong. Joel Shields, an Aboriginal boy who received the Indigenous Scholarship to attend Clifton Grammar High School on "Redfern Now" faced similar challenges to Peter.
A low angle shot of the boy in front of the school at 1:56, consists of the schools building imposing over the young boy. The sun is seen behind the school and the rays are touching the boy's head and shoulders. The rays are seen as a sign of hope but then are hindered by the statue of Jesus that blocks the entrance of the school and creates a reaction of discomfort and confusion upon the young boy's face towards the statue. A sense of detachment is seen through this camera shot and emphasises the same effect that it had upon Peter Skrzynecki as he confronted the statue of Mary at St Patricks College. Joel Shields is seen at 3:14 at his first school assembly and is struck with surprise when the entire school is expected to sing the national anthem. He does not sing the whole anthem and is left mumbling and awkwardly looking around at the other students lost.
He gets asked by a teacher if he knew what the national anthem was and in response, Joel says that "It's a song sung out for the grand finals and cricket games… like when Australia plays England and India and that…" Joel displays a sense of detachment and uncertainty with the Australian culture and is left secluded because of his limited understanding. At 10:07, Joel's father tells him now to complete the homework that was given to him on the research of Australia. He also confesses to his son and says "You know what Joelly; I have never stood up for that song, not even for the state of origin. It's not our song, it doesn't belong to us!" This proves that in today's society, even though time has changed and the government have said sorry to the Indigenous, we still see a detachment between our native people and their connection with the Australian culture. Some Aboriginals struggle today, trying to belong to a culture that isn't theirs and in Joel's case, being forced to sing the national anthem at Clifton Grammar High three times in a row still "didn't feel right!" Joel and Peter both display signs of alienation towards their schools and are caught up between conflicting cultures and decisions.
10 Mary Street displays a group of immigrants that belong with each other but are separated from the rest of society. "Each morning, shut the house, like a well-oiled lock; hide the key, under a rusty bucket." After years of wandering the world as displaced refugees, the chance to set down roots would have been irresistible so the poem conveys a sense of ownership and pride in the security it provides as the two references to "keys" and "well-oiled lock" make obvious. This imagery and simile displays a sense of trust in where they are living. It's their interaction with their community that make them feel included and safe within their own area. The inclusiveness of the collective pronoun "We" is repeated 3 times emphasising their togetherness and cohesion. They belong to each other. In juxtaposition to the warm atmosphere, "Inheritors of a key, that'll open no house, when this one is pulled down."
The house that keeps their memories and dreams is going to be torn down. Their home in which they were raised in, their home in which they developed their happiness through and belonged to no longer exists. Fortunate enough, Joel is finally heard. After being expelled for refusing to sing the national anthem, his family and the wider community including other Indigenous students of the school unite as one and support Joel. Mrs McCann, the principal of the school shows up at Joel's doorstep and is greeted with Joel's father who says "So, just to make sure, he doesn't have to sing the national anthem?" Mrs McCann replies with "Correct." Although his hopes were torn down like the house in 10 Mary Street, he fought for what was right. Even through his short amount of time, due to his interactions made, he pushed for a better way to belong. Throughout the long struggle of being forced to sing a song that wasn't theirs and trying to force himself to fit in using their way, he found his true identity and his own way to belong.
An individual's perceptions of belonging evolve in response to the passage of time and interaction with their world. Some people spend their whole lives struggling to find a place to belong to, whether it is religion, nation, culture, or race. The three poems and the related text that were analysed in this essay, all portray different perspectives of belonging in response to the time of the situation and their interaction with their surroundings. It shows that your sense of belonging is heavily depended upon how you deal with time and your reaction towards your world. When Felix migrated to Australia, he may not have belonged to Australia's culture or integrated as much as Peter did but he did belong to his garden and if he feels safe and comfortable, that's all that matters.
Through eight years of detachment and alienation, Peter's sense of not belonging started when his mother enrolled him into St Patricks College but unfortunately enough, carried that sense all the way until the end. In 10 Mary Street, his family finally felt a sense of belonging within the community. Throughout the three poems, it is evident that the perception of belonging has changed throughout them all. Through the time that Peter and his family spent into integrating with the Australian culture, we now see them slowly enjoying life and finally feeling a sense of belonging. Joel Shields was tossed into the sea of the unknown and faced similar challenges that Peter endured. He to felt a sense of detachment with his school due to his Aboriginal pride, he knew that by fitting into the school, he had to do it his way and luckily, he did and finally after a tough fight, felt like he really did belong. At the end of the day, your sense of belonging depends upon you and your reactions towards time and the interactions you make with the world.
Related Topics