Patient Portals Impact Patient Care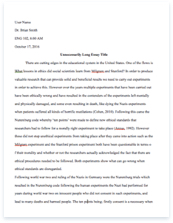 The whole doc is available only for registered users
A limited time offer! Get a custom sample essay written according to your requirements urgent 3h delivery guaranteed
Order Now
Patient portals, which are secure web based applications, provide patients the ease of access to their health care records at any time. Some portals include features such as, obtaining prescription refills and lab results, and communicating with their provider. With close to 80% of the population in North America using the internet to seek out health information, portals continue to gain popularity. The use of portals and personal health record systems (PHR's) is rapidly growing as the government continues to offer incentives to healthcare providers who demonstrate Meaningful Use of such systems (EHR Incentive Programs). This incentive program, is set forth by U.S. government, healthcare organizations will receive reimbursements when they meet certain guidelines in the use of electronic health record systems.
As there are three stages to the incentive program, the first stage included providers having to be able to provide patients with electronic copies of their health information. In Stage Two, the focus shifted to, "providing patients the ability to view online, download, and transmit their health information", as Julie Dooling explains in the Journal of Health Information Management (Dooling, 33). Patient portals have the capability of accomplishing all of these tasks. Portal usage is increasing and patient care is directly impacted as enrollees are experiencing the benefits of such systems first hand. By allowing patients easy access to their health information, providers are then able to center their care on the patient.
Three of the most vital benefits of portal systems and improving patient care are, increasing patient engagement, improved communications and improved outcomes. In order to increase patient involvement and get patients engaged with their care, we need to identify what their needs are as well as what is important to them when it comes to their health care delivery. As each portal system offers different features and functions, it is up to providers to choose which system that is easiest to learn and understand, thus allowing patients to become engaged. By actively allowing them to participate in their care, they become more engaged. And being more engaged then leads to increased satisfaction, as Sarah Jackson the editor of Fierce Mobile Healthcare writes in her article, "Engaging patients via interactive technology boosts satisfaction" (Jackson, 2011).
Although she refers to the use of interactive monitors in her article, the concept remains the same. One way to measure patient satisfaction is through HCAHPS (Hospital Consumer Assessment of Healthcare Providers and Systems). The surveys have the ability to effectively measure patient satisfaction and perspective of care. They contain 21 patient perspectives on care and patient rating items that encompass nine key topics: communication with doctors, communication with nurses, responsiveness of hospital staff, pain management, communication about medicines, discharge information, cleanliness of the hospital environment, quietness of the hospital environment, and transition of care (EHR Incentive Programs, CMS.gov).
According to HCAHPS scores at the Beryl Institute, the use of these interactive monitor's boosted overall patient satisfaction scores by 10%. Patients also become more engaged in their health and medical care when they have easy access to their health information online, as Seth Emont from White Mountain Research Associates discusses in his article titled, Measuring the Impact of Patient Portals: What the Literature Tells Us (Emont, 2011). And Dooling also explains in her article the importance of patient engagement with patient portals and personal health records in the Journal of Healthcare compliance, and states "the overarching goal is encouraging patient and family engagement" (Dooling 1). Her abstract also speaks for itself as she states, bridging the information gap should be "all about the patient" (Dooling, 33). Patients now have the ability to manage their own health information, thus allowing them the feeling of having control of this information.
With the emphasis of patients managing their own health information, it is also equally important that communication lines remain open between patient and provider. This continual exchange of information allows the patient to feel more secure and in control. Effectively communicating via patient portals and PHR's is achieved in a variety of ways. Patients may feel after returning home from the physician visit, that the handwritten instructions are difficult to decipher, which can lead to frustration and dissatisfaction. By having printed and legible instructions, patients will be more at ease when they return home and review their instructions. Another benefit for patients is having the ability to view lab results as soon as they are available via the portal, thus eliminating the need to call provider directly for their results. Prior to the use of portals, patients would return home after their labs were drawn and have to wait for results to be called directly to them.
Or they would have to schedule a follow up visit with the physician office to receive and discuss the results. Now the patients are able to view them and it is up to the physician to determine if a follow up appointment is necessary. Some patients may be resistant to this new way of communication, especially the elderly. It is up to the staff to provide the proper education and encouragement on use of the services provided. Providers also have the role of determining what information they display to the patients. Some may chose for instance, to show patients only normal lab results, so there will not be any immediately alarming results visible to the patient when they accesses the results. Then, it would be up to the provider to determine how the abnormal results would be handled. With patients then having the ability to access their health information, a new line of communication is being formed, and patients feel their healthcare needs are fulfilled.
Patients also tend to be more satisfied as Sarah Jackson explains in her article that "improved and effective communication via secured internet portals boosts patient satisfaction" (Jackson, 2011). There is also much research being conducted on this front to determine how patients feel about the use of technology when it comes to their healthcare. California HealthCare Foundation, otherwise known as CHCF, continues to support research on the "innovative uses of technology" and works closely with Lake Research Partners on this front. In one survey they conducted from 2009-2010 it was revealed that, 56% of patients felt that by using a PHR they knew more about their health, and 52% felt they knew more about the care the doctor was giving (Lake Research Partners, 2010). And, according to another national consumer survey they also conducted, "users reported several positive effects directly related to using a PHR, such as learning more about their health and healthcare, asking new questions and taking steps to improve their health" (Lake Research Partners, 2010).
By stimulating the patient and involving them in their care they likely ask more questions and get more answers, leaving them more informed about the care they receive. Now that the lines of communication have been established via the portal, providers can then focus on patient outcomes. Providers are always looking to improve the outcomes of their patients, whether it be after a hospital stay, preventative health or ongoing care of chronic illness. Portals can provide assistance in all of these areas. Imagine the age when people relied on the use of pen and paper to keep track of appointments and follow up care, now with portals having the capability of providing automated health reminders, patients can remain on track with a few simple keystrokes. These reminders can provide patients with the tools needed for their health maintenance. As patients become more familiar with the system provided to them, and its capabilities, they are more likely to utilize it as an on demand resource. With information now right at their fingertips, they can search for health information that is beneficial to improving their outcomes.
For example, chronic disease such as diabetes, require a significant amount of education. Portals have the capability of providing that much needed information to the patient. Studies reveal an improvement in patient outcomes from portal usage, as found in this article from AHRQ (Agency for Healthcare Research and Quality) titled, Patient web portals improve diabetes care and outcomes. Research was conducted and authors reviewed numerous articles and conducted 15 randomized, controlled trials. Results found these patients had a significant decrease in diabetes distress (AHRQ). Another evaluation study found that, "over a 6-month period, a composite process score representing the quality of diabetes care (in terms of clinical diabetes monitoring), improved for 62 percent of patients given access to a PWP, but only 43 percent for patients in the "usual care" control group" (ARHQ).
Patient web portals are described as an integration of the electronic medical record and the personal health record. Thus, information from the actual electronic medical record can be viewed by the patient via the personal health record. And in turn, providing needed information to the patient about their diabetes care. There is an "Increased importance of digital health" as Paul Keckley mentions in an HHN news article titled Time to Get Serious about Patient Satisfaction. With the evolution of digital health and use of patient portals, patient care continues to be greatly impacted.
The government will continue to make changes to healthcare, and the need for up to date portals is vital to improving upon patient care. Thus patient portal use will continue to increase and patient engagement and outcomes will continue to improve. There is great potential in the future of Electronic Health Records, and studies continue to try and pinpoint what is valued most by patients, in terms of their care. It is just as important to continue to gather patient feedback from their experience with the system in order to make future improvements. Furthermore, getting patients involved in managing their health information will continue to effect and improve the care they receive.
Works Cited
Dooling, Julie. "It's About the Patient: Engagement Through Personal Health Records and Patient Portals." Health Information Management 14: 33-34. Pro Quest. Web. 4 Aug. 2014. "EHR Incentive Programs." Centers for Medicare and Medicaid Services. Web. 13 July 2014. Emont, Ph.D., M.S., Seth. "Measuring the Impact of Patient Portals: What the Literature Tells Us". California Healthcare Foundation. Np, 1 May 2011. Web. 5 July 2014. Jackson, Sarah. "Use of Interactive Technology Boosts Patient Satisfaction". Fierce Healthcare. Np, 9 Mar. 2011. Web. 13 July 2014. Keckley, Paul . "Patient Satisfaction." . Hospitals and Health Networks Magazine, 7 July 2014. Web. 27 July 2014. . Patient Web portals improve diabetes care and outcomes: Research Activities, May 2011, No. 369. May 2011. Agency for Healthcare Research and Quality, Rockville, MD. Web. 13 July 2014. Saul Weingart, David Rind, Zachary Tofias, and Daniel Sands. "Who Uses the Patient Internet Portal? The PatientSite Experience." A Scholarly Journal of Informatics and Biomedicine 13: n. pag. JAMIA. Web. 1 July 2014. California Health Foundation-funded survey by Lake Research Partners, "Consumers and Health Information Technology: A National Survey" (www.chcf.org).
Related Topics