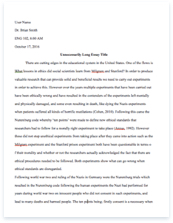 The whole doc is available only for registered users
Pages: 6
Word count: 1317
Category: Customer
A limited time offer! Get a custom sample essay written according to your requirements urgent 3h delivery guaranteed
Order Now
Hi-Lo Food Stores was first incorporated in 1954. However, it was not until 1984 that the chain of stores was acquired by Grace Kennedy Limited. Hi-Lo Food Stores is operating as a division of the GK Foods and Services Limited a wholly owned subsidiary of Grace Kennedy Limited.
Hi-Lo has evolved as one of the leading supermarkets in Jamaica, admired by both its customers and competitors. With its competent and dedicated group of employees, Hi-Lo is focused on creating long lasting relationships with our customers through our FS5 commitment to Fresh Stores, Fast Service, Frequent Savings, Full Shelves and Friendly Smiles.
Hi-Lo Food Stores has thirteen (13) locations with the most recent one being Hi-Lo Food Stores located in Portmore Pines which was opened on November 15, 2010. Our locations offer a range of grocery and non-grocery items at competitive prices and a shopping experience that exceeds the expectations of our customers. Hi-Lo Food Stores is the second largest supermarket chain in Jamaica.
At Hi-Lo Food Stores we live our tag line "Making Life Easier"
Methodology
This information was gathered from Hi- Lo Food Stores Portmore along with my thoughts and experience from my present position at Hi – Lo.
Help was also taken from the world wide web which provided me with the guideline towards this project.
Organization Structure & Design of Hi-Lo Food Store (Portmore)
Figure 1. Hi-Lo Organization Structure
Figure 1. Hi-Lo Organization Structure
Analysis of Organization Structure of Hi-Lo
As shown in Figure 1. Hi-Lo Food Store's organizational structure can be divided into different parts. The Customer Service Representative (CSR) is responsible for the front line staff while each other department is responsible for their team members. The front line staff is the key source of the business. This is where the customer checks out last. It consists of the cashiers and wrappers. The cashier play a very important role as a customer ambassador to Hi-Lo Food Store, in doing so she is required to charge customers the correct price for all merchandise purchase so that company receives accurate payments for all goods and services sold.
The wrappers responsibility is to unpack and wrap customers' goods and thank them. The produce department responsibility is to sort all produce items wash, package, weigh , price and display same for customers , however the meat room department is more technical, they have cut meat into various types package, weigh, price and display same as well. The maintenance department deals with the cleaning of the store daily so that customers are welcome to a fresh store while having their shopping experience. The back store department on the other hand, more directly involves with the receiving, storing and merchandising the goods so that the customers receive same in a timely manner. In analyzing Hi-Lo Food Stores Organization Structure each department has a different function and each function is done by a group of team members along with a C.S.R.
Key Elements of the Organization Structure
Work Specialization
As we can recall, the organization structure on page 5 shows that different jobs and task are grouped and assigned to different departments based on the skills or specialties in each department. That is:
Employees from the front line may have the skill to work in the meat room department or vice versa. Cashiers are promoted from the department that have similar functions and responsibilities. For example H. Henry, the senior cashier has held the position for three (3) years and she was promoted to Customer Service Representative (C.S.R). Is work specialization high in Hi-Lo? Yes, indeed, but not in the sense of assigning a specific and repetitive task to a particular worker. Hi-Lo delegates its tasks and jobs on a larger scale. It is on the departmental level, each department has teams comprised of very skillful employees that concentrate on their own line of products and responsibilities. In essence, team members specialize in doing part of the job rather than the entire job.
Departmentalization:
This is the basic by which jobs are grouped together, for instance every organization has its own specific way of classifying and grouping work activities. These are five ways:
Function: The Cashier function is charged customers the correct price for each product so that the company collects accurate payment for goods.
Products: Hi-Lo has its' own branded products with their logo. This structure is based on its' variety of product on the line which include Whole Kernel Corn, Tomato Ketchup, Sausages and Corn beef. Geography: Throughout the country Hi-Lo Food Stores have several branches located in different section of the island. For example five stores are located in Kingston, one in Port Maria, two in Westmoreland, one in Montego Bay, one in Mandeville, two in St. Catherine and the other in St. Ann. Process: Activities are grouped based on product, service or customer flow. The process in Hi- Lo Food Store is based on Receival, Storing, Merchandising and then to the customers. Customers: Hi-Lo caters to all customers' needs. We have our Loyal, Senior Citizen as well as Credit Customers.
Chain of Command:
At Hi-Lo Food Stores the Store Manager has the authority to oversee the day to day operation of the business without actually assigning tasks to each individual, however, the Customer Service Representative (CSR) responsibility is to assigned tasks to team members. Although the majority of employees are working in teams, they report to each other, report to the CSR who oversee them (and may report to other managers when different resources are needed from other departments) they still report to the Store Manager so as a result unity of command is there.
Span of Control:
Span of Control is wide in Hi-Lo Food Stores because it speed up decision making, increased flexibility, get closer to customers and empower employees. Eg. 1 Workers have to be skillful and well trained in each department, especially in the meat room department. Employees work in a team, make decision and execute operation without direct supervision from CSR from that department. If the employees are not well trained it would be hard to maintain smooth operation and communicate throughout the company. While Hi-Lo Food Stores may have a wide span of control, it's because skilled and competent workers are required for the company. Hi-Lo Food Stores can't possible operate so efficiently and effectively with a wide span of control if their employees are not skilled and well trained.
Centralization vs. Decentralized:
The General Manager for Hi-Lo Food Stores makes certain decision. This is highly centralized. However, decentralized take place as well meaning the Store Manager make other decisions without consulting the General Manager based on his knowledge and skills while fulfilling the company's goal, he also ask for suggestion from team members for the future of the company.
Formalization:
Hi-Lo has its Standard and Procedures that each employee has to follow. Ex. Policy of Standard and Appearance
Hi-Lo Food Stores specifies the color of all team members' uniforms that must be worn every day. All standard of appearance should be observed by all employees. They are to be dressed in a professional manner at all times and follow all rules, safety procedures in according to the Rules and Regulation. If breeches occur disciplinary actions will be taken.
Traditional vs. Contemporary
Based on Hi-Lo organization chart it is a Traditional Organization. The reason why it is where the structure places people into groups with specific tasks or job in which they are qualified to do or have the experience in or specialize in that particular area. However, Hi-Lo Food Stores demonstrates tradition by exhibiting the characteristics of a Functional Structure, a design in which an organization is made up of teams that work together and towards a common goal.
References
www.emaytnx.com/mgmt 307
www. Enotes.com/organization structure
www.gracekennedy company.com
Related Topics