Oreo Promotion and Price Analysis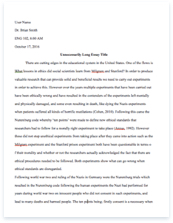 The whole doc is available only for registered users
A limited time offer! Get a custom sample essay written according to your requirements urgent 3h delivery guaranteed
Order Now
Nabisco Oreo Cookies, a brand that is older than the automobile assembly line. It is estimated that an average of 4.3 billion cookies have been eaten each year over the last 90 years. How does the number one sandwich cookie remain number one and not crumble? This paper will examine the marketing messages conveyed via television, print, and point of purchase for the 91-year-old sandwich cookie created in 1912. Secondly, an overview evaluating message positioning as it relates to the appeal of the target market will be presented. Thirdly, the position of Oreo brand products in the products' lifecycle will be described in relation to the status quo pricing of the industry.
These days, food commercials glamorize eating "experiences." Kraft and Nabisco approach the Oreo in the same way. Eating an Oreo is not just eating an Oreo, they say, it is the experience of dunking it in milk, twisting it apart and licking it clean. Television commercials allude to this ritual as a passing on of a family tradition. This type of message targets both the children and older adults alike. Reminiscing about that childhood experience, dunking Oreos in milk and sharing that with a child or grandchild is the expected response from the television commercials' promotional message (Barboza, 2003). An "Oreo Cookie" commercial, for example, features a little girl who is about four years old mimicking her grandfather's actions in eating a cookie. By using youth and old age in commercials, advertisers can sell nostalgia as a way of making commercials more memorable. The goal being, if consumers remember the commercials then they are likely to remember and purchase the product.
Commercials also target the health conscious, by reducing fat in cookies and developing alternative Oreo options to include Carb-Well Oreos, and 100-Calorie thin crisps. In addition, Kraft and Nabisco responded to the Trans fat issue by re-worked the nutritional content, printing more nutritional information on packages, and pulling all radio and television advertisements that are directly marketed to children ages 6-11.
Point of purchase and packaging promotions targeted several demographic segments. Nabisco promoted the launch of the Mini Oreo, a small version of the classic cookie which could be eat anywhere by the handful, making them the perfect new 'snackable,' portable, fun treat for today's family on the go" with an "On The Go With Mini Oreo!" Mini Van Giveaway. This promotional offer gave consumers a chance to win a new 2001 Dodge Caravan by guessing the number of Mini Oreo cookies it would take to fill the world's best selling mini van. In addition, the winner got a one-year supply of the Mini Oreo cookies (Creative Magazine Weekly, 2000). In October of 2003 Oreo promotions released an Oreo cookie that, when liberally dunked in milk, would turn the milk blue, thus win the lucky dunker a $1 million prize.
What is worrisome about this advertisement technique is how sneaky and deceptive advertisers have become in order to sell their product. An article in Adbusters (Nutt, 1999) revealed that McGraw-Hill, publishers of secondary school math books, are incorporating brand names and corporations into their math problems, e.g., "The best-selling packaged cooked in the world is the Oreo cookie. The diameter of an Oreo cookie is 1.75 inches. Express the diameter of an Oreo cookie as a fraction in simplest form." Parents and teachers are offered a choice from a sudden proliferation of books featuring brand-name candies and snacks like Froot Loops, Cheerios, M & M's, Pepperidge Farm Goldfish, Reese's Pieces, Skittles, Hershey's chocolates, Sun-Maid raisins, and Oreo cookies. Simon & Schuster; however, limited itself to "wholesome" foods, like Oreos, which are featured in "The Oreo Cookie Counting Book" the company published the fall of 2000.
The book teaches children to count down from 10 cookies to "one little Oreo . . . too tasty to resist," a twist on the familiar limerick of "this little piggy went to market." Not everyone is pleased; however, to see brand name snacks invading the world of books. Publishers have based children's books on characters from movies and television for years, but only recently taken the turn to brand-name foods known mainly from commercials. Some parents, educators and pediatricians propose that the books will engrave snack- food brands in toddlers impressionable minds, hook them on junk food, and lead to eating problems later in life (Kirkpatrick, 2000).
Oreo sandwich cookies captured 28% of the market segment followed by the Nabisco Chips Ahoy cookie with 18%. Another 15% also belongs to Nabisco cookie products in 2003 in despite the fad diets and Trans fat controversy. Between, the Oreo had annual compound growth of 13 % between 1998 and 2001 in an industry where few products grow as much as 3 % (Barboza, 2003). There were 10 new varieties of Oreo brand products introduced between 2001 and 2003, bringing the total to 27 in all. This does not include any of the other Nabisco brand cookies. The original Oreo is in the maturity of the product lifecycle. The downturn into the decline phase of the product lifecycle is the catalyst for the introduction of new varieties. Launching variations of the original Oreo in waves, continuously overlapping the product's lifecycles, thereby maintaining the largest portion of the market segment. The snack food industry has a status quo pricing system; therefore competitive pricing standards apply with each new product launch.
For Over 90 years, the Oreo sandwich cookie has remained an American icon. Millions of Americans can relive childhood memories with dunking Oreos in milk, and spark that emotional experience to life by hearing the famous jingle or watching a commercial. Nabisco/Kraft Company enjoys brand loyalty and has stretched the brand to retain 28% of the market Maintaining strong sales within an oligopoly market like snack foods speaks to the quality of the Oreo in addition to creative promotions and marketing ideas. Catchphrases such as; "A kid'll eat the middle of an Oreo first and save the chocolate cookie outside for last," "Milks' favorite cookie," and the O-R-E-O jingle linger in the hearts and minds of consumers of all ages.
References
Barboza, D. (2003, October 3). Permutations Push Oreo Far Beyond Cookie Aisle. The New York Times.
Creative Magazine Weekly. (2000). Mini Oreo Debuts. Retrieved April 3, 2005, from http://www.creativemag.com/onlweekly
Kirkpatrick, D. D. (2000). Snack Foods Become Stars of Books for Children. The New York Times. Retrieved April 4, 2005, from Advertising Educational Foundation database.
Nutt, C. (1999). Virtually Blindsided. The Daily University of Washington. Retrieved April 3, 2005 from http://archives.thedaily.washington.edu/1999
Related Topics