One Parent Households vs. Two Parent Households: How Different They Really Are?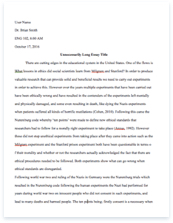 The whole doc is available only for registered users
A limited time offer! Get a custom sample essay written according to your requirements urgent 3h delivery guaranteed
Order Now
There are a variety of factors contributing to the many gaps which separate children raised in a single-parent household from those raised in a two-parent household. Financial stability, educational success, and psychological impact are only three of the many things that one's living situation could have a strong effect on. Why and how strongly these attributes are affected does depend on the individual and how their brain is wired, but studies show that one's living situation is very much relevant in regards to each of these matters. In fact, children raised by a single parent are more prone to facing such financial issues, educational barriers, and emotional turmoil compared to their peers who grow up within a two-parent household.
In Joseph Chamie's article entitled "320 Million Children in Single-Parent Families," he states that those children who are being raised by single parents often face more disadvantages than their peers who have both parents living at home as a result of "comparatively high levels of unemployment, poverty, and poor health." In today's world, single-parent households are more often caused by separation or divorce of the parents, abandonment, or even simply unplanned pregnancy than the death of a parent, which used to be the primary cause forcing only one parent to head the household (Chamie 2016).
Something that is supposed to assist single parents is child support. The current child support policy varies from state to state, but Cancian and Meyer refer to Garrison's 1999 work to state that the overall consensus is this: the noncustodial parent should provide however much support that they would have if they were living in the same household as the child and the custodial parent. Even so, many single-parent families struggle financially because the non-custodial parent fails to provide child support on time if they do at all. A study done in the UK by a family law firm called Slater and Gordon found that 11% of single mothers say that they are forced to rely on food banks to provide their children with food because their ex-partner refused to pay their part, and 39% of them have to take out loans to have the financial means necessary to support their families (Oppenheim 2018).
Zick et al. (1996) says that while single-parent families often struggle to make ends meet, two-parent families are generally much better off financially because they hold a more constant income along with other factors. As a result of a more consistent lifestyle, two-parent households are much less likely to have a need for childcare services than their single-parent counterparts, and they're also less likely to go out to eat for their meals instead of staying home (Zick, et al. 1996).
Education is one factor that is arguably the most significant aspects of a child's overall health and is not something to be taken lightly. After conducting a study using several models with the Trends in International Mathematics and Science Study (TIMSS), Heuveline et al. (2010) determined that children who grow up in two-parent households generally do significantly better in school than those who come from single-parent households. Additionally. They found that these facts rang true for families in other countries as well, although the achievement gap is much greater in the United States than it is in 13 other countries around the world. Additionally, students who live with their custodial parent as well as a step-parent tend to produce more similar results to their peers in single-parent households opposed to those living with both biological parents (Heuveline, et al. 2010) From this, the conclusion can be drawn that it is significantly more beneficial for kids to grow up with their biological parents within the same household and it isn't necessarily a result of having only one custodial parent.
Among these aspects also lies the element of the children and their psychological health. In 2016, Issar Daryanani and his co-authors conducted a study concerning adolescents and how their "cognitive vulnerabilities" vary based on whether they live with one or both parents. This study surveyed 368 young people aged 12-16 years old, of which 50% were female and 50% were white. Additionally, 42% of the mothers involved were single. At the start of the study, researchers analyzed each individual's levels of "depressive symptoms, rumination, and depressogenic inferential style at baseline and two yearly follow-ups." Additionally, their mothers told of any significantly stressful events that had occurred in their child's life up to that point. Upon the first follow-up, it was found that those who were raised by single mothers experienced far more stressors throughout their childhood as well as higher levels of rumination than their two-parent household having peers. At the two year follow-up, it was revealed that the relationship between single mothers and their children was greatly affected by the much higher levels of rumination, or of deep thinking or overanalyzing of a situation (Daryanani et al. 2017).
In addition to that study, Aurora Jackson and her co-authors – Kathleen Preston and Todd Franke – conducted one of their own in which they observed eighty-nine poor single mothers within the Black community along with their young children who were in preschool at the time. The purpose of their study was to better understand how the parent's stress, physical discipline practices such as spanking, and the relationship between the child and their noncustodial fathers affects the child's behavior in their classroom. According to the 2010 study, minimal contact between fathers and their children led to more behavioral issues, especially when partnered with high levels of stress in the custodial parent and frequent spanking. Contrarily, more contact between a father and his child actually mediated the effect that abrasive disciplinary techniques (spanking) had on the child (Jackson et al. 2010).
As someone who was raised in a two-parent household until the age of twelve when my parents finally divorced, I can say that the change drastically affected the behaviors of both me and my older sister, who was seventeen at the time of the divorce. I developed Depression, my Anxiety worsened, and I even struggled with thoughts of suicide for years after it happened; meanwhile, my sister developed an eating disorder that she was forced to battle for years as well. Both of us have received some sort of therapy at one point or another, and both professionals we spoke with linked the root of our emotional battles to the separation of our parents. In addition to the two studies previously discussed, it seems that emotional issues can – and likely will – arise from the lack of a relationship with one parent or the other as a result of living in a single-parent home.
The point here is not that single parents are incapable of caring properly for their children, just that the struggle of raising a child is generally a bit more difficult for them, especially without support from their ex-partner. A lack of support can lead them to suffer financially by forcing them to go into debt in order to afford groceries, child care, and more. With an inconsistent income, it can be nearly impossible for single parents to support themselves and their children as well. Children will often suffer academically for a variety of reasons, including that they may focus more so on their living situation than their school life, and emotional turmoil can also be a result of the same reason. In addition to that, emotional turmoil may also be caused by a lack of communication between the child and non-custodial parent, harsh punishments, high levels of stress emanating from the custodial parent, and more. If both parents are unable to continue residing together, or even being together at all, they must still work together in order to continually build the best life for the child that they both helped to create, despite whatever differences they may have.
Related Topics