Obesity How do you feel about yourself and your appearance?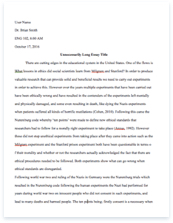 The whole doc is available only for registered users
A limited time offer! Get a custom sample essay written according to your requirements urgent 3h delivery guaranteed
Order Now
Obesity How do you feel about yourself and your appearance What do you see when you look in a mirror When you see yourself, are you too skinny, are you perfect, or are you overweight Many peoples weight is just fine, but the people in society like to look as if they are perfect. Obesity is more common in America than any other time before. Its an increasingly severe problem in our society. 54% of Americans are obese. What is your reaction when you see an obese person Obese is being seriously overweight-various among researchers. Calculating your body mass index (BMI) can help you determine whether you are overweight (http:www.mayohealth.org/obes.htm.). I care about this situation because I do not want to be obese and in the future and I do not want my loved ones to be obese as well. Learning the causes and effects about obesity will help us to understand why people become obese. The main causes why people become obese are the lack of exercising and dieting and low self-confidence and the effects are the environment and the family.
The major cause of obesity is the lack of exercising. A person who wants a better body needs to have discipline in exercising and dieting. If a person is over weight it will take them longer and more patience to achieve that goal. Many obese people lack on exercising which is a major factor on losing weight. Cardiovascular exercise gets the heart rate up causing the fact to burn. A few examples of different cardiovascular exercises are running, dancing, and aerobics. Mayo Clinic suggests that, Become physically active-try walking 30 minutes a day most days of the week (http://www.mayohealth.org.). The result of exercising will take time and patience, but soon it will result to looking and feeling better. The Clinical guideline on the identification, evaluation, and treatment of overweight and obesity in adults explains physical activity, i.e., aerobic exercise, in overweight and obese adults' results in modest weight loss independent of the effect of caloric reduction through diet. Exercise not only helps the body, but it helps to fight depression.
Obese people usually lack self-confidence and have low self-esteem. Laubgross estimates, That up to 75% of her routine clients are clinically depressed and comfort feed. Confidence is the main key on keeping yourself motivated to achieve the goal you set. Most obese people do not have the self-confidence that they need to lose the weight. I know that I am not obese, but when I am lacking self-confidence I have the tendency to eat. The point I am trying to explain is that obese people are lacking the confidence. So, they eat to make them feel better about themselves. Mayo Clinic suggests that, Many people eat in response to negative emotions such as boredom, sadness, or anger (http://www.mayohealth.org.htm.) Some people have a binge eating disorder. Binge eating disorder is when the person cannot keep the weight off. During a binge eating episode, people eat large amounts of food while feeling they can not control how much they are eating (http://www.mayohealth.org.htm).
The environment of the obese person really does have a huge effect on the person. This includes behaviors such as what a person eats, and how active he or she is. When you hang out with certain people you have tendency to all act the same. If a lot of food that is not healthy and is around they would more and likely eat what is in front of them and not think twice what they are doing. Three ways to lose weight are learning how to choose more nutritious meals that are lower in fat, recognize environmental clues (such as enticing smells) that may make them want to eat when they are not hungry and becoming more physically active. In this obesity-promoting environment, individual attitudes and behaviors are critical in weight management (MayoClinic). The families of obese loved ones effect the whole family. Families have to deal with the stares and the comments that cruel people say. Peoples words and gestures stick to someone forever and usually affect that person a lot.
Other peoples beliefs on how people become obese are different from mine. They do not believe people become obese because of the lack of exercising and dieting, the low self-confidence, and the environment. Views on why people become obese are because they believe it is genetic influence. Clinical guidelines on the identification, evaluation, and treatment of overweight and obesity in adults says, several studies have reported that a single major gene for high body mass was transmitted from the parents to their children." Genetics plays a very important parent in the cause of obesity; a person who has genetic obesity should avoid feeling guilty. It is proven that 15% of obese are obese because of genetics. A genetics cause is a biologic need for the obesity and could be avoided is by choosing a different lifestyle. From the research currently available, several genes seem to have the capacity to cause obesity or to increase the likelihood of becoming obese.
In conclusion, that leaves 29% of what I have said to be the main reasons why people become obese. I hope that when people look in a mirror they will realize that there are people who are obese and that their body weight is just fine and they do not need to starve themselves to get a different look. When obese people look in the mirror, hopefully they will see that their lives are in danger and they will need to change their ways and make their life happier. Obese is more popular now than any time before and should be stop for numerous reasons. The main causes that I have proven why people become obese are lack of exercising and the self-esteem but the effects are the environment and the family.
Works Cited
American Heart Association. Tips on losing weight and keeping it off. Mayo Clinic. June 1, 1998.
http://www.mayohealth.org/mayo/9806/htm/obes.htm.
Clinical Guidelines on the Identification, Evaluation and the Treatment and Treatment of Overweight and Obesity in Adults. Overweight and Obesity. New York, 1998 Edwards, Brooks. A Major Risk Factor." Mayo Clinic. June 1, 1998 http://www.mayohealth.org Dahl 4
Related Topics