Get Closer to your Goal / Dream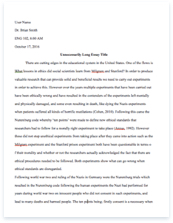 The whole doc is available only for registered users
A limited time offer! Get a custom sample essay written according to your requirements urgent 3h delivery guaranteed
Order Now
I will strongly suggest him to take diet loss program based upon operant conditioning because Operant conditioning is based on the idea that we make a conscious connection between our behaviors and rewards and punishments. Operant conditioning is learning based on a system of rewards and punishments for different behaviors at times. In order to make my roommate lose weight, I will create a program that emphasizes reinforcement for healthy behaviors along with creating punishments for unhealthy behaviors. The reinforcement will increase the stability of healthy behaviors while the punishments will lower the probability that he will continue unhealthy ones. During the course of a month, my roommate will definitely see weight loss results.
To develop healthy behaviors, I will create a system of reinforcement that will help my roommate lose weight. First, I will create a weekly workout plan for my roommate to follow as well as create a meal plan to lower his calories intake. Positive reinforcement: is one of the two types of reinforcement that adds a stimulus to promote a positive behavior. I will try to motivate whenever he completes a workout or finishes an important task.I will also encourage him to stay on track and believe that if her works hard he will then achieve his dream. These can include: eating healthy, getting enough sleep, and drinking lots water. I will also give him rewards to make the weight loss program more fun, such as taking him to the mall or somewhere fun. Negative reinforcement is the second type of reinforcement: it is to remove a stimulus in order to increase the chances of making a certain behavior. With that being said, I will focus on staying away from junk food and removing it from our dorm in order to create healthy eating.
I also would ask his friends to not go out with him until he finishes his morning workout and that he has to obey the weight loss program in order to lose weight. I will also make a rule that he cannot watch T.V. or use social media for long times until he does his morning workout. This will show him how important is his morning workout. It will also encourage him to do it as quickly as possible. However, my program should focus on positive reinforcement to get a better response from my roommate. If I put too much negative reinforcement, I may experience resistance and aggressive behavior from him, which might make him hate the weight loss program. Through these reinforcements, he will become much healthier and later skinner.
To lower the chances of my roommate exhibiting an unhealthy behaviors, I will also create a system of punishment. Positive punishment is adding a stimulus to remove a certain behavior. when I see him eating too much junk food or staying up too late, I will increase the intensity of the next day's work out. I will also have to balance his diet out to recover from the junk food he ate by adding more fruits and vegetables for his next meals. Negative punishment is simply removing a stimulus to remove a certain behavior. When I see him eating too much junk food, I will take it away from him as well as other junk food in the house. If I see him taking too much breaks during his workout, I will take away all objects distracting him such as his phone and explain to him again that it is important for him to focus on his weight loss program. I will demonstrate these punishments consistently and immediately to make them as effective and useful as possible. I made sure these punishments are not too hard or tough, but are still effective enough to make a positive impact.
I will create the schedule of reinforcement using the continuous reinforcement method. This method will be the most effective method as my roommate will more than likely exhibit healthy behaviors when he receives reinforcement right away or when is needed. Right after the gym, I'll take him somewhere and pay for his food as a reward in order to show him how happy and proud I am . Whenever he eats a healthy meal I'll let him know he's doing a great job and how closer he is getting to him goal/ dream. I will give praise right after I see him do the behavior. If I don't give reinforcement every time the target behavior occurs, he may feel unmotivated to do it and hopeless to do it. I will do my best to try to give him reinforcement through every single step towards the larger goal of losing weight. After the one month, the partial-reinforcement effect will hopefully continue his healthy behaviors. This behavior modification plan with an emphasis on positive reinforcement will surely make him lose weight and increase his chances of making the football team. 
Related Topics