The Nursing and Midwifery Council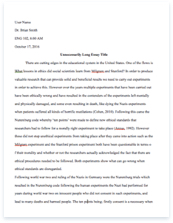 The whole doc is available only for registered users
Pages: 8
Word count: 1981
Category: Nursing
A limited time offer! Get a custom sample essay written according to your requirements urgent 3h delivery guaranteed
Order Now
The essay will briefly discuss 3 core conditions of effective helping skills, empathy, genuineness and acceptance (unconditional positive regard). It will focus on empathy and critically discuss the condition and will look at how empathy affects the nurse-patient relationship as this is viewed as central to the delivery of care (Taylor 1998; Bonnie et al 2003). It will also discuss why good communication skills are imperative to build a therapeutic relationship.
The Nursing and Midwifery Council (NMC) advocates the significance of the nurse patient relationship in the code of professional conduct, and indicates that nurses are responsible that they develop and maintain appropriate relationships; it also advises that nurses must listen to the people in their care and respond to their concerns (NMC 2008)
Research over the years demonstrated that there are many approaches to having effective relationships that can bring meaningful change (McQueen 2000; Hill and Kellems 2002). One is the clients own motivation, the second is a presence of a person who can offer a relationship that includes acceptance, empathy and genuineness (Rogers as cited in McLeod 2003). McLeod (2003) described these three characteristics of Rogers' core conditions as necessary to facilitate change and used in most helping disciplines. Norcross (2002) agrees that the use of empathy, unconditional positive regards and congruence is important and if used correctly can achieve positive outcomes.
Genuiness can be defined as "The basic ability to be aware of inner experiences and to allow the quality of that inner experience to be apparent in relationships" (Rana and Upton 2009, p 64). It is also about being real and honest with people (Burnard 1994), for genuiness to be an effective helping skill the nurse must be able to communicate honestly with the patient (Grafanaki and McLeod 2002). McCabe (2006) suggests that the offer of help should not be phony and that nurses should not hide behind the role of a counselor. Schnellbacher and Leijssen (2009) define genuineness as being aware of one's own experience otherwise known as self awareness and their findings also imply that genuiness in communication is imperative for healing. Being genuine also helps develop trust in the relationship (McLeod 2003), if a patient does not trust the nurse a therapeutic relationship will not form (McCabe 2006).
Unconditional positive regard is a term designed by humanist Carl Rogers, it is seen as acceptance of a person regardless of what a person says or does, and it is one of the vital components of a counselling relationship (McLeod 2003). Corey (2001) suggests that acceptance can also be defined as being the acknowledgement of patient's rights to have their own beliefs and feelings. It is imperative that no matter what a patient thinks or says about their situation, the nurse should accept this and not be judgmental (Burnard 1994). However Williams and Davies (2004) suggest that approving a client's behaviour is not the same as accepting it.
"The NHS was built on care, compassion and empathy, these are nursing values" (Davis 2009, p1). Empathy is the most crucial to the nurse-patient relationship (Burnard 1994; Corey 2001: Brunero et al 2009). Reynolds et al (2001) identified that empathy is also crucial in all forms of helping relationships and using empathy involves the ability to communicate an understanding of the other person's world.
William and Davies (2004) suggest that empathy involves thinking about or perceiving a situation from a client's perspective. Wilkin and Silvester (2010) describes empathy as the ability to understand what the client is feeling, where as Barret- Lennar (1993) suggests that empathy allows the client to benefit from experiencing being heard and understood. He also proposed that it is a main feature of the person centered approach.
Empathy is the ability to perceive accurately the feelings of another person and to communicate this to them, this should allow the nurse to view the patients illness and be non judgmental in the process (McCabe 2006). Millenson (1995) argues that accurate empathy should always be empowering as it represents an understanding and acceptance of the patient's feelings.
Empathy is a type of perception, which includes carefully listening, observing gestures, body language and trying to understand the patient's situation (Switankowowsky 2004). Empathy can be communicated both verbally and non verbally, non verbal behaviors include facing the patient, maintaining eye contact, leaning forward, smiling and nodding (Sudeen et al 2002). It is important when sitting with the patient, the nurse adopts an open posture position as it shows a non defensive approach (Egan 2002). To be perceived as an empathetic communicator the nurse must engage in active listening (Switankowowsky 2004), this is where the nurse listens to what the patient has said (Egan 2002). A verbal listening technique is reflective listening in where the nurse listens and then mirrors what patient has said, which may involve paraphrasing and reflection of feelings (Egan 2002).
Perraud et al (2006) research confirmed that being empathetic was a major element of the therapeutic relationship of a nurse and patient. According to Castledine (2004) nurses who showed empathy had better relationships with their patients, however Chowdry (2010) argues that empathy is a vital component in a counseling relationship. He discusses further that the boundaries of a counseling relationship vary from that of a nurse-patient relationship and that if not used correctly this may have implications for patients. Sellman (2007) also raised concerns about empathetic relationships, she recognized that there was an inbalance of power between the nurse and the patient, and indicated this made the patient vulnerable. Skelton (1994) agreed that the nurse-patient relationship is not equal and there is a risk that a nurse may use the trust established by an empathic relationship to influence a patient's decision, empathy in counseling is advocated as equal relationship (McLeod 2003).
Empathy is a powerful communication skill (William and Davies 2004), Hope-Stone and Mills (2001) suggest this also, however claim that empathy should be used as a discrete Commutative skill. Effective empathetic communication enhances the therapeutic effectiveness of nurse-patient relationship (Parbury 2009) if empathy is used appropriately this communication tool will help the assessment process and increase the efficiency of gathering information (William and Davies 2004; Parbury 2009) and if used effectively it can improve patient's recovery time in hospital (Hope-Stone and Mills 2001).
William and Davies (2004) described a model of stages of empathy; this helps the nurse understand the process of empathy. There are three overlapping steps in this process;
Step 1: self-transposal, this takes place when we actively listen and attempt to put ourselves in the place of the other person.
Step 2: identification, this is where it is the crossing over of oneself; it is described as an emotional shift from thinking to feeling, and where an experience of a deeper understanding is evolved. It is a stage of being connected to another person, which a form of identification occurs.
Step 3: Sympathy, this is the final stage were it about getting our self back, and standing side by side the other person in sympathy about the experience that was shared.
By using the above process, the nurse must never lose a sense of self, as they need to be able to step back and look at the situation objectively (William and Davis 2004). Empathy differs from sympathy as when expressing sympathy the listener becomes emotionally involved (McLeod 2003) and this could become a barrier to care, as becoming emotionally involved may distort the patients care (Wilkin and Silvester 2007).
There are many theories of empathy (Alligood 1992; Kunyk and Olsen 2001), Alligood (1992) suggest that there are 2 types of empathy basic and trained, basic empathy is an innate capacity to understand another's perspective, where as trained empathy is learned; this involves analyzing the patient's situation and communicating this back. A more modern approach is Kunyk and Olsen (2001) analysis of empathy which has 5 concepts which are: A human trait that is natural and instinctive, a professional state that is learned and has objective and has clear boundaries, a communication process that involves expressed and received understanding, Nursing and being with patients offering physical care and emotional comfort and lastly a special relationship in which patients are empowered to cope, as a result of being understood.
Emotional empathy is developed through experience, having this skill enables nurses to know what to do when patients are distressed (Morse et al 2006). Mehrabian (1997) suggests that some individuals can be more empathetic as they may have experienced more of the feelings that others feel. Studies have suggested that women are more empathetic than men (Hope-Stone and Mills 2001); however (Brueneros et al 2010) argues that this is inconclusive as most research is carried out on women. Further research should be more gender specific.
With so many different types of empathy, and methods of measuring, there has been much research done over the years to review empathy in nursing (Hojat 2007; Yu and Kirk 2008; Brunero et al 2009). Yu and Kirk (2008) recognized that nurses who were empathetic improved nursing care, however lack of empathy can leave the patient thinking that nurses are not interested (Parbury2009).and decrease their motivation to comply with any treatment(Wilkin and Silvester 2007).
The measurement of empathy is a complex issue most findings were inconclusive, as their appeared to be no consistency, (Yu and Kirk 2008; Brunero et al 2009) some tools that have been used in the measurement of empathy are the Interpersonal Reactivity Index (Davis, 1983), the Empathy Scale (Hogan, 1969), the D�kmen's Scale of Empathic Skills (cited in Cinar et al 2007). Yu and Kirk (2008) conclude that most measures have undergone developmental and psychometric testing; they indicated that in their findings none of the twelve empathy tools in their review were psychometrically and conceptually satisfactory. Zehra et al (2010) researched the empathy levels of nursing students over a year using D�kmen's measuring tool and the results showed that there results were much the same.
Bennett (1995) questioned whether empathy can be taught. There are many theories regarding whether empathy can be taught or if it something that is within (Davis 1990; Spiro 1992). Spiro (1992) suggested that empathy is acquired when a person is trained in interpersonal skills, has positive role models in their lives. However Edith Stein (cited in McLeod 2003) a German phenomenologist suggests that empathy can be facilitated, but cannot be forced to occur. To balance this argument Davis(1990) suggest that when empathy occurs its an experience within, and believes that what makes a person unique, however suggests that communicative empathy can be taught, this includes promoting attitudes and behaviors such as self awareness training (Yu and Kirk 2008) and listening skills (Egan 1990; Burnard 1995; Hojart 2007).
Hope-Stone and Mills (2001) findings showed that nurses were aware of the concept of empathy, however found that there were barriers to giving empathy. Baillie (2006) agreed with this and indicated that nurses have a high workload and a lack of time affects the ability to empathise (Wiseman 2007). Patients who require a lot of empathy can be emotionally draining, which can cause stress and sadness for the nurse (The British School of Osteopath 2010). However Hardee and Platt (2010) argues that empathy should not be emotionally exhausting, as using empathy should not require any emotional effort on the part of the nurse.
There are many definitions of empathy, however it is evident that it requires a complex conceptualization of behaviors, feelings and experiences which are not always easy to achieve. It is also evident that empathy as a commutative skill can be taught; however empathy as a human trait is inherent. A nurse being able to empathize with a patient is helpful and effective as it brings the two closer, strengthening the nurse patient relationship. Further research needs to be collaborated on the measure of empathy; perhaps a suggestion would be to measure the levels of empathy with nursing students in their first year and re measure levels of empathy in their final year to analyze if greater empathy is learned through education.
Related Topics