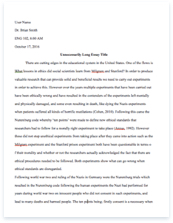 The whole doc is available only for registered users
Pages: 4
Word count: 786
Category: Nursing
A limited time offer! Get a custom sample essay written according to your requirements urgent 3h delivery guaranteed
Order Now
The image of the nurse in the famous movie "One Flew over the Cuckoo's Nest" is one of the grimmest nurse portrayals in the history of cinematograph, and perhaps the gloomiest female image overall. Nurse Ratched, or the Big Nurse, rules the patients' assembly with royal dignity and equal heartlessness. She has one of the leading roles in the movie, both in terms of the frequency of her appearance on the screen and conceptual realization of the director's ideas. At the same time, Nurse Ratched is only portrayed in her professional role, excluding any speculations as to her personal life, perhaps to make her look even more inhuman.
A viewer has a hard time determining if she is married or single. However, it is a little scary to imagine such a woman married or attending to kids with the same inhuman strictness. She is attractive physically, or, more precisely, would be attractive, but for her cruelty that shines through in her eyes. She does not have a trace of femininity about her or usual female weakness; in fact, she is stronger than most men she confronts. The depiction of the nurse is free from sexual allusions; rather, she is an obsessed automate that carries out her functions like a robot.
The nurse is active in the movie, giving nursing care to patients in her own peculiar way. She is almost never shown in any significant interaction with other professionals, but others believe her to be "one of the finest nurses we've got in this institution", as Dr. Spivey puts it. She is also on good record with the head of the hospital, and thus is secure in her job that allows her to torture helpless mentally disturbed people.
Nurse Ratched has an array of means to keep the men in the ward in check, such as shock treatment and lobotomy that are distributed not so much as a means of treatment, but as a penalty for misbehavior. It is a little difficult to understand what motivates the heartless cruelty of Nurse Ratched's deeds since she is very reserved and patient all the time, with an impenetrable face that betrays few feelings. She gets scared only in one case – when one of the patients assaults her and starts strangling her. Only then does her instinct of survival remove the impenetrable mask from her face.
She probably thinks that she is doing the patients good, subordinating their will to her own, but in fact her motives are perhaps a combination of the unquenchable zest for power coupled with love of rigor and strict organization. Her personality traits such as domineering, complacency, hatred of people are brought to such an extreme that she appears to be almost abnormal herself. She is the queen of the little world and uses her power to depress patients even further, without much care for service to others, humanism, scholarship, achievement. At least to the Big Nurse achievement can mean something to do with getting full control of patients' lives where she can fully subordinate them to her will and make them rely on her mercy.
The movie rotates around the conflict between the nurse and the new patient, Randle Patrick "Mac" McMurphy who fakes insanity in order to escape prison. McMurphy stands up for patients' rights to break free from the nurse's bullying rule, protests against her rigged voting and her manner of regulating the most minute details of their routine such as viewing sports games. McMurphy, although a con with a prison record, is in the film the embodiment of zest for freedom, defender of human rights and a strong a courageous person who can make a difference in the closed world of the patient ward. The nurse stands up against him as a person without much morale, nervous to lose her power.
The image of the nurse in "One Flew over the Cuckoo's Nest" carries little admiration for the nursing profession since the nurse does not seem to grasp the main values of nursing such as service to people, but uses her position as a nurse to manipulate patients. The directors does not suggest that Nurse Ratched is stereotypical, but the film can be interpreted as a warning to medical professionals that in their midst they encounter people who do not view their career as a creative and exciting life of helping sick people to get well, but are using their positions to give vent to hidden desires and abnormalities.
Bibliography
One Flew Over the Cuckoo's Nest. Dir. Milos Forman. 1975.
One Flew Over The Cuckoo's Nest (1975). 25 September 2005 < http://www.filmsite.org/onef.html>.
Related Topics