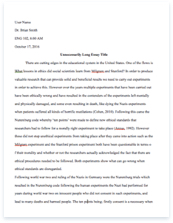 The whole doc is available only for registered users
OPEN DOC
Pages: 7
Word count: 1562
Category: Nursing
A limited time offer! Get a custom sample essay written according to your requirements urgent 3h delivery guaranteed
Order Now
Leadership is the inspiration for desired response and getting work done through others (Tomey, 2009). The person, I have chosen to take part in helping me to do the interview, is T.E. She is a 30 year old African America. T.E. was born in Kingston, Jamaica on January 18, 1984 and lived there until she was ten years old. She grew up in poverty in an underserved community and suffered abuse at the hands of her stepfather. When she was ten years old her family moved to the United States to escape the poverty and ill treatment T.E. (personal communication, January 6, 2015). T.E. was able to overcome the abuse she suffered as a child. She developed into a productive citizen of society. She was able to channel the pain she suffered as a child into becoming a nurturer and caregiver to help those in need. She worked in an underserved community as a means of giving back to the community and served the underserved aggregate. I had the pleasure of working with T.E. for five years.
I have watched her career advancement over these years and discovered that she is a wonderful co-worker and friend. She has been a registered nurse (RN) for ten years. She started her nursing career in telemetry at Martin Luther King Jr. hospital in South Central Los Angeles working as a float pool traveler for two years. After leaving telemetry, she worked the emergency room for three years at Centinela Hospital Medical Center (CHMC). Her next RN role was house supervisor for three years at CHMC. Now she is the director of the infection control and the wound care departments. She also works as the assistant professor at Charles Drew. She graduated with her doctorate in nursing (DNP), Practice and Nurse practitioner primary care/gerontology degree. This interview is a summary of T.E.'s viewpoints on her leadership style, changes made because of evolving leadership role, challenges faced as a leader in today's health care system and the effects of formal and informal power in the organization. Authoritarian Leadership
Tschohl (2014) suggests a leader is essential to inspire an organization to go beyond what they thought possible and to believe it is possible. T.E. described her leadership style as democratic and slightly laissez faire. However, she can be authoritative when necessary T.E. (personal communication, January 6, 2015). Tomey (2009) defines an authoritarian leader as one who "maintains strong control, does the planning, makes the decisions, and gives the orders. Autocratic leaders tend to be directive, critical, and punitive" (p 182, para 3).
As the director of the infection control and the wound care departments, her job is to coordinate hospital-wide infection prevention and control program activities which include analysis and interpretation of data, educating employees regarding infection control and prevention, surveillance, reporting of healthcare-associated infections (HAI's), and the development of policies and procedures. She also develops and implements wound care services according to the directives of the medical staff and the policies of the hospital. She also monitors the progress of the patients as well as treatment plans. Lastly, she is responsible for the educating the clinical staff. Changes Made Because of Evolving Leadership Role
The need for change compelled her to discover new ways to improve others through allowing autonomy and fostering empowerment. Her role as a nurse was suited for change. The change, she has made, includes inspiring and motivating those around her to excel in their roles. She has integrated the use of evidenced based practice (EBP) as a problem-solving approach to the delivery of health care and facilitated a paradigm shift within the organization. Examples include the incorporation of grand rounds and building EBP tools in the computer system. Instead of enforcing the rules of the organization and dole out punishment for non-compliance, T.E. chose to change the culture of the organization to foster the goal of change. Her strategy, to change others way of thinking, was by changing her first. Her Ph.D. studies were useful; she determined that the transformational leadership suited her purpose. T.E.'s description corresponds with the Bennis, Nanus, and Goldsmith transformational leadership in which Tomey (2009) describes a leader who transforms oneself first to transform others.
Her personal goals and the organizational goals will be achieved through the transformational leadership style. She earned her Ph.D. degree while going through her transformation. She transformed her thought process from boss and subordinate relationship to team leader and empowered team members' relationship. Because she is a hands on and a visible director who thrives on authoritarian style, her big transformation was confusing to the nurses; many scrutinized her change, while others wondered what her agenda was. T.E. always provided in-services about infection control and wound care in the units of the hospital, but focused more on the intensive care unit. Her in-services emphasized how important it is to prevent the spread of infection and prevent skin breakdown. She believes prevention and control decreases length-of-stay and reduces readmission rate producing higher customer satisfaction. As it became obvious that this change is evident, the challenges that came set in with the drastic change.
Challenges Faced as a Leader in Today's Health Care System T.E. (2015) states the challenges she faced were underestimation of her knowledge base by peers and colleagues primarily because of her age and years of experience. She denotes it takes leaders to interact with her for them to understand her depth of knowledge T.E. (personal communication, January 6, 2015). T.E. (2015) states, now that she has her doctorate the respect has increased exponentially and the members of the C-suite take her more seriously. When the pressure for cultural change persisted, the typical reaction to change started as the staffs' initial reaction to her change theory was unbelief and a hidden agenda. Older nurses who, fear change resisted her new style because it made them, lose control over their dictating care for the patients.
According to T.E. (2015, January, 6), the nurses viewed the shift of power was like a loss of perceived autonomy, instead of loss of unnecessary control. The resistant lasted while patient care suffered. Nurses became concerned with poor patient outcomes hence fostering a much-needed change. The nurses began to understand what T.E. was advocating over the years. Nurses became patient advocates and attended continuing education classes. The empowerment, which derived from in-service education, had an enormous impact and an organizational cultural change. Customer satisfaction scores improved drastically. Effects of Formal and Informal Power in the Organization
Both formal and informal authority relationships have the same basic structure (Heifetz, 2010). According to T.E. (2015, January, 6), formal power has pros and cons. Pros: people do what is expected, employees feel more participatory and engaged, and employees are overall more motivated to go over and beyond the scope of duties. Cons: employees often feel pressured, less morale, employees do not do their job well, and employees get too complacent when leaders are not as stringent. Empowerment confers informal powers based on relationships and networking communications (Tomey, 2009). To accomplish the organizational goals, participants can tap from the company data within the institution. T.E.'s informal power makes all the stipulations for ameliorating infections and preventing skin breakdown possible because with networking comes a supportive system to share information amongst the nurses to make the change possible. The informally powerful empower their colleagues and peers through the transmission of knowledge.
Formal power is based on formal authority conferred through official position from being hired on the job (Rodriguez-Ginorio, 2009). T.E. has formal power to empower, delegate, enforce and control; she also has informal power that she uses to empower and relate to the nurses. A true leader finds a balance between the two types of authority. T.E. embodies the real meaning of a leader. She has evolved as a leader who became great by learning to lead by example. The early great man theory of people being born as great leaders is discredited. She captures the statement by Lao-tzu as quoted by Tomey (2009, p. 199) "As for the best leaders, the people do not notice their existence. The next best, the people honor and praise. The next the people fear, and the next, the people hate. When the best leader's work is done, the people say, "We did it ourselves." This paper summarized the interview on nurse leaders held with T.E., a phenomenal nurse leader and patient advocate and excellent mentor. This paper focused on leadership style; changes made because of evolving leadership role, challenges faced as a leader in today's health care system and the effects of formal and informal power in the organization.
Reference
Berwick, D. M. (2009). What 'patient-centered' should mean: Confessions of an extremist. Health Affairs, 28(3), W555-W565. Retrieved from http://search.proquest.com/docview/853333965?accountid=458 Heifetz, R. (2010). Leadership. In R. Couto (Ed.), Political and civic leadership: A reference handbook. (pp. 12-24). Thousand Oaks, CA: SAGE Publications, Inc. doi: http://dx.doi.org.ezproxy.apollolibrary.com/10.4135/9781412979337.n2 Rodriguez-Ginorio, A. (2009, Fall). Leadership and power: Informal vs. formal power structures and their effect on leardership and power in the organization. Revista Empresarial Inter Metro / Inter Metro Business Journal, 5(2), 2-9.
Retrieved from http://ceajournal.metro.inter.edu/fall09/rodriguezginorio0502.pdf T.E. Personal interview. 6 January, 2015.
Tomey, A. M. (2009). Guide to nursing management and leadership (8th ed.). MO: St. Louis. Mosby Elsevier
Tschohl, J. (2014). Effective leadership vs. management. Leadership Excellence, 31(11), 48. Retrieved from http://search.proquest.com/docview/1639932473?accountid=458
Related Topics