Nepotism in the Workplace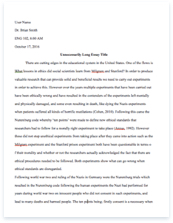 The whole doc is available only for registered users
A limited time offer! Get a custom sample essay written according to your requirements urgent 3h delivery guaranteed
Order Now
            Nepotism is the favoring of a relative or a friend for things or jobs he is not qualified for. Nepotism is the outflow of filial affection or friendship, or the desire to surround oneself with trustworthy and loyal subjects. It is usually the both.
            In an organizational setup, nepotism causes a lot of dissonance among employees, especially the ones who are affected by the favoring of an undeserving individual. Employees perceive such an act as an illegitimate political behavior (Robbins, 2002). This breeds distrust in the fairness of the employer. Nepotism could lead to conflict at all levels. It could disrupt team cohesion.
            Nepotism is prevalent in all cultures in the world. The culture of the nation or organizational cultures have no bearing on nepotism, in whichever levels we look at the issue from. Employees feel disconnected when a son inherits the father's business. Nepotism at the higher management levels could be very detrimental to the organization, with senior managers feeling let down by the decision. The attrition of an experienced manager is a huge loss for the organization.
            Nepotism is an ethical dilemma for the person making the succession or the promotion decision. On the one hand, he is emotionally or selfishly making the decision and on the other hand he knows it is detrimental to the organization. The extent of the damage thus wrecked shows in the long run on the performance of the organization.
            Nepotism in a workplace is an organizational evil that needs to be countered effectively by systems and processes of the Human Resource function. Unless these systems and processes for effective appraisals and rewards are implemented, nepotism, an illegitimate political behavior, will continue unabated.
References
Stephen P. Robbins, 2002. Organizational Behavior. Prentice Hall.
Related Topics