My Own Point of View on Juvenile Delequency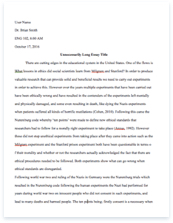 The whole doc is available only for registered users
A limited time offer! Get a custom sample essay written according to your requirements urgent 3h delivery guaranteed
Order Now
Juvenile delinquency is one of the hottest issues especially among our young people of today. We heard of thirteen year old involve in rape, killing, drug addiction, stealing, and many other unbelievable act a teenager can do. And these are but some forms of misbehavior involving the youth of today. But what exactly is juvenile delinquency? According to some psychologists, delinquents are those, whose behavioral pattern is contrary to the accepted rules. Some say that delinquents are those who violate the law, habitually disobedient and the like. But delinquents shouldn't be treated as criminals but as maturing persons who need outmost guidance, love and support while they find their way towards life. But while these can be true, it should also be noted that these can never be considered as an accepted norm among young people simple because they are at this stage of life of trial and error but instead there should be a certain level of measurement where everyone, young and old is to be treated equally and be given fair and equal judgment. Social problems can have a big influence on this issue. Especially all those poor lost children in the dangerous streets, and the main causes of this problem are mainly the fear of shame and poverty.
Another most concrete cause of juvenile delinquency relates to illegal couples abandoning their newly-born child, fearing the embarrassing and shameful gossip this event can produce. Thus, abandoning their illegal children to the streets seems the only solution. Another example would be a coward person, fleeing from his responsibility and leaving the poor woman raising her kids alone. It is hard for a woman to live in this kind of life for a long time that it usually result into abandoning her children as well just like what her partner did to her. Broken family is also an important cause of juvenile delinquency. In fact, the break-up of the parents' relation greatly affects children's psychology and behavior and suffering on this mess is a difficult experience for any young children. In addition, living with a single parent also means that children are not taken cared of as fully and quickly as other children. This can result in not only emotional but also physical stress which, in turn, increases the risk of a parent-child relationship.
A series of negative effects of this may follow such as children's disappointment, disorientation, stubbornness and criminal delinquency. Another cause of teenage unusual behavior is domestic violence. There is a true factor that conflicts between parents cause a hurtful feeling of children. The more frequent and intense the conflicts are, the more children are hurt emotionally. Because of this, they become withdrawn and depressed. Gradually, they develop mental disorder, hostility and aggression towards others outside the family. All these things are against good behavior and action. That is when criminal delinquency starts. All of these and many other discussions about juvenile delinquency point to the parents as the major contributor of this problem. A responsible parenthood then is very vital in rising up a more mature, sensible and responsible generation. Sooner or later I will become a parent myself, may this paper educate me to be a responsible mother to my children and contribute to the upright development on the society where I want my children to be living then.
Related Topics