Minority Leader In Social Welfare History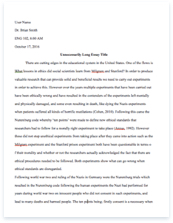 The whole doc is available only for registered users
A limited time offer! Get a custom sample essay written according to your requirements urgent 3h delivery guaranteed
Order Now
It is not usually until the presence of need becomes obvious, that a concept is developed to address it. While most of the early women founders I noticed from my research for this assignment grew from a place of empathy and an honest effort to help those suffering under many social areas, Mary Ellen Richmond's focus was on an educational based foundation during a time of socially feminist activism (Close 1989) a time where a lot of political campaigns and reforms took place for things like maternity leave, reproductive right, Dometic violence, etc.
Mary Ellen Richmond was raised by her grandmother and 2 aunts in Baltimore Maryland after being orphaned early in life (Social Welfare History Project, 2011). These 3 women developed Richmond's foundation of critical thinking through homeschooling and frequent open discussions that were far less conventional during their time of social feminist I learned that she was the moving force behind making social work a recognized educational study with complex concepts and focused practices. "Mary Richmond was known for her ability to organize communities, her development of casework practice, as well as her ability to teach and speak intelligently on a wide array of subjects. It was Richmond who systematically developed the content and methodology of diagnosis in the period around 1910 (Social Welfare History Project, 2011)." She held several employment positions i.e. secretary, clerical publishing and Liberian both in New York City and Baltimore, before attaining a job as Assistant Treasurer with the Baltimore Charity Organization Society (COS) in 1889 where her leadership flourished (Social Welfare History Project, 2011)
Ms. Richmond was able to bridge the gap of diadnosis and research, she was able to take content and methodology of diagnosis in the early 1900's by creating a diagram what she names " social diagnosis" the diagram shows the comparision of client's and enviornmnent . "The critical concept in Richmond's thought was that of 'the social'. The development of social work as a profession was closely intertwined with the development of sociology as a discipline (Close 1989)". Ms. Richmond choose to use her highly public position at Russell Sage Foundation as a platform to the public's ear on differentiating between a resourceful, empathic worker vs. an educated, trained professional (Agnew 2004). It was said that during Ms. Richmond's time as Assistant Treasurer with the Charity Organization Societies she had a talent of clearly expressing the mission of the agency which produced generous donation for the services the COS provided (Social Welfare History Project, 2011).
The National Conference of Charities and Corrections in 1897, proved to be another defining moment in Ms. Richmond's progressive career. During this speech, which lead to Ms. Richmond's next position as the Head Administrative at the SOC she stated: "…It is just twenty years since certain new ideas about the administration of charities came to have currency among us in the United States, and led to the founding of voluntary associations known as charity organization societies. The question now is how to get educated young men and women to make a life vocation of charity organization work. We must educate them. Through these twenty years our charity organization societies have stood for trained service in charity. We are thoroughly committed to that, in theory at least. But it is not enough to create a demand for trained service. Having created the demand (and I think we may claim that our share in its creation has been considerable), we should strive to supply it. Moreover, we owe it to those who shall come after us that they shall be spared the groping and blundering by which we have acquired our own stock of experience. In these days of specialization, when we train our cooks, our apothecaries, our engineers, our librarians, our nurses,– when, in fact, there is a training school for almost every form of skilled service,- – we have yet to establish our first training school for charity workers, or, as I prefer to call it, "Training School in Applied Philanthropy….". 
In reading about Ms. Richmond's missions to continue to alleviate people's distress especially in urban communities. I consider her to be a visionary and minority leader whose identification of the need for trained workers to identify those in need mentally and physical vs. those who take advantage of giving people and charitable agencies, this ideal stands true even today.
Related Topics