Middle Childhood and Adolescence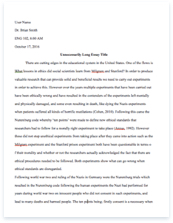 The whole doc is available only for registered users
A limited time offer! Get a custom sample essay written according to your requirements urgent 3h delivery guaranteed
Order Now
Middle childhood and adolescence is a crucial period of development within everyones lifetime, but for the child and parent it can become a time of uncertainty. In this era of a child life, their brains are developed enough to for logic, so they attempt to understand the world around them with answers from their perspective. All children require parents who would do what is necessary to care about them. Parents should act in the best interest of the childs development, and they should have to make an evaluation of the parenting methods that work well with the personality of the child. Within these years the childs temperament also begins to have an effect in their lives. œA childs temperament matters. If they do not consider the personality of the child, authoritarian parents might terrorize children who are innately fearful or anxious, or permissive parents might watch their impulsive children flail out of control.(Berger, 2010). Environmental circumstances also have a role in childrens development for example society and their family. There will be many changes that take place for middle childhood and adolescent children.
Puberty is known as œchanges in the hypothalamic-pituitary gonadal axis, development of secondary sexual characteristics, increase in growth velocity, change in body composition, and attainment of fertility. (Biro, Frank M, MD; Dorn, Lorah D, PhD, 2006) During the Middle Childhood for many people puberty is a time in their life that will not be forgotten. The age starts at 8 to12 and last for around four years which is around school periods. The average 7- to 11-year-old gains about 2 inches (5 centimeters) and 5 pounds (about 2.2 kilometers) per year.(Berger, 2010) Those healthy and productive years allow measured growth in; mastery of new athletic skills, comprehensible concepts, vocabulary, and intellectual ability. Inside the years children begin to develop some independence from their parents, and acquire the ability to read and write while attending school. Children grow confidence begins to build as their brain develops and grows, but some children within the middle childhood and adolescences have to struggle with special educational needs, family issues, coping with poverty or bullying. When children are in families that are functional, you can expect their development progress better than most.
A relationship between a child and a functional family unit helps foster self-esteem in the child, but that is most likely with support from a functional family. As the parent finds reward in their childs achievements and rewarding them as well, the child is encouraged by the progress of their development. When a child is encouraged, they are expected to follow a lifetime of meaningful work. œOften people who marry and stay married have personal and financial strengths that also make them better parents.(Berger, 2010). On the other, in contrast to be within a functional family, children being part of a dysfunctional family are any family that are poorly functioning, and consist of family members that are not supporting all its members. In every nation and with every type of family, three factors increase the likelihood that a family will be dysfunctional; low income, low stability, and low harmony (Teachman, 2008b).(Berger, 2010)
Pressures build and affect each other leading to a dysfunctional family unit, for example a single parent receiving less income than that of a two parent home. Children having to deal with divorce also adds to the pressure adolescent children. Unfortunately dysfunctional families exist, and often that dysfunction is passed down through generations, many children are being raised by single parents, raised in two households, or have to develop new relationships with step-parents. Children tend to learn unhealthy behaviors from dysfunctional family members and also other effects varying from nightmares, last of sleep, stomach aches, panic attacks, and depression. During the transition from middle childhood to adolescence, the positive and negative impact of peers and peer relations vary. Most children play best with other their age or their peers and social status as themselves. Peers provide practice in emotional regulation, empathy, and social understanding. (Berger, 2010) Peer acceptance and getting along with peers is especially important for a childs development during middle childhood. The feeling of belonging and feeling welcomed helps the children with their self-confidence and understand.
After their relationships have been established through peer interactions, children seem to be more involved and active. As children grow, play, and become more social there are still factors that can taint ones development. For example, culture, temperament, sex, and parents affect the interactions during every stage of childrens development. The regulation of emotions is most evident in the ways children learn to deal with aggressive impulses. In addition, children that have suffer rejection from peers most commonly go down a path very traumatic. This can lead to aggression, lack of social skills and benefit, and also depression. (Berger, 2010) The additional pressure that children face during the transition from middle childhood into adolescence also affects development. Such pressures as family structure and marital status of the parents, contribute to an adolescents perceptions and social views. Adolescents are thought to believe that others are always watching and evaluating them, and so some think they are special and it gets to them. They think believe that because he or she is so concerned with themselves, then so must be everyone else and thats a child falling into egocentrism.
Their feelings about themselves stem not only from their inner crises, but from their peers' acceptance or lack. Their self-conscience is highly regarded as conceited which can cause personal distortion. Generally these added pressures serve as only distractions in a childs development, but can have adverse effects if they are not addressed. Peer groups are capable of aiding children during this difficult period, but there are some peers that influence risky behaviors. The adolescent starts believing that if risky behavior is not harming their friends, then it will not harm them and some risk taking can lead to greater peer acceptance. One benefit would be that it can also help relieve the so-called maturity gap between physical and social maturity by mimicking adult behaviors, thereby affirming personal independence. Moral development is a great aspect of cognitive development, where a child achieves thinking abilities that develops proper behavior and an individuals motivation based on ideas of right and wrong.
Adolescent children usually receive moral values from their parents, and as children grow their interest in ethics increases as social cognition improves. Beliefs can grow or change through peer culture, personal experience, and emotions. Those are factors that shape a childs moral value and social cognition. Middle childhood and adolescence is a difficult period of development for children and parents. With the proper guidance and support, this period of development can be productive, preparing children for adulthood because even though parents try they are not able to prevent all types of bad and risky behavior in adolescence. Many factors affect a childs development, but successful results are determined by each individual through trial and error. Parents need to encourage children's psychological autonomy by soliciting their opinions or encouraging self-expression.
References:
Frank, M. B., & Lorah, D. D. (2006). Puberty and adolescent sexuality. Psychiatric Annals, 36(10), 685-690. Retrieved from http://search.proquest.com/docview/217054295?accountid=35812 Berger, K. S. (2010). Invitation to the life span. [University of Phoenix custom Edition e text].New York, NY: Worth Publishers. Retrieved from University of Phoenix
Related Topics