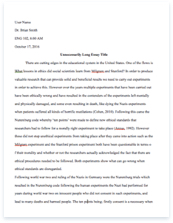 The whole doc is available only for registered users
A limited time offer! Get a custom sample essay written according to your requirements urgent 3h delivery guaranteed
Order Now
1. Mention three of the advertisers' objectives and what the best metrics are for measuring them (i.e., what do advertisers want to gain from their ads and how can they trace the success of the ads on those dimensions?).
Three objectives that advertisers want to gain from their online advertising as follow
1.1 Brand awareness
Brand awareness helps the brand stand out from the others competitors and play an important role in buying decision. So the advertisers want potential consumers to recognize their products.
How to measure
The number of people who see an online advertisement, called impressions, could be a way to measure brand awareness. The more consumers visit website and see advertisements, the more brand awareness consumers get. Therefore, the advertisers could trace the consumer's brand awareness by utilizing "eyeballs" (or unique monthly website visitors) to count the amount of visitors who see the advertising each month.
1.2 Sales leads
The advertisers also want sites' visitors to click on an advertisement to learn more about their products in order to increase opportunity to purchase. Therefore, sales leads are the identification of consumer that interests in potentially purchases a product.
How to measure
The sales leads could be measured through measuring the number of visitors who click on an advertisement. One of the popular measurement models is "click-through rate (CTR)" which measured the number of clicks divided by the number of advertisement impressions delivered. From this method, the advertisers are able to classify potential customers out of general sites' visitors. In addition to online advertisement, the amount of telephone calls to a call center generated by newspaper and television advertisement could also be the identification of sales leads.
1.3 Sales
Lastly, the advertisers' goal is generating a profit from their advertisements. They want consumer to purchase their advertised product.
How to measure
The advertiser could trace the sales through sale revenue. For example in the case, Windham could identify product sale from returned coupons of pharmacy. First, customers print out the coupons, which has a barcode identifying the site customer came from, in order to redeem at pharmacy. Then, when the pharmacy returns those coupons, Windham could compare which advertising site gives it the most sales. This method also apply to newspaper advertisement, which sent the barcode by postal mail by the call center to respondents. 2. What specific consumer behaviors determine if a business model will produce the results an advertiser wants?
In the case, there are three different consumer behaviors depending on the business model as follow
MedNet
Consumer behaviors of MedNet are those who are actually looking for some medicines, which would cure their illness. They are likely to spend longer time on browsing through the medical information to find the best solution and click around the advertisement related to what they are searching for. In addition, they tend to buy more products from advertisers when they decide to purchase. This includes asking their physicians for prescription medication when the advertised product is not available over-the-counter. Finally, these visitors decide to return to website when they have a health problem next time. Business model
– Impression business model
– Charge by CPM
Marvel
Consumers of Marvel are those who browse websites for general health-information. They might interest in some medical issue but not in urgent circumstances. They use Marvel as a starting point for information searching and may be caught by advertisement on the websites, which is possible to come back when they really need help. Business model
– Click-Throughs business model
– Charge by CTR
Cholesterol.com
Consumers of Cholesterol.com are interested in cholesterol problem treatments only. They have strong knowledge of this disease and are seeking for some professional help. They also like to store their data, which they want to review. Business model
– Focused on chronic disease
3. What is the best argument Yates can make to justify charging Windham for impressions instead of click-thoughts?
Giving higher converting rate to buyer
Impression method could convert browser to buyer more than click-thoughts since, according to MedNet visitor survey result (Exhibit 3), MedNet could convert 6% of consumers who clicked on the sponsor's advertisement to purchaser, while only 2% of consumers who clicked on advertisement at a search engine website ended up with purchasing. Even though, charging impression has more cost per click-through at first, finally those costs is worth to attract visitor to buy advertised product, which demonstrated through higher ROI of impression method.
To explain this phenomenon, consumers see advertisement on MedNet in the context of a trusted and helpful site. They visit the website when they are in health problem. They spend time on website to search for medicine that could heal them and intend to buy advertised product in MedNet site since the genuine value of MedNet impressions are delivered to advertiser. Conversely, although click-through method is the cheaper way, those click-through do not generate actual sales, which are worthless for Windham because the consumer just get the information of product but do not buy.
Major drawback of click-through model
The advertising cost of click-through model might be too exaggerated. The increasing "click fraud" of advertised product in the website by Windham's competitor purposed to drive up the advertising cost, which affect competitiveness of Windham.
4. Fill in the table in the attached Excel file with case and exhibit data. Make sure to explain the source of your data and detail your calculations. What insights do you gain from the table?
See attached for calculation and data source
Insights
In the case, return on investment (ROI) is a way to consider how worthiness of advertising cost return to be profit. Comparing ROI each media in the table shows that advertising on newspaper (ROI 1.82) is the most worth advertising cost. One of the reasons is advertising on newspaper has the lowest cost ($260,000) but highest converting click-through to buyer (12%). However, we cannot take it to account since advertising on newspaper is not a web-base advertising differed from MedNet and Marvel.
On the other hand, MedNet was able to provide better profit to Windham than Marver. Although, Marvel has cheaper cost per click-through than MedNet, Marvel has lower has low converting click-through to buyer (2%). Consequently, with the higher number of buyer and contribution per sale, MedNet provided higher ROI to Windham.
According to calculation, Yates could use this calculation to prove to Baker that MedNet's audience can give more profit than Marvel's. The advertising appears on MedNet's site is more credible resulting in attracting more number of customers who intends to buy. In contrast, customer who click-through advertises on Marvel's search engine just looks around and does not intent to buy product.
5. What should MedNet specifically do in order to address the emerging competitive threats?
To create more value-added service for their existing and potential consumers, MedNet should implement these strategies:
Extend brand to alternative healing information
With the larger audience in alternative therapies market such as herbal remedies, vitamin regimens, and massage and more advertising sale, MedNet should bring alternative health information to their website, starting with proven scientific studies, in order to increase new visitors as well as advertising revenues. This strategy also enhances income from other alternative advertisers, which reduce dependence on Windham.
Threat: Most of alternative health audience does not trust pharmaceutical companies or Western medicine.
Take a more prescriptive, diagnostic posture toward site visitors To be less dependent on advertising revenues, MedNet should provide interactive tools, which visitors could store and track data such as weight, blood pressure or cholesterol level, in order to allow consumers to diagnose themselves. Once, the relevant advertised medications would have more chance to be bought. They could also charge for content and be less dependent on advertising revenues.
Threat: Board might not agree to dispense medical information.
Cooperating with large employers
With MedNet's integrity and trustworthiness, it eases to contract the firm to become a corporate health site of record. MedNet could earn money from cooperations with companies except advertising income.
Threat: Employers do not allow to have pharmaceutical advertising on website.
Related Topics