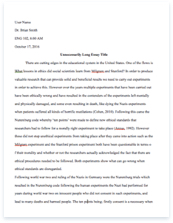 The whole doc is available only for registered users
Pages: 2
Word count: 448
Category: Patient
A limited time offer! Get a custom sample essay written according to your requirements urgent 3h delivery guaranteed
Order Now
Medical Billing and Coding is the process of specialists playing in an important role in the healthcare industry. Medical billing and coding workers are the health care professionals in charge of handling patient data such as treatment records and related insurance information. Medical insurance billers and coders are in charge with coding a patient's diagnosis along with a request for payments from the patient's insurance company. Medical billers are in charge of making sure that everyone is being billed correctly. Some of this involves talking with patients and/or health insurance companies on a systematic basis to make sure all invoices are paid on time. The biller should understand coding language and how to read medical invoices. When a patient has any medical exam or practice, the medical office will work with the patient and the patient's insurance company for claims. The biller will submit and follow up on any claims in order to receive payment for services rendered by the health care provider.
The process of medical billing is generally the same nevertheless of whether the insurance company is privately owned or is owned by the government. Medical coders really don't have too much interaction with insurance companies and patients. Their job is perfect for someone who would choose to spend time evaluating and coding data. Medical coders are assigned universal medical codes, in numeric or alphanumeric form, to medical procedures and diagnoses. These codes are used to track diseases and injuries. Every duty performed in a medical office has a particular code assigned to it and it needs to be coded accurately in order for proper billing. The medical coder and biller often work together to make sure all invoices are paid properly. Hence, I would like to complete this course because I want fully understand the concept on how important Medical Billing and Coding is to the healthcare industry.
As it also seems like an interesting course to take into consideration. In this course, I would like to acquire information and learn the different roles that medical billing as well as medical coding has to offer, and go in-depth which each of them. I would like to know how the medical codes work and learn what each code stands for, and how it works with the medical billing. Also, I would like to complete this course so that I can be able to work in varieties of locations, such as, hospitals, pharmacies, laboratories, etc. It would be an experience for me to have this career and be able to have a home business, and also have the opportunity to work with independent physicians, or even to work with larger health care firms.
Related Topics