Measuring Performance Standards1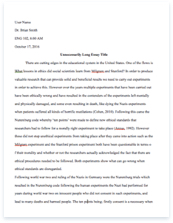 The whole doc is available only for registered users
A limited time offer! Get a custom sample essay written according to your requirements urgent 3h delivery guaranteed
Order Now
Introduction
With so many services so that an organization available and the types of services that these facilities offer patients have a lot to chose from. When picking an organization they need to take into consideration what types of services they offer and will they be beneficial to what my needs are and that of my family. In 1914, Duke Raleigh Hospital (DRH) also formally known as Mary Elizabeth Hospital, has stayed true to the founding philosophy to compassionate care to all patients. DRH became a part of Duke medicine in 1998 and provides the most leading edge medicine and advanced technology to all their patients. DRH offers services anywhere from adjustable gastric banding, bone density exams, surgeries of different kinds, to wellness services and x-rays. What ever the need of the patient is Duke Raleigh can accommodate. The hospitals mission and vision statement: "is to provide extraordinary care; they are the community leader with excellence in cardiovascular, neurosciences, oncology and orthopedics services."
In 2011, there value statement: "Caring Our Patients, Their Loved Ones, and Each Other." Duke Raleigh Hospital will collect data for the implementation of new services and make improvements on existing ones. The data will be collected from flowcharts, control charts and with different charts being offered they will use the one that best fits their organization. The goal of the hospital is to provide safety to their patients and employees and also provide the quality care that is required. They can do that by following the Joint Commission's rules and standards. They can achieve this by getting feedback from their patients, employees and stakeholders, and lower management. QI Plan3
DHR will follow the Plan, Do, Check Act (PDCA), find out where there is a need for improvements, collect the data, research the ideas for the process of improving and will be will the most effective. Implement the changes and investigate what is working and what is not. Checking up on the changes will also provide information on whether or not everyone is following them. Collecting data from other facilities can show an organization what they are doing right and if that one thing will work for your organization. Organizations can use the Continuous Quality Improvement plan (CQI) and the National Committee for Quality Assurance (NCQA) can help facilities stay on track with meeting their goals, mission, and value and vision statements. They can also get help from the Joint Commission. All parties concerned need to take an active role in making sure that their facility is safe and that quality care is being provided. Organizations can also use Six Sigma:
1. "A Statistical measurement for proves improvement
2. Used to identify the spread/dispersion of observations around the average/mean of process 3. Value indicates how often (frequently) accidents" or health hazards are likely to occur 4. Value is a performance metric that indicates how well a specific process is performing. The higher the sigma value, the better the process performance 5. Measures process capability to produce accident-free work 6. Values increase as accident/health hazard rates are reduced" Everyone who is associated with hospital whether they are on the Board off Directors, stakeholders, patients, staff and all department heads can contribute to Duke Raleigh Hospital's Quality Improvement Plan. Patients and staff members can report back to the QI Committee problems that need to be solved. A patient or employee may have a complaint about a procedure that could be improved. Listen to them because the patient know what they want and the nurses work closely with patients so they also see where improvements need to take place.
Stakeholders can be anyone who has an interest in an organization. They can business personal outside of the organization, employees, or just an everyday person. This people all want is best for the patient and the facility. Stakeholders will look at for the organization as far as keeping costs down and when would be a good time to purchase new equipment. Health care facilities are there to help patients. These facilities are going to strive to their fullest capacity to keep their employees and patients safe and provide the quality of care that is available. The way to achieve this goal is to communicate and listen to the patients, employees and stakeholders. Follow those mission, vision and value statements because they will keep everyone on track, once people start getting away from what the company is all about things start declining, like customer service and patients are customers paying for a service. Conclusion
In conclusion the team has talked about different ways to improve quality care. We have discussed the Plan, Do, Study, Act (PDSA). Taking surveys and acting upon them is another way that Quality Improvements can be met. The team had also talked about Risk Management and how following these guidelines can keep patients and staff safe. Basically the team, I believe had come to the conclusion that everyone needs to be accountable for there actions. Patients need to be honest with their physician and visa a versa. That is where we all agreed and the instructor that communication comes in handy. When a person comes to management with a problem management needs to listen to them because it could keep someone from being harmed.
Everyone involved with Duke Raleigh Hospital all have something to gain and that can happen as long as everyone stays on track and strive to be the best they can be. Training is a part of that also. Make sure that every staff member is trained for his or her assigned duties. That goes from upper management to the cafeteria worker.
References
Duke Raleigh Hospital, Retrieved from http://www.dukeralileghhospital.org/ Duke Raleigh Hospital Eather, B. I., Chiarella, M. E., & Donoghue, J. (2013). PLAN, DO, STUDY, ACT CYCLES AS AN ALTERNATE TO ACITON RESEARCH FOR CLINICALLY BASED INQUIRERY, International Journal of Research in Nursing, 4(2), 34-39. Retrieved from
http://search.proquest.com/docview/1460232748?accountid-35812 Hovmand, P. S., PhD., & Gillespie, D. F., PhD. (2012). Implementation of evidence-based practice and organizational performance. The Journal of Behavioral Health Services & Research, 37(1), 79-94 Retrieved from http://search.proquest.com/docview/205224187?accountid-458 Joint Commission: Accreditation, Health Care, Certification Retrieved from http://www.jointcommission.org/ The Joint Commission National Committee for Quality Assurance – NCQA (Cot. 4, 2011). Retrieved from http://healthfinder.gov>…>Organizations>Listing Healthfinder THE IMPACT OF STRATEGIC PLANNING AND THE BALANCED SCORECARD METHODOLOGY ON MEDDLE MANAGERS' PERFORMANCE IN THE PUBLIC SECTOR, What is an Electronic Medical Record (EMR)? (Aug. 29, 2014). Retrieved from http://www.healthit.gov/providers-professionals/electronic-medical-records-emr Revelle, J. B., (2004). Six Sigma: Problems-Solving Techniques create safer, healthier worksites. Professional Safety, 49(10), 38. Retrieved from http://search.proqest.com/docview/2003497777?accountid-35812
Related Topics