Martin de Porres Is a Saint Whose Purpose Was to Help the Sick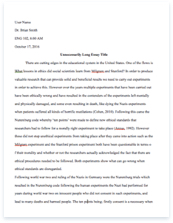 The whole doc is available only for registered users
Pages: 3
Word count: 674
Category: Doctor
A limited time offer! Get a custom sample essay written according to your requirements urgent 3h delivery guaranteed
Order Now
St. Martin de Porres was born on December 9, 1579, in Lima, Peru. His father's name was Don Juan de Porres and his mother's name was Ana Velazquez, His sister's name was Juana de Porres. During San Martin de Porres childhood, He was being raised by his mom but since his mom was a color women at that time in Peru were the spanish people were mostly living they were poor, also since he was mixed because of his dad being spanish for a few months he was living with his dad's uncle were he would have better life. When he was living with his uncle he decided to work on a convent close to his mom's house and choose not to work as doctor just like his dad wanted to, the convent was like a dominican monastery. On the convent they told him to work as a cleaner because since he was a color person he couldn't be assigned to a higher possesion in the convent of the church. When he was young his dad took him with his uncle were he learned how to plant plants that let him make medicine, when his uncle was sick he cured him with the medicine he made. When he kept getting older he worked with a barber where he helped him to do surgery and take people's teeth off.
When he was 24 he stopped working as a cleaner and became a brother. He always said no when they asked him if he wanted to be more than a brother at the convent. All that he wanted was to help people that came to the convent asking for help that were sick and become closer to god. He decided to help this asylum that gave food to the homeless and families that were in need for food, the organization was call holy cross.
All he wanted was to give his body and soul to god, during a day of mass he was praying to god and the place where he was praying his feet got off the floor and started flying and that was a sign that he was giving his body to god. The helpful thing that makes St. Martin a saint is healing the sick, helping the most in need, Giving alms to the Spanish people. He dies since he was sick the sickness was fever and he also died in the country he was born on which was Peru. When he was alive he kept getting older and older and kept healing the people that needed help, he healed a lot of people when a plague came to Peru that was giving the people fever. Also he used to talk to animals and use to give them food to eat. His spirit used to go to place to place to heal the people that were sick. The cure of his healed the queen Isabel that had a sickness of emorogy and years later he funded for the asylum of the poor kids of Peru, Lima.
They remember because he helped the homeless and they celebrated that by every single November they put music and prayers and his priestly occasion, they also Remembered him as a kind person. Something to remember him was a shrine that is in a church every single time is his day they pray. The day of St. Martín de Porres is November 3 every year it is celebrated by a broom that is a symbol of his kind service. St. Martín is the patron of barbers and the patron of the country of Peru, the Peruvian people St. Martin de Porres did that was interesting for me was that he healed a lot of people that wanted help. A story I know is when a kid broke his leg he got a disease and a priest came since he was about to die and told his mom that if she put something that represent Saint Martin de Porres, and started praying he would heal him and he did the next day.
Related Topics