Malaria is One of the World's Leading Public Health Problems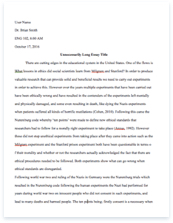 The whole doc is available only for registered users
A limited time offer! Get a custom sample essay written according to your requirements urgent 3h delivery guaranteed
Order Now
Statistically, malaria is one of the world's leading public health problems. It is a troubling fact that in highly endemic areas, it is the young children who make up the majority of the death toll caused by malaria. Many patients who are going through the malaria illness have insufficient access to basic health care; furthermore, the treatment they receive is often in a questionable quality and ineffective. The need to better understand malaria as a whole in order to produce more effective treatment methods is imperative to its eradication. As the President's Chief-of-Staff I am tasked with the challenging but worthwhile objective of assembling a team that will lead the way to the eradication of malaria. The people that I have chosen for this team are uniquely qualified and fulfill fundamental roles; without each one of them our country will never distance itself from malaria's deathly shadow.
As previously stated, malaria is a serious infection in children that necessitates a complete understanding of detection, treatment, and prevention. Pediatricians, therefore, need to maintain a basic knowledge about the infectious disease in order to successfully combat it. Dr. John White, MD is the first person I would choose to be a part of my team. Dr. White is a pediatrician who has had spent his storied 20-year career dealing with a range of illnesses, especially malaria. He is situated in a rural part of the country. It is a big advantage to have a pediatrician that has primarily practiced in rural areas because it is well known that malaria is especially prevalent in these areas. Dr. White is an ideal candidate to be a part of the task force because he has firsthand experience when it comes to diagnosing and treating this disease. His inclusion on this advisory board will be helpful when it comes to developing a detailed list of the needed medical supplies to be distributed to the hospitals. Furthermore, he will be instrumental in discerning the disadvantages of prescribing already established treatment methods, whether it may be the side effects, costs for the patients, or application techniques.
The decision to control and subsequently eliminate malaria will depend on sound knowledge of the vector for malaria. Timothy Williamsburg, PhD is a well-known entomologist who has spent his career surveilling one of the greatest enemies of our country, the mosquito. There are hundreds of types anopheline mosquitoes in our world; of these, only a small fraction can transmit the disease. Despite the small fraction of anopheline mosquitoes that are able to transmit the disease, it is vital to have extensive knowledge about the vectors. Therefore, Dr. Williamsburg's ability to conduct vector surveys to determine the exact species composition of malaria prone areas will be of significant benefit to this advisory board. Vector surveys of adolescent and adult mosquitoes are useful in development of sound vector control strategies. Occurrence, breeding seasons, density, breeding habitats, and insecticide susceptibility of the malarial carriers are important information derived from these types of surveys. This is especially important because we are unsure if places with high densities of mosquitoes will require different tactics than those with lower densities. Additionally, if applicable interventions are to be established to end the transmission of malaria, it is vital to understand the biting habits of anopheline mosquitoes. His background conducting entomological surveys will help establish and monitor the various changes of the anopheline mosquito.
Sufficient information about the vector that carries malaria is only part of the information necessary for its eradication; to better gain a complete understanding of malaria, the disease-causing agent must be well understood too. The malarial causative agent is an extremely complex parasite, going through many phases as it develops in both in humans and mosquito hosts. The third person I will add to my advisory board will be Roy Mitchell, PhD, a very well-respected malariologist. Dr. Mitchell has been studying malaria for years now and has been the principal investigator of his own malaria lab in this country for the past 6 years. Dr. Mitchell's firm grasp of how the malarial parasite affects the immune system and what conditions it can survive in will be an essential component for the advisory board. Furthermore, as a malariologist, Dr. Mitchell will be well informed about the history of malaria. The ability to know what methods have worked in the past and what has not will be beneficial when it comes time to develop effective treatment methods.
With the advisory board well covered in all scientific aspects of malaria, there is a need to fill a position that will be able to bring together the work of Dr. Mitchell, Dr. Williamsburg, and Dr. White with the goal of developing a novel malarial drug. This role is best filled by a pharmaceutical scientist since they are trained to develop, test, and manufacture new medications. Finding an effective medication for the treatment of malaria is especially difficult due to the need for the medication to have a lengthy shelf-life, the ability to be easily stored in various environments, and one not too costly to distribute. Dr. William Reynolds has been in the drug development industry for close to 30 years now. He has worked with accomplished companies such as Amgen, GlaxoSmithKline, and Pfizer. Due to his success in developing an operative medication for Yellow Fever that solved these problematic topics, I am confident that Dr. Reynolds is the person most suited for the pharmaceutical scientist role on my advisory board.
In addition to the scientific and pharmaceutical considerations, the objective of eradicating malaria will depend a great deal on the public efforts. Local health officials have a critical role in effective regional public health systems. Public health officials are the glue between a lot of different organizations; their coordination between community leaders and state officials is instrumental in successful progression of disease treatment. Not only do the members of the advisory board need to be well informed about malaria, but the public does too. Without properly educating the public about malaria and how to use the tools we are developing to fight it, the lasting effect of our work will be limited. Therefore, the need to hire Jane Smith as our public health official is very well warranted. Mrs. Smith has a very diverse background, ranging from health administration and biostatistics to scientific marketing. Her background will allow us to tailor our public education programs to target our sought-after audience.
To respond to complexity of the malaria, this advisory board has to contain personnel that are able to offer a wide range of knowledge. I earnestly believe that the people chosen to be a part of this board are able to answer the call. Dr. White, our pediatrician, will be an asset in determining the needed medical resources and in advising physicians in our country on how to properly administer the medications developed by Dr. Reynolds. Our malariologist, Dr. Mitchell, will contribute valued information on how the malarial parasite affects the body and will propose probable mechanisms to fight against it. This insight will of course play a big role in Dr. Reynold's work. Dr. Williamsburg, our trusted entomologist, will not only be able to provide mechanical, chemical, and biological control tactics against mosquitoes but also give awareness to what geographic areas will be more suited for our treatment tactics. Mrs. Smith's public health background will tie the work of all of the individual contributors together to present it in a form that is both easily understood and meaningful to our citizens. With the well-educated input of the members of the advisory board, several effective treatment methods for malaria can be devised. Through educating the public and with their cooperation, in some time our country will unquestionably eradicate malaria.
Related Topics