Louis Vuitton Brand Audit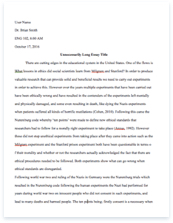 The whole doc is available only for registered users
Pages: 9
Word count: 2187
Category: Brand
A limited time offer! Get a custom sample essay written according to your requirements urgent 3h delivery guaranteed
Order Now
Louis Vuitton was established in Paris in 1854 by Monsieur Louis Vuitton. That year also marked the creation of the first flat trunk with Trianon canvas in grey. In 1867, Louis Vuitton took part in the Universal Exhibition in Paris, followed in 1885 by the first opening of a Louis Vuitton store in London. Three years later marks the creation of the beige and brown Damier canvas. Monsieur Vuitton created this particular Damier canvas in an effort to battle the knockoffs that plagued his high demand line. The monogram on the original Damier Canvas read 'marque L. Vuitton deposee', meaning L. Vuitton registered trademark'. In 1892, Louis Vuitton passes away and his empire is taken over by his son, George Vuitton, who for the first time takes the company global. The Louis Vuitton brand was shown at the 1893 Chicago World's Fair, shortly followed with the creation of Monogram canvas that has become up until today the most popular icon in Louis Vuitton lines of products.
In the early 1900's, several new collections of Louis Vuitton are introduced, marked in 1914 with the inauguration of the Louis Vuitton Headquarter in Paris, which later becomes the largest traveled store in the world. In 1936, George Vuitton passes on the company to his son, Gaston-Louis Vuitton who is now in charge of the family business. Forty one years later, Vuitton owns two stores that bring in $10 million dollars annually. In 1978, The Louis Vuitton Empire expands and opens its first stores in Tokyo and Osaka, Japan. The expansion into Asia continues with an opening of the Seoul, Korea store. After several years of expansion, Moet Hennessy and Louis Vuitton merge to create LVMH in 1987. By the year 1989, Louis Vuitton has over than 130 stores worldwide and is about to embark on a more ambitious worldwide expansion. In 1998, Louis Vuitton welcomes Marc Jacobs as Artistic Director and he quickly designs a men and women's collection.
That year also marks the formation of the Monogram Vernis Line, keeping up with Louis Vuitton's legacy and hosts the first China Run Car Rally. To add to an already busy year, Louis Vuitton came out with a scrapbook and city guide collection. In 2000, the first store on the African continent was opened in Marrakech, Morocco. Louis Vuitton lends its hand, along with actress, Sharon Stone, to the American Foundation Against Aids, as Stone designs a vanity named the Amfar. The vanity was auctioned off at the International Film Festival in Venice. All the proceeds went to the aids foundation. The first piece of Louis Vuitton Jewelry is created by Marc Jacobs in 2001, and is the Louis Vuitton Charm Bracelet. The first Louis Vuitton building in Omotesando, Tokyo is opened in 2002. The Tambour watch collection is launched, and Louis Vuitton collaborates with Bob Wilson for the Christmas Window scenography. In 2003, the collaborations continue with a Japanese artist, Takashi Murakami, and together they create the Multicolored Monogram.
That year also marks the 20th anniversary of the Louis Vuitton Cup. The first store in Russia opens in Moscow and in New Delhi, India. The Utah and Suhali leather lines are also launched this year. The House of Louis Vuitton celebrates its 150th anniversary in 2004. During this monumental year, Vuitton celebrates its inauguration of its second building on Fifth Avenue in Manhattan, New York. This was not the only inauguration the design house celebrated that year. They also celebrated the openings of stores in mainland China, Shanghai, and Johannesburg, South Africa. Another Christmas season collaboration for the window scenography sees Louis Vuitton pair up with Ugo Rondinone. The year 2006 marked something new and something renewed with the Louis Vuitton Icons. The launch of the new icons in Nomad Leather and the new edition of the icon locks were monumental this year in the world of Louis Vuitton.
Vuitton also published a book 'Louis Vuitton, Icons' by Edition Assouline. Louis Vuitton also created the 'Louis Vuitton Bohemian Run' between Budapest, Vienna and Prague. That year was also the launch of the Monogram Mini Lin line. Another inauguration occurred with the Louis Vuitton House in Manhattan, New York and Taiwan. One of today's most popular collections, the Damier Azur line was released. That year Louis Vuitton window display art was designed by Olufar Eliasson. The inauguration of Takashi Murakami exhibition occurred in 2007 and the opening of the Louis Vuitton temporary boutique in a museum. That year also marked an iconic collaboration of Marc Jacobs and Richard Prince.
The 'Ultimate Travel Bag' was created, and the Core Values Advertisement Campaign with Andre Agassi, Steffi Graf, Catherine Deneuve, and Mikhail Gorbachev. That year also saw the opening of the first Louis Vuitton store in Cyprus, Greece. The Maison Louis Vuitton was open in Hong Kong in 2008. The Core Values Advertising Campaign returns, but this time Louis Vuitton hooks up with Keith Richards, Sean Connery, Sofia Coppola, and Francis Coppola. Damier collection is back and better than ever with the new Graphite Damier line. That year, Louis Vuitton celebrates the 10th anniversary of the City Guides collection. Sofia Coppola is honored with a collection under her name that is launched in Tokyo.
LOUIS VUITTON BRAND PORTFOLIO
Louis Vuitton brand offers seven different product collections ranging between:
• Main Products: Leather Bags and Wallets
– Handbags
– Luggage
– Cosmetic Bags
• Original Product Line: Monogram
• Expanded its product line
– Monogram Denim
– Monogram Multicolor
– Monogram Vernis
– Damier Canvas
• Offer more types of product including:
– Timepieces
– Shoes
– Agendas
– Jewelry
– Sunglasses
– Belts, Scarves & Accessories
MISSION STATEMENT
LVMH must continue to be synonymous with both elegance and creativity. "Our products, and the cultural values they embody, blend tradition and innovation, and kindle dream and fantasy." Five priorities reflect the fundamental values shared by all group stakeholders: – Create and innovate
– Aim for product excellence
– Bolster the image of the brands with passionate determination
– Act as entrepreneurs
– Strive to be the best
TARGET MARKET
LV uses demographic and psychological targeting strategy to target their customers.
– Men and women.
– Age ranging from young adults to seniors (22 – 65 years old).
– Income around $5500 or above per month.
– Repeat purchases by their loyal customers
– Frivolous purchases by random customers
THREE LEVEL OF LOUIS VUITTON PRODUCT
PRODUCT RELATED ATTRIBUTES
Throughout the years, Louis Vuitton products have maintained the highest quality fashion, durability, exclusivity and prestigious image on which they originally were founded. Some unique features that identify Louis Vuitton collections are: 1. The finest and highest quality materials
2. Gold plated hardware
3. Perfectly executed hand stitching
4. Distinctive monogram patterns
5. Long lasting life
6. Exclusive thirty days worldwide exchange policy
7. Highest quality control protocol
COMMUNICATIONS, PRICING AND DISTRIBUTION
Louis Vuitton's brand image has been maintained through communication focused on the product's high quality and its associations with top celebrities, athletes and political icons, such as, Jennifer Lopez, Sophia Coppola, Sean Connery, Keith Richards, Angelina Jolie, Andre Agassi and Mikhail Gorbachev. Louis Vuitton traditionally advertises its products through their website, billboards and high end magazines. They also promote their products through events they sponsored, such as, The Louis Vuitton Cup and LVMH Young Artist Awards. Louis Vuitton also distinguished itself through its premium pricing strategy. Prices start at around $700 for the most popular monogram collection, 'Neverfull', and reached as high as $45000 for the limited edition 'Tribute Patchwork' bag.
Depending on the specific materials and design used on the collections, price can vary between $2000 and $15000 within each style. Louis Vuitton never puts its products on sale because such a strategy would reflect negatively on its product. However, by offering items as low as $700, Louis Vuitton runs the risk of loosing a segment of its high class customers hungry for exclusivity by attracting a larger portion of the middle class society. Louis Vuitton emphasizes on personal selling instead of sales promotions in order to reinforce its luxury image. Louis Vuitton products can be merchandised through their 130 free standing stores worldwide and also in some high end department stores like Macy's New York, Bloomingdales and Saks Fifth Avenue.
BRAND EXPLORATORY
Customer Knowledge and Sources of Brand Equity
Take a walk through the history of one of the most influential fashion houses of all time. From Paris to Greece, Louis Vuitton's impact has no boundaries. Louis Vuitton, you just say the name and whether you love fashion or not, you know what it means. It is the epitome of luxury, money, and everything else rich in this world, inarguably as the company's most important source of brand equity. Whether you fancy the Damier canvases or the multicolored collection, everyone has a unique and personal love and admiration for Louis Vuitton. Here is an historical timeline of the revolutionary brand.
The name of Louis Vuitton has been synonymous with the manufacturing of high quality luggage, travel and leather items since 1854. Louis Vuitton is a subsidiary of LVMH, the first global group to specialize in prestigious luxury products. Since 1998, Louis Vuitton has diversified into ready-to-wear fashion and shoes with resounding success. From the humble origins as a trunk maker, Louis Vuitton has always been a trendsetter, progressively developing a range of luxury products consistent with the brand values. In 1998 when Marc Jacobs joined the firm as Artistic Director, this creativity entered an exciting new realm. Louis Vuitton has taken full advantage of the many synergistic relationships generated within the group, all the while retaining its identity and remaining faithful to its distinctive difference.
COUNTERFEITING THREAT TO EQUITY
As the parent company of nearly 50 sub companies that specialize in luxury goods such as, watches, jewelry and purses, LVMH depends heavily on the perception of their brands as high end products. One of the greatest threats to the brand image is counterfeiting. In order to offset the effects of this multi-billion dollar a year industry, LVMH must take steps such as working with government and international organizations that target counterfeiters. Another somewhat iconic threat to LVMH brand is the increasing demand for their products among the middle class. In order to maintain it status as a purveyor of fine quality goods for the wealthy, LVMH must walk a fine line of satisfying some of the increased demand but not diluting the market through its own actions. One of the most valuable assets for a company like LVMH is its brand equity.
Counterfeiters profit on this brand equity by producing goods that ranged from identical to loose resemblance of the original product. Counterfeiting negatively effects companies by taking away potential customers, diluting the market and decreasing the overall perceived quality of the product. The effect of diluting the market is particularly troublesome for brands that seek to be viewed as exclusive. In the fight against counterfeiting, LVMH should continue its practice of limiting the availability of its products to only their company stores and other luxury stores with authorized sections. They should also lobby local governments to either enact or uphold laws and regulations against counterfeiting. To an extent, LVMH has the upper hand in some situation where they can refuse to establish their stores in countries that allow counterfeiting to take place.
RECOMMENDATION
The Louis Vuitton brand audit reveals a very strong brand with significant high equity. However, there are several main areas of opportunities that can be improved.
Expanding to new market
Associate themselves with high end car manufactures such as, Bentley, Roll Royce and Mazeratti and provide customized Louis Vuitton fine leather interior and accessories.
Connect with male consumer
Connect more with the male customers by enriching their male's product collections through automotive and aviation events sponsorship, using high profile ambassadors like Michael Schumacher and Sir Richard Branson.
Fighting the online counterfeit industry
Louis Vuitton should lobby local governments to act or uphold laws and regulations against internet websites that allow the sale of counterfeited products to the extent that website providers could altogether loose their license to operate if found guilty.
Communicate long term value of Louis Vuitton Brand
The idea of owning a Louis Vuitton handbag is not only for the sake of owning a bag, but represents the idea of exclusivity, style and elite social status. It gives the owner a feeling of success, social approval and self respect. Other than its durability, Louis Vuitton handbags never goes out of style and can be passed on from generation to generation without losing its resonance value.
Points of parity:
1. French handbag maker
2. Fine leather material
3. Durable
4. Attractive models
5. Exclusively handmade
Points of difference:
1. History and distinctive heritage
2. Monogram design
3. Exclusive imagery
4. Premium price
5. Innovative design
6. Distribution
LOUIS VUITTON MENTAL MAP
The Customer Based Brand Equity Pyramid (CBBE)
The Louis Vuitton CBBE pyramid is equally strong on the left hand and the right hand side. It is also strong from bottom to top, enjoying the highest brand awareness of any luxury brand as well as high repeat purchase rates from its high customer loyalty. Louis Vuitton has successfully focused on both the superior product attributes and the imagery associated with owning and wearing a Louis Vuitton brand.
Related Topics