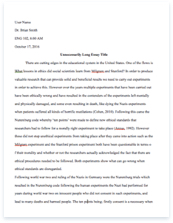 The whole doc is available only for registered users
Pages: 5
Word count: 1120
Category: Disease
A limited time offer! Get a custom sample essay written according to your requirements urgent 3h delivery guaranteed
Order Now
Introduction
It is indeed a fact that the best way to deal with sickness is prevention.  Taking in doses of Vitamin C may not make contracting colds impossible, but doing so would surely enhance a person's resistance from such.  Just like any other disease, ALS or Lou Gehrig's disease is also worth the attention of the public since approximately 10% of its cases are hereditary.  More so, its symptoms may be ignored by many people as these can be as simple as muscle weakness, frequent falls, breathing difficulty, persistent fatigue, spasticity, and twitching.  Based on several studies, the hereditary form of ALS may be rooted as a defect in the gene, which produces the enzyme, superoxide dismutase that eliminates free radicals from the cells of the body.  (Pasinetti et al, 2006)  Free radicals are molecular by-products of normal cell metabolism, which can accumulate in and destroy cells.  Genetic screening can determine potential carriers of the gene in families with a history of ALS.  Through genetic screening, the genetic defect that causes ineffective production of superoxide dismatuse in neutralizing free radicals that destroy motor neurons can be detected.  Motor neurons are neurons that control muscular movements.  The muscles innervated by the degrading neurons become weak and eventually atrophy.  Cases of death from ALS generally results from atrophy of the respiratory muscles.
In scientific terms, Amyotrophic lateral sclerosis (ALS), also called Lou Gehrig's disease is as a degenerative neurological disorder, which causes muscle paralysis and atrophy.  (Aebischer and Kato, 2007)   It affects men more often than women and usually occurs after the age of 40.  ALS is also referred to as Lou Gehrig's disease in memory of the famous baseball player Lou Gehrig, who in 1941, died from the disease.
Diagnosis of ALS or Lou Gehrig's disease
Just as cancer and other diseases such as AIDS, ALS can be hard to diagnose.  Due to the similarity of the symptoms of ALS to more treatable disorders and diseases, it is necessary to conduct tests appropriate tests in order to exclude the possibility of any other condition.  The electromyography (EMG) is one of these tests.  It is a special recording technique, which is able to detect electrical activity in muscles.  Some EMG findings can support the diagnosis of ALS.  The nerve conduction velocity (NCV) is another common test that may suggest, say, a patient has a form of damage to peripheral nerves or myopathy (muscles disease) rather than ALS.  Physicians may also recommend magnetic resonance imaging (MRI) for ALS diagnosis.  It is a non-invasive procedure, which uses a magnetic field and radio waves in order to obtain detailed images of the spinal cord and the brain.  (Poloni et al, 1997)
Science and Technology on the Treatment of ALS or Lou Gehrig's Disease
Unfortunately, to this date, there is no cure yet for ALS.  The Food and Drug Administration (FDA), however, has approved the first drug treatment for the disease.  This drug is known as Riluzole, which is believed to reduce damage to motor neurons through decreasing the release of glutamate.  Although the Riluzole does not reverse the damage done to motor neurons, it is the first disease-specific therapy that offers hope that the progression of ALS may one day be slowed through combinations of drugs or new medications.
Physical therapy as well as special equipment including assistive technology may also enhance the independence and safety of patients throughout the course of ALS.  Low-impact aerobic exercises such as stationary bicycling, walking, and swimming can strengthen unaffected muscles, help fight fatigue and depression, and improve cardiovascular health.  Physical therapists can also recommend exercises that offer these benefits without overworking muscles.
The use of nocturnal ventilatory assistance such as intermittent positive pressure ventilation (IPPV) and bi-level positive airway pressure (BIPAP) may be used to aid breathing during sleep as the muscles that assist in breathing begin to weaken.  These devices inflate the lungs of the patients artificially from various external sources, which are applied to the body or face.  As muscles are no longer capable of maintaining carbon dioxide and oxygen levels, these devices may be used full-time.
Future of Treating ALS or Lou Gehrig's Disease
The new discovery of RNAi has some promise of possible treatment for ALS.  RNAi has been used in lab rates in order to shut off specific genes, which lead to ALS.  Another possible treatment for ALS is the insulin-like growth factor 1.  Chiron and Cephalon have both conducted two pivotal clinical studies on IGF-1 for ALS.  However, only one study has been able to present efficacy.  In January 2007, IPLEX, a drug by INSMED Corporation, was used in a clinical trial for ALS patients in Italy as requested by the Italian Ministry of Health.  IPLEX is a recombinant IGF-1 with Binding Protein 3.  (Rachele et al, 1998)
Conclusion
Knowledge about ALS or Lou Gehrig's disease is important for the public to be aware of its causes, effects, and prevention.  As some say, "an ounce of prevention is better that a pound of cure."  In cases of ALS, it is normal for muscle weakness and atrophy to spread to other body parts as the disease progresses regardless of the part of the body first affected.  It is worth taking into consideration that some patients with ALS have an arrested course with no progression beyond a certain period in spite extensive follow-up.  This is especially common in young males with predominant upper limb weakness on one side.  People affected with ALS will not be able to stand or walk as the disease progresses.  They may not be able get in or out of bed on their own or use their arms and hands.  In later stages of ALS, individuals may have difficulty in breathing as their muscles in the respiratory system weaken.  Most people with ALS die from respiratory failure.  On the other hand, about 10% of those individuals with ALS survive for 10 years or so.
WORKS CITED:
Aebischer, Patrick and Kato, Ann C. Playing Defence against Lou Gehrigs Disease. Scientific American. November 2007.
Pasinetti G, Ungar L, Lange D, Yemul S, Deng H, Yuan X, Brown R, Cudkowicz M, Newhall K, Peskind E, Marcus S, Ho L. Identification of potential CSF biomarkers in ALS. Neurology. 2006; 66 (8): 1218-22.
Poloni M, Micheli A, Facchetti D, Mai R, Ceriani F. Conjugal amyotrophic lateral sclerosis: toxic clustering or change?. Ital J Neurol Sci. Apr 1997; 18 (2): 109-12.
Rachele MG, Mascia V, Tacconi P, Dessi N, Marrosu F. Conjugal amyotrophic lateral sclerosis: a report on a couple from Sardinia, Italy. Ital J Neurol Sci. Apr 1998; 19 (2): 97-100.
Related Topics