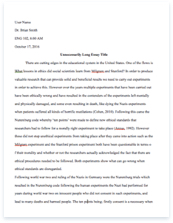 The whole doc is available only for registered users
Pages: 2
Word count: 428
Category: Customer
A limited time offer! Get a custom sample essay written according to your requirements urgent 3h delivery guaranteed
Order Now
Chart the five performance objectives to show the differing expectations of club members and casual flyers and compare these with the actual service delivered.
Quality: Quality should and must be the number one priority for any company who wish to stay in business. in the case of Long Ridge, they provide a safe place by giving maintenance to the gliders, nevertheless the customer service to the public C.F should be improved Speed: How fast or how low of a service depends on the actual service. Customers do not like to wait. They expect to have service immediately or to be approached by someone assuring that they matter to the company. In this case L.R. has a very slow response to the C.F. and to the members. C.F are left waiting until a C.M. has time to find out what they want. While the C.M has to do their volunteer work with the C.F then they can enjoy a solo fly.
Flexibility: Is another term for accommodation. A company should be able to accommodate according to the customer's needs specially if there is any type of agreement. C.F expects to receive the service according to what it was agreed. In this case L. R does not have a plan set up for C.F. They should assign a 3 days a week for C.F flies and 4 days for C.M only. This way they should be able to satisfy the permanent and temporary members
Cost: The price of an item or a service should be competitive to the rest of the market. I think that L.R has their price very affordable for C.F. and C.M, however they need to do some marketing to attract more C.F and new members
Dependability: is an important part of an organization. L.R has reliable members that help with the needs of the club by assisting the C.F in flies and by doing volunteering work.
What advice would you give to the chairman? My advise to the chairman is to re-organize the service to the public. I think that they have a good profitable club but it needs to be managed at a business level and still be a non-profit organization. for example: Re-arrange the fly schedule to 3 days a week for C.F and 4 days for C.M. Do marketing by marketing other companies. While they are doing their flies, they could do blimp rides. Lower the price to C.F and give incentive to the C.M for every of those Casual fliers that they helped become members.
Related Topics