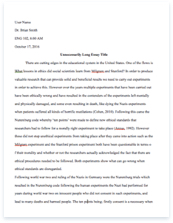 The whole doc is available only for registered users
Pages: 5
Word count: 1042
Category: Obama
A limited time offer! Get a custom sample essay written according to your requirements urgent 3h delivery guaranteed
Order Now
Defined as:
An Act to amend title VII of the Civil Rights Act of 1964 and the Age Discrimination in Employment Act of 1967, and to modify the operation of the Americans with Disabilities Act of 1990 and the Rehabilitation Act of 1973, to clarify that a discriminatory compensation decision or other practice that is unlawful under such Acts occurs each time compensation is paid pursuant to the discriminatory compensation decision or other practice, and for other purposes.
• Introduced in the Senate as S. 181 by Barbara Mikulski on January 8, 2009
• Passed the Senate on January 22, 2009 (61-36)
• Passed the House of Representatives on January 27, 2009 (250-177)
• Signed into law by President Barack Obama on January 29, 2009
• Enacted by the 111th United States Congress
• Effective January 29, 2009
The legalities:
The Lilly Ledbetter Fair Pay Act of 2009 (Pub.L. 111-2, S. 181) is a federal statute in the United States that was the first bill signed into law by President Barack Obama on January 29, 2009. The Act amends the Civil Rights Act of 1964. The new act states that the 180-day statute of limitations for filing an equal-pay lawsuit regarding pay discrimination resets with each new paycheck affected by that discriminatory action. The law directly addressed Ledbetter v. Goodyear Tire & Rubber Co., 550 U.S. 618 (2007), a U.S. Supreme Court decision that the statute of limitations for presenting an equal-pay lawsuit begins on the date that the employer makes the initial discriminatory wage decision, not at the date of the most recent paycheck.
A bill, also called the Lilly Ledbetter Fair Pay Act, to supersede the decision, was introduced in the 110th United States Congress but was never enacted, as it was passed by the House but failed in the Senate.
During the campaign for the 2008 elections, the Democrats criticized Republicans for defeating the 2007 version of the bill, citing Republican presidential candidate John McCain's opposition to the bill and candidate Barack Obama's support.
Why I voted for President Obama, in a nut shell:
The son of a single mom. Proud father of two daughters. President Obama knows that women being paid 77 cents on the dollar for doing the same work as men isn't just unfair, it hurts families.
So the first law he signed was the Lilly Ledbetter Fair Pay Act to help ensure that women are paid the same as men for doing the exact same work. Because President Obama knows that fairness for women means a stronger middle class for America.
Lily Ledbetter, brief biography
In 1998, after Ledbetter had spent 19 grueling years working at a Goodyear plant, an anonymous note delivered to her showed that she made 40% less than her male counterparts. For 10 years, Lilly Ledbetter fought to close the gap between women's and men's wages, sparring with the Supreme Court, lobbying Capitol Hill in a historic discrimination case against Goodyear. While Ledbetter lost the case on appeal (a decision upheld by the Supreme Court), the experience prompted her to become a spokesperson for equal pay. Lilly Ledbetter's story inspired President Obama which prompted him, as his first act in office, to sign the Lilly Ledbetter Fair Pay Restoration Act. A fight for equal rights in the workplace!
Lilly Ledbetter November 2012
Women's Equality Leader and Namesake of the Lilly Ledbetter Fair Pay Act,
What she has to say about her struggle to earn equal pay as a woman for the same job done as a man, and how the first bill President Obama signed into law.
"That was the first step, but it can't be the last. Because women still earn just 77 cents for every dollar men make. Those pennies add up to real money… maybe 23 cents doesn't sound like a lot to a person with a Swiss bank account … but Gov. Romney, when we lose 23 cents every hour, every day, every paycheck, every job over the entire life, we lose what cannot be measure by dollars."
My final thoughts
Last quarter I learned about the Equal Rights Amendment. Until then I had no idea what the E.R.A. was. I became so passionate about the struggle the suffragist faced that I dove deeper into research and from there found "The Lilly Ledbetter Act" I couldn't believe what I was reading. I couldn't believe that even right now as you are reading this women are paid less then men for the same work. I chose this topic because I want more people to learn of this injustice. This topic directly connects to the study of human effectiveness because it shows that women and men should be treated equally in order to be more effective in general. My research paper will hopefully assist another student by empowering them with knowledge. My hope is that men and women alike will start to evaluate their worth and wont accept anything less than what they deserve.
The issue that interests me the most is the fact that so many people remain unaware of this huge salary gap. Unfortunately some women are aware of this but are afraid to demand what is fair due to the possibility of losing their job. The philosophies and theories associated with this topic vary widely. Some see if as black and white. That women should be treated equally. While others believe that This Bill is nothing if there are no jobs to begin with. I have learned that I deserve fair and equal salary. I know now that I will not accept unfair treatment. Thanks to Lily Ledbetter, President Obama, the suffragists and the knowledge I have gained on this subject. I don't expect any special treatment in the work place. I know that men and women alike work hard to advance in their chosen careers. I plan on working to the best of my ability.
Reference Page.
1. WIKIPEDIA: http://en.wikipedia.org/wiki/Lilly_Ledbetter_Fair_Pay_Act_of_2009 2. What Is The Lilly Ledbetter Fair Pay Act, And What Are Its Strengths And Weaknesses? http://www.thegloss.com/2012/11/06/career/equal-pay-act-lilly-ledbetter-fair-pay-act-summary-criticisms-440/#ixzz2GbLzKE4g 3. The White House Blog: http://www.whitehouse.gov/blog/2009/01/25/now-comes-lilly-ledbetter 4. World at work: http://www.worldatwork.org/waw/adimLink?id=31174 5. National Partnership for Women and Families: What's the Wage Gap Where You Live http://www.nationalpartnership.org/site/PageNavigator/issues_work_wagegap_map_wa.html
Related Topics