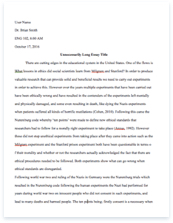 The whole doc is available only for registered users
Pages: 5
Word count: 1026
Category: Audit
A limited time offer! Get a custom sample essay written according to your requirements urgent 3h delivery guaranteed
Order Now
Paul Polishan apparently dominated Leslie Fay's accounting and financial reporting functions and the individuals who were his subordinates. What implications do such circumstances pose for a company's independent auditors? How should auditors take such circumstances into consideration when planning an audit?
My question for the Leslie Fay Companies case focuses on the actions of Paul Polishan and the effect his self-established tyranny over the financial information of the Leslie Fay Companies would have on the auditing process. Paul Polishan, a 1969 accounting graduate, was hired by the Leslie Fay Companies right out of college. The Leslie Fay Companies made women's clothing, particularly focusing on dresses for middle-aged women and the strict, conservative styles of that era. The Leslie Fay Companies was created by Fred Pomerantz after World War II and established in New York City, going public in 1952, and becoming widely known as one of the premier manufacturers of high-fashion female apparel in the United States. The son of Paul Pomerantz, John Pomerantz was appointed President of the Leslie Fay Companies in 1972. Soon after this appointment and thru his sound relationship with John Pomerantz, Paul Polishan had worked his way up to the position of Chief Financial Officer and Senior Vice President of Finance of the Leslie Fay Companies. Later, John Pomerantz took over as Chief Executive Officer and Chairman of the Board of Directors of the Leslie Fay Companies in 1982 for the now deceased Paul Pomerantz.
Paul Polishan controlled everything to do with the financial information of the Leslie Fay Companies. Paul Polishan ruled harshly over all his subordinates creating a demanding and fear-driven work environment supported by an unrelenting disciplinary course of action against all those employees who dared to break the ridiculously stringent policies and rules he set forth. Paul Polishan questioned rigorously any requests for any of Leslie Fay's financial data, no matter who was asking for it, even the senior managers of the company, demanding an explanation as to why they needed the information. It was almost as if Paul Polishan had something to hide, and it became apparent that he indeed did have something he was hiding.
In early 1993, Donald Kenia, the financial controller of the Leslie Fay Companies came forth claiming he was the sole conspirator behind the major accounting fraud taking place over the last three years or more. Eventually, it was found that Paul Polishan was, in fact, the main perpetrator and strategist of the major fraudulent accounting scandal going on within the Leslie Fay Companies. In true form, Paul Polishan had forced Donald Kenia to accept the recording of several inappropriate journal entries inconsistent with generally accepted accounting principles that misrepresented actual events and materially overstated profit margins for the period in question. The earnings and financial ratios of the Leslie Fay Companies were unusually stable, and consistent with past performance, and better than their closest competitors, in spite of the severe downturn in the women's apparel market and the overall market recession at that time. There was also this hugely growing change in fashion trends from a more stylish and formal look to a more casual and less formal way of dressing, such as blue jeans and T-shirts.
From the aforementioned facts, about Paul Polishan and his iron fist command over Wilkes-Barre, the Pennsylvania location of the accounting offices for the Leslie Fay Companies, it is very evident that there were many issues dealing with the internal controls of the Leslie Fay Companies or lack thereof. As independent auditors, its is part of our job now to make sure proper and effective internal controls are in place in a company, as well as it is upper management's responsibility to report on the effectiveness of their own company's internal controls because of the Sarbanes-Oxley Act of 2002. Without proper internal controls, an audit is much, much more difficult to perform. It is also a great deal more costly to all parties, the auditing firm and the client because it will be much more time consuming to check everything and because of the need for a much higher degree of thoroughness.
If internal controls are incredibly bad or virtually nonexistent, then it is not even worth the time, effort, or hassle for an independent auditor to attempt to audit a company, such the Leslie Fay Companies. There is just too great a risk for the public accounting firm performing the independent audit to take the company on as a client. The threshold will be considerably lower and a whole lot more evidence will need to be gathered throughout the audit in order to meet this lower threshold. BDO Seidman, the public accounting firm who was the independent auditors for the Leslie Fay Companies, unfortunately, got the raw end of the deal having been caught up in this major accounting fraud, and signing off unqualified opinions for the Leslie Fay Companies' falsified financial statements during the years the accounting fraud was taking place.
The auditing program for a company such as Leslie Fay would have to be more carefully planned out. Each step of the auditing program would require a high level of scrutiny and have to be meticulously carried out to plan. I would say there has to be a focus on the firm inquiry of employees especially those under a man like Paul Polishan and a constant stand of self-independence, not allowing the independent auditors to be strong-armed or bullied by the demeanor of Paul Polishan. I would not tolerate any limitations of scope either. Everything I ask for or want to see better be handed over to me without question, or I would simply walk and give a disclaimer of opinion. It is obvious that not a lot of people, grown men even, stood up or challenged Paul Polishan and that just should not happen. The details of an audit such as this are of the utmost importance. Overall though, considering the notable lack of internal controls such as segregation of duties, and the independence issues, I would object to even taking on a company such as Leslie Fay on as a client.
Related Topics