Lehman Brothers: Decline of the Equity Research Department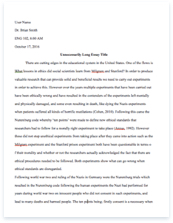 The whole doc is available only for registered users
A limited time offer! Get a custom sample essay written according to your requirements urgent 3h delivery guaranteed
Order Now
The main problem discussed in the Harvard case study, "Lehman Brothers: Decline of the Equity Research Department" is the slow demise of Lehman's Equity Research Department. The department's painful downfall begins when the equity's division head Jack Rivkin, a leader who was loved and well-respected among his team, was replaced by Paul William, a fixed-income manager who was unfamiliar and unqualified to deal with equities. To some employees in the department, William's appointment was a "slap in the face." Once Lehman gained independence from American Express, pressures to cut costs and downsize became apparent, causing Lehman to lay off thousands of employees within a 5-year timespan. Besides laying off some of the company's best analysts, of those who were spared, many of them chose to leave the company and joined competing firms. In addition to numerous rounds of lay-offs that Lehman Brothers implemented, a large chunk of funding was cut from the equity research department, which ultimately lowered their performance ranking. Although many attempts to regain traction in equities were made, such as the restructuring of management and rehiring star analysts who had originally left the firm, those attempts seemed to do little to help bring Lehman to where they once were.
Theory
The case of Lehman Brothers is a great example of the effects of organizational commitment. Many of the employees in the equity research department had affective commitments, as they had an emotional attachment and involvement with their leaders, Jack Rivkin, Fred Fraenkel, and Stephen Balog, and their department truly worked as a team. During their leadership, the research department had the focus of commitment of being a team and ranking at the top of the Institutional Investors. However, once these great leaders were replaced by people who were ignorant to equity research or neglected to engage and form relationships with their subordinates, the researchers' commitment to the department dwindled. In addition, Lehman's downsizing created a huge change in the employee-employer relationship, and employee morale took a turn for the worse. Huge cuts in the budget, in return, made employees feel that their worth was not being recognized. Many key star analysts felt that their psychological, transactional, and relational contracts were not being fulfilled, causing them to jump ship and quit. Ultimately, loyalty to the Lehman Brothers in the equity research department diminished and its performance faltered.
Evidence
The first evidence in the decrease of the staff's affective commitments occurs once Paul Williams replaced Jack Rivkin as head of the equity division. It was a shock to the equity research department, and they felt that Williams had no clue on how equities worked or how to run the division. To equity staff members, it seemed that the fixed-income people of Lehman Brothers thought that the equity research division offered very little value to the company. Williams seemed uninterested in the research department, while Carolyn Moses's aggressive badgering proved unsuccessful. As Lehman continued to downsize, many of the employees began to reevaluate their situation. Many felt that their value was not being recognized as their salary and growth stagnated, which caused many star analysts to leave the firm. Also, the morale in the department reached an all-time low as surviving members feared for their jobs, especially as high performing analysts were being booted around them. Because upper management neglected to fulfill the requests from those who knew best in the equity research division, the company continued to underperform in institutional rankings, causing a negative ripple effect in other departments at Lehman Brothers.
Action
Lehman Brothers needs a complete overhaul and restructuring of their senior management. Those who currently hold upper-level positions need to be replaced, as they have proven unable to effectively lead and manage the organization. Once these positions have been filled by competent leaders, a realignment of vision and commitment needs to be implemented. The first step to this would be to cease the continuance of lay-offs, as downsizing has shown to have a large number of negative effects such as a reduction of loyalty and commitment among staff members, and an increase in the fear of job loss, which may, in turn, lead to eroding behaviors and cause employees to quit. Also, Lehman Brothers needs to form team-building strategies to regain the trust of its employees and to bring back its sense of unity and teamwork. Also, instead of only offering monetary incentives, other forms of motivational factors should be implemented, such as structures in place for employees to establish professional growth.
Related Topics