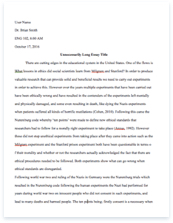 The whole doc is available only for registered users
A limited time offer! Get a custom sample essay written according to your requirements urgent 3h delivery guaranteed
Order Now
Statement of Facts: In July of 2010, the Plaintiff, Natalie Attired, filed for unemployment with the New Mexico Employment Security Board; her claim was denied and she was deemed ineligible due to being terminated for misconduct. In June of 2010, Plaintiff Natalie Attired was fired from her job at Biddy's Tea House and Croissanterie (Defendant). Attired had refused to remove a tattoo that was visible from the bicep to the elbow while wearing the company uniform. Biddy claims that Attired's tattoo brought a decline of sales to the business. After three years on the job, Attired mentioned her interest in getting a tattoo to a fellow waitress. The waitress warned Attired that if she was going to get a tattoo to make sure that it was somewhere where it would not be visible. This particular waitress had been working at Biddy's for ten years and knew that if Attired got a tattoo the owner, Biddy Baker, would be upset. In June of 2010, Attired, ignoring the warning given to her by her co-worker, got a full sleeve tattoo that went from her shoulder to her elbow. After showing up to work, Biddy was visibly upset. Some patrons requested to be moved from Attired's seating section because they commented that they did not want to look at "that" while they were eating. At this point the Plaintiff was told to have tattoo removed, which she refused, and was terminated at the end of the week.
Questions Presented: Did the Plaintiff's tattoo pose grounds for termination; was her tattoo considered misconduct under New Mexico State Statutes. Should Plaintiff's unemployment benefits be awarded? Brief Answer: Probably. New Mexico law for misconduct implies that if an employee deliberately disregards the employers' interest they have committed misconduct. Although there was no formal handbook or written policy that stated against tattoo's or what the disciplinary action would be, Attired did deliberately disregard Biddy's request or interest in her removing the tattoo. The court would likely find that Attired did not act in misconduct because there was employee handbook and award Attired her unemployment benefits. Applicable Statute: N.M. STATE. ANN. § 51-1-7(A); Disqualification of Benefits. Mitchell v. Lovington Good Samaritan Center Inc.,89 N.M. 575, 577, 555 P.2d 696, 698 (1976).
Discussion: The issue in this case is whether Attired's behavior, getting a full sleeve tattoo that was partially visible with her uniform, falls under the rule of misconduct disqualifying her from unemployment benefits. "Misconduct"…is limited to conduct evincing such willful or wanton disregard of an employer's interest as is found in deliberate violations or disregard of standards of behavior which the employer has the right to expect of his employee, or in carelessness or negligence of such degree or recurrence as to manifest equal culpability. Mitchell v. Lovington Good Samaritan Center Inc.,89 N.M. 575, 577, 555 P.2d 696, 698 (1976). In Mitchell, the appellee was terminated after working with Lovington Good Samaritan Center for a year. In the incidents leading up to her dismissal Mitchell was uncooperative and defensive. In April 1974, Mitchell dressed out of uniform while Federal Regulation Inspectors were present, on May 15, 1974 she would sing while counting medications and a fellow nurse complained that these actions were unethical and time-consuming.
May 24, 1974 Mitchell was switched to a new position doing floor routine instead of medications, where she started name calling her superior and a co-worker; the last straw was June 4 1974, when Mitchell became defensive when asked why she was filling out her time sheet before the end of her shift. During this time May 24 through June 4, Mitchell refused to perform her duties as a relief medications aide. In Mitchell, it was determined that her actions as a whole did constitute misconduct and her initial denial of benefits was reinstated. Refusing to conform to the standards of personal grooming compatible with performing work was cause for ineligibility of compensation. Apodaca v. New Mexico Department of Labor Employment Security Department, Board of Review, 769 P.2d 88, No. 17952, (Feb. 22, 1989). In Apodaca, an employee approached their supervisor on multiple occasions to get approval to dye her hair purple. After those failed attempts to receive a response, the employee dyed their hair. A couple days later, the owner saw the employee's hair color, an ultimatum was given and two days later the employee was terminated from their position after choosing not to re-color their hair.
The employer argued that as long as the request of the employee is reasonable and employee is given adequate time to comply, refusal amounts to insubordination and misconduct. The employee filed and was denied unemployment, and later appealed. In Alonzo v. New Mexico Employment Security Department, 101 N.M. 770, 772, 689 P.2d 286, 288 (1984), it was recognized that termination for an isolated incident which does not "significantly affect the employer's business" may not form the basis for denial of benefits on the grounds of misconduct. In Apodaca, the employer did not show evidence that the employee's color of hair had a significant effect on their business and no negative complaints were ever made regarding her. In Attired, Biddy claimed that her business suffered loss of income, but could not support this claim with tangible evidence and therefore could not use this as claim to support the termination.
Conclusion: The court will probably find that Attired did deliberately disregard the employer's interest of removing her tattoos. The court will also find that Attired did not sign, nor was given, an employee handbook that stated the expectations of employee appearance. As referenced in the above cases, Apodaca v. New Mexico Department of Labor Employment Security Department, and also Mitchell v. Lovington Good Samaritan Center, Attired's actions did not justify misconduct and the employer could not provide any evidence that their business was affected. The courts' ruling will probably be in Attired's favor, awarding her unemployment compensation.
Table of Authorities
Apodaca v. New Mexico Department of Labor Employment Security Department, Board of Review, 769 P.2d 88, No. 17952. (Feb. 22, 1989). Mitchell v. Lovington Good Samaritan Center, Inc, 555 P.2d 696, No. 10847. (Oct. 27, 1976). Alonzo v. New Mexico Employment Security Department, 101 N.M. 770, 772, 689 P.2d 286, 288 (1984). Notes from Client Interview
Related Topics