John D. Donahue's the "Devil in Devolution"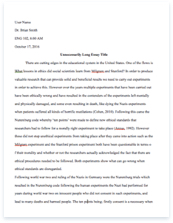 The whole doc is available only for registered users
A limited time offer! Get a custom sample essay written according to your requirements urgent 3h delivery guaranteed
Order Now
In John D. Donahue's the "Devil in Devolution" he recognized many faults between the state and federal governments. He spoke on the issues of same sex marriage, divorce, environmental regulations, and legalized gambling. I can't say that I agree with everything that was in the article. There are a lot of issues that I somewhat feel strongly for and others that don't have an effect on me either way. I think that there are cases in which the states should be governed individually, but there are also issues that should be organized by the federal government. I believe that if we give the states too much power then we are deriving from the constitution and government that our forefathers established for us today.
I disagree with individual state law allowing same-sex marriages. I personally believe that there should be an amendment made that restricts same-sex marriages. I feel that this needs to fall under the constitution. The definition of marriage needs to be taken into great consideration by our federal government. I don't feel that a homosexual couple should have the ability to be married in a state allowing same-sex unions, and then have their marriage recognized in all fifty states.
Another issue relatively similar to that of same-sex unions is the divorce issue. Personnally it makes no discrepancy with me. I don't see a problem with each individual state having individual divorce laws. If a couple wants to go into another state for a quicker divorce, and can afford it, then more power to them. Although I do agree that if a state can refuse to recognize a marriage then it should also have the rights to refuse to recognize a divorce from out of state.
The environmental regulation issue I believe should be governed by the states. Each individual state has its own businesses and types of plants. Each state has different agricultural developments, which produces different types of pollution. Look at our own state, majority of the people in this area alone work in a plant doing one job or another. If the national government made tough anti-pollution rules then many of those people would be out of jobs. Causing great economical downfalls leaving us in a relapse of the 1930's depression. It would also cause the states to be at fault. I think that it's a positive thing to have the states make the decisions but to also involve the federal government without giving them sole power.
Finally the last main point is legalized gambling. My views on this subject vary a great deal. Yes I do think that states should be the ones in charge but only to an extent. A couple of the major downfalls of legalized gambling is that it leaves a lot of revenue to the states. It also is a large attraction for crime. Whether or not we have legalized gambling it will always be there. Some good things are that it provides a lot of high-paying jobs for people with little or no training.
You can also look at this as a negative point. For instance someone with a high level of education can't find a job after receiving his/her degree so he/she is left with doing a job they dislike and only earning minimum wage. Then you have the casino vender, probably working in Vegas with maybe only a high school degree making much more than minimum wage. That's not really a fair deal for the person with the higher education.
Another important issue with gambling to take into consideration is the amount of addicts. Is legalized gambling really worth it. Yes it can be great for our economy, but at the same time it's killing people everyday. People that are addicted to gambling end up with a lot more problems on their shoulders such as bankruptcy, embezzlement, divorce, and suicide. Now who do we blame for such instances? I personally think that it's ok to have legalized gambling run by each state individually. As with everything else in life people need to be careful with it. At the same time though I wonder if we should have legalized gambling at all. I think it's an issue that's very much open and I can't really say that I'm set with one decision.
After reading "Devil in Devolution" I started thinking more about the differences with state and federal governments. I don't believe that the states should be in charge of everything just as the federal government shouldn't have sole judgment. I think in order to make our country the country it can and should be we need to have an equal balance between state and federal governments. John D. Donahue's the "Devil in Devolution"
Related Topics