Jane Adams and Charles Dickens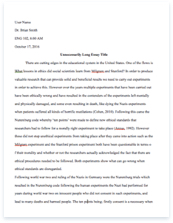 The whole doc is available only for registered users
A limited time offer! Get a custom sample essay written according to your requirements urgent 3h delivery guaranteed
Order Now
The passages taken from Jane Austen's and Charles Dickens' novels show differences in marriage proposals. The type of rhetoric used by each man causes different effects .
In the first excerpt taken from Jane Austen's Pride and Prejudice, the man reasons that he must set an example for all others in his parish by taking a wife. Not only will he have made use of the advice given him by his patroness, Lady Catherine de Bourgh, but this wife shall give him happiness. "First, that I think it a right thing for every clergyman in easy circumstances (like myself) to set the example of matrimony in his parish. Secondly, that I am convinced it will add very greatly to my happiness; and thirdly… that it is the particular advice and recommendation of the very noble lady whom I have the honor of calling patroness." (lines 1-8) He believes that this act of matrimony will not only be good for him but also for the one being proposed to. She will enjoy his superb manners, the advantages of his high power, as well as the kindness shown by Lady Catherine.
This proposal seems to be said in a businesslike tone, by one who is certain of success. He trusts that she will see the benefits of such a marriage between them and for those reasons she will accept his generous offer. Her reaction however may not be taken the way he would like. Because this is said in such a businesslike tone and not lovingly, she may deny his proposal.
The man in Charles Dickens' book wishes to marry the proposed for one reason: love. "You know what I am going to say. I love you… what I mean is that I am under the influence of some tremendous attraction…" (lines 1-4) He can not control his desires; he has tried and failed. He must marry, and he shall do whatsoever she may wish to accomplish the feat. "You could draw me to fire, you could draw me to water, you could draw me to the gallows, you could draw me to any death, you could draw me to anything I have most avoided, you could draw me to any exposure and disgrace." (lines 5-9) Her acceptance is beneficial for her well-being as well. Anything her heart desires, she shall receive. His high reputation would protect hers. She may even take pride in her husband for the work he puts in. When he asks this
woman to marry him, it is said not to take advantage of her, but to ease his heart and enable him to love her in peace.
The proposal this man makes is heartfelt. He hopes to gain her hand in marriage but is not sure she will give it. He wishes to give everything over to her to have her as a wife. The woman will experience love and a good arrangement for her life. She will most likely accept his offer because it is full of love as well as it holds profit for her.
The effectiveness of each proposal shown in these two passages is not shown yet one can infer the future of each. The type of oratory given in each excerpt determines the reaction of the women. Thus, the arguments, assumptions, attitudes, and the diction used will influence the conclusion.
Related Topics