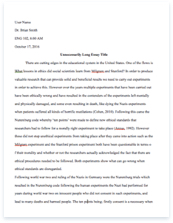 The whole doc is available only for registered users
A limited time offer! Get a custom sample essay written according to your requirements urgent 3h delivery guaranteed
Order Now
"High school players are particularly vulnerable to damage from blows to the head" (Dunbar and Stoffers 2). In many different kinds of sports, concussions can occur, but it mostly comes from American football. "Concussions occur when a collision causes the brain to hit the inside of the skull" (Pew and Shapiro 1). Overtime in playing football, you can develop chronic traumatic encephalopathy (CTE), which "is a brain disorder that is caused by repeated head injuries" (Pew and Shapiro 1). In that case, youth tackle football should be banned because many young kids' decisions are influenced by warrior culture and this could lead to severe health risks.
Warrior culture influences many teen and young kids. Study says that there are young children taking big forced hits to the head, and between nine to twelve years in age have forty times the force of gravity, making quarterbacks, running backs, and linebackers greater at risk (Pew and Shapiro 2). When starting young, kids can have a greater risk in injuries than those who start older when playing tackle football. Concussions in football are becoming more of a problem and "most experts agree that the warrior culture persists in football". . . and that there are multiple high school athletes getting symptoms of concussions because they go back into their games (Tarshis 10). Many teenagers are getting influenced by warrior culture making them want to go back into games so they do not look weak and this is causing many problems. Teenagers' brains are still being developed and brain injuries are affecting that, making it harder for athletes to play, so even if a hit on the head can be lethal to a potential concussion, the brain still has not completely healed from the last hit (Dunbar and Stoffers 2). Athletes' brains are still young and developing so second-impact hits to the head could lead to possible brain injuries and many other problems. Football is a warrior culture sport influencing teens to keep playing, but many severe health risks come from playing football.
Many young athletes are in danger with brain damages and diseases which are endangering them with health risks. Older athletes are in less danger by long-term cognitive decline than the younger ones because "repeated head injuries during critical periods of brain maturation could altar neurodevelopmental trajectories, leading to later-life cognitive impairment" (Resnick 4). Symptoms can occur more in the youth than those who are older in age and repeated injuries can be severe and dangerous for the youth. Teens can also "begin to show CTE- related symptoms if another blow to the head is sustained soon after a concussion, according to a 2018 Boston University study" (Dunbar and Stoffers 2). Teens keep getting injuries and it is damaging their brain and having to deal with many symptoms to come. Over decades, many football players have been killed or had major injuries from second-impact damages. "Thousands of other young athletes have suffered from post-concussion syndrome" while untreated concussions can lead to ". . . constant headaches, memory problems, mood swings, and other issues" (Tarshis 8). Many football players are dying from these second-impact injuries and someone needs to come up with something to make the game more safer for athletes. Football can be a dangerous sport to some people, but it could also be fun for people and help them in the long run.
Football fans love to see football players in games while watching them play and see how football is becoming safer. Yet then again, the NFL is supporting the Lystedt Law about concussions, and they have "donated millions of dollars to help scientists study brain injury and the connection between concussions and brain disease." The makers of the Madden NFL joined this cause as well, and now in games, they announce "information about concussions as injured players are sidelined" (Tarshis 9). This may be true, but the fact that concussions are mostly rising in football makes many players go back into the games when they have symptoms, causing them injuries. Major injuries take time to recover making the sport not worth playing anymore (Tarshis 10). A lot of football supporters believe that there are good things about playing football. Football can build many things like staying on tasks, and teamwork skills that can make many teens succeed in the future. The NFL now has neurologists in their games and they "poured millions into researching new anti concussion helmet technology" (Dunbar and Stoffers 3). Youth players with head injuries are now treated and taken out of games if there are any suspected concussions, and now high school coaches are using proper tackling techniques to limit any contact. While there is some merit to that, it is more important that tackle football is still unsafe for the young people to be playing. "Hall of Famer Brett Favre, considered one of the all-time great quarterbacks, has endorsed efforts to ban tackle football before the age of twelve" and Bo Jackson who is another star says that he would not let his kids play tackle football (Dunbar and Stoffers 3 ). Tackle Football is dangerous to young kids and many other big star athletes said that they would not let their kid play on a football team.
Warrior culture still influences many teens decisions and having many severe health risks making youth tackle football dangerous and should be banned. Football players are endangering themselves for putting themselves out there while having symptoms of concussions, making them feel like they can not quit and give up to show that they are powerful. Concussions have been shown to cause brain injuries, symptoms, diseases, and trauma. These are affecting many athletes health and something should be done to make kids and adults feel safer about tackle football. Everyday, many football players get hurt from some type of impact. These are hurting kids and making them feel weak like they can not play. You as the reader can help these kids, and spread the word that tackle football should be banned because of the dangers of people's health to prevent more concussions happening in the future. It is a good thing to care about your health as well so you don't have any of these things happen to you.
Related Topics