Is Daycare Beneficial for Children and Parents?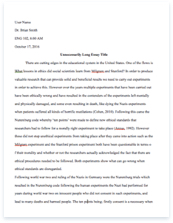 The whole doc is available only for registered users
A limited time offer! Get a custom sample essay written according to your requirements urgent 3h delivery guaranteed
Order Now
When you are a child, who takes care of you? Now, the cost of living is so high that many people under age twenty-five are moving back in with their parents. Young people are getting married later now than they used to. The average age for a woman to get married is about twenty-four, and for a man twenty-six. Newly married couples often postpone having children while they are establishing careers. Once they have children, they face difficult decisions about whether the mother should continue working and, if so, who should care for the children. So, day care is a good choice for parents who both work, because they want to continue with their careers.
The first reason that daycare is beneficial is that parents can go to work and make more money. For example, if parents do not use daycare and if they go to work with their children, they will have to take care of the children. Nowadays, many companies provide daycare centers at their company for working parents who have young children in order to avoid this case, so parents can work as much as they need. Sometimes couples decide that one of them should stop working for their children's sake. In addition, working parents can save more money for their children's future by using daycare, because their income is doubled. This extra money can be saved for things such as children's music lessons, tutoring lessons or family vacations. People may use homecare and think that is a method for saving money. However, they do not realize that they will need more money to raise their children.
Next reason is that parents can continue their career by using daycare, because daycare center take care of their children during parents' working time. Nowadays, most daycare centers have systematical management, so parents who use daycare center do not have to worry about their children's safety, and they can concentrate on their work. For example, after a woman gives birth to a baby, and then wants to use daycare without quitting her job, she can continue the career. However, if she stops working, after the children grow up she may regret that she did not continue with her careers. By that time, she may have become too old to continue working.
The last reason is that children at the daycare center can learn social experiences themselves. Children have many experiences, such as cooperative learning and give and take with other children. For example, when children play a team game, they have to play jointly with each other. If a child plays very well without others, he cannot learn to play cooperatively. The child does not learn to win and lose, and to figure out what to do the next time. Although they may not like to play team games, children can still learn more social skills than if they were in homecare.
On the other hand, some people are against daycare centers, because they think that character building is more important than knowledge education, and homecare is the best choice for the maximum physical and mental well being of children. However, children can learn from educational activities that fit each child, according to experts at the daycare center. In addition character building can happen naturally, because children who stay in the daycare center will have time with their parents later.
In conclusion, daycare helps working parents and their children. Today, most parents want a daycare center's help, whether they do work or not, because parents want their children to learn education better than they can at home. In addition, they also want to continue working on their careers.
Related Topics