Into Space and NASA Exploration of Space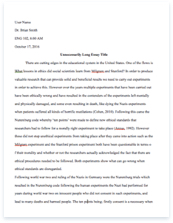 The whole doc is available only for registered users
A limited time offer! Get a custom sample essay written according to your requirements urgent 3h delivery guaranteed
Order Now
My name is Jillian Fazio, and I am a first-year student at Georgia Tech. First, I would like to welcome you back to office! Your reelection is a testimony to your work in our nation's capital. Second, I am currently taking an Earth and Atmospheric Science course here at Tech called "Habitable Planet" and have been made aware of how much science actually goes into policy-making. I think that it should have a bigger influence in your decisions. I know that additional funding should be put into space and NASA exploration. There is a great deal in our galaxy that is still waiting to be discovered. This course that I am taking has taught me the basics of our planetary system, and it has made me very interested in exploration. Technology and research of space is the future. One day the amount of resources that we have on the Earth could be at minimal levels. We need to be prepared to start exploring outward before we get to the point where it is too late. This is why more funding should be given to this cause.
Exploration has always been a topic of discussion for scientists but not so much for people who do not care about the subject. I believe that by showing you are invested in this research will allow others to follow your example. It could help spark interest in them and see why this is important. By exploration, we could find other exoplanets that could be habitable. Some of these exoplanets could host life or maybe even intelligent life. There could actually be another civilization out there that has not yet been found because we have not had enough funding to reach out to find them. For example, the current Mars exploration is a positive step towards trying to find other life that could exist. NASA landed the rover, InSight, and are using this exploration to learn more about the composition of the planet. If additional funding were available, we would be able to analyze other planets and possibly discover new information that could change the world.
Humans have already been relying on technology that was given to us from space. Satellites, for example, are used constantly and they give us weather predictions and the ability to use a GPS system. These are both two functions that would change what our society looked like if we did not have them. I am sure that one day soon someone will invent another form of technology used in space exploration that will in turn be implemented in society specifically for the betterment of our lives. Governmental funding will have to be accessible for this to happen. Space also has resources that could be of use. Who knows when we will run of materials and will need to come up with an alternative solution. Asteroids could possibly be a solution, but I am sure there are more materials that could also be found in space if we continue exploring to find them. Space is the next resource of our world, so funding should be available.
It is time to come up with a plan. Space exploration is our future. If you put science at the forefront of your policy-making, a difference will be made. People's eyes will open. My eyes opened after taking this class and learning about the planets and solar system, and I am very happy they did. People will be inspired and ready to take on the challenges that are in space. Visionaries looking into the future will come up with things that we cannot imagine today from all of the knowledge that will be gotten from more money invested into space and NASA exploration. Finding new planets will allow for a great deal of discovery. Have you ever wondered if there could be something else out there? What if there was a different civilization and more life? We will never know until someone makes the decision and takes the risk to put this cause as a priority. Technology will advance to the point where we need to move outwards. We do not want to be in a situation where we run out resources and have nowhere to turn. We need to be prepared, and you can make this happen. You have the power to put science first. This is the future, and we should be proactive. Thank you for your time.
Related Topics