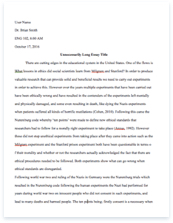 The whole doc is available only for registered users
A limited time offer! Get a custom sample essay written according to your requirements urgent 3h delivery guaranteed
Order Now
I interviewed Ms. Aasen, a special education teacher at Tolleson Union High School. I had the opportunity to email her and get a few responses to some questions I asked. She enjoys her profession and she is always open to explore new ways to teach her students. Ms. Aasen is one of the few special education teachers that has experienced with infants all through adults. I got to see also some of her lesson plans and tactics she uses to help students with disabilities succeed.
Interview Questions and Responses
I asked Ms. Aasen the following questions, and these are her responses to those questions:
What are the services offered for students with cognitive, behavioral and physical disabilities?
"LRE (least restrictive environment)….students are qualified for services once they have an evaluation given to determine need.  We have students who are self-contained most to all of their school day which is a level C.  Level B students have some special education classes mixed with general education at least 50% of their day.  Level A is mainstreamed with services provided within the general education class or resource room."
How are these disabilities identified in your school, who is involved in the process and what assessments and other data are used?
"Teachers have to identify students struggling and go through the process of trying different interventions. When this doesn't help the student can be referred to the Special Services department where a meeting is held with family to decide if an evaluation by the Special Services department (usually the school Psychologist, Special Education teachers, or related services).  When given permission the student is given cognitive assessments to determine IQ and figure out qualifying areas." 
What are the steps followed to address the needs of students with exceptionalities?
"After the evaluation the student if they qualify will have an IEP meeting to determine the level of service and determine goals for the student unique to their need.  The IEP is followed by implementing practice on the goals and each year the IEP is revisited and to create a new IEP with new goals."
What do you think works well or what could be improved in addressing the needs of this students?
"Data collection and following the IEP works well and can be adjusted as needed throughout the year if services are needed to be changed.  What doesn't work well is if students in general education aren't receiving the proper accommodations or modifications because the general education staff may not be aware of how to modify or not following accommodations.  Sometimes because the Special Services may not realize the teacher needs more support in understanding the IEP."
How does administration prepare faculty and the students to help students with disabilities?
"Professional development meetings for all staff. Teachers are also required to attend IEP meetings being held for students in their class to determine where they are performing and if accommodations/modifications are being followed or need revising.  Close partnerships between General Education and Special Services staff improves the implementation of services required by the student."
Reflection
Ms. Aasen has been a very caring and professional teacher that takes her job with special needs kids to the max and I have had the pleasure to meet her. The Tolleson Union District has sought ways to incorporate more expertise teachers in their fields and that they bring new ideas to the table. I have learned from Ms. Aasen that it takes a teacher to see how a student reacts and identify any type of disability or need. The school has the need to provide any reliable resources needed to help teachers educate and help students with disabilities. From what I have heard and seen, I believe that the department of education and teachers work well to provide good services to students with disabilities and they make sure that their development progresses gradually. I hope that my career as a teacher impacts the lives of all my students no matter if they are special need or not and that I can be knowledgeable in many areas just as Ms. Aasen is.
Related Topics